Archived Outdoors
Notes from a Plant Nerd: How a love for plants took root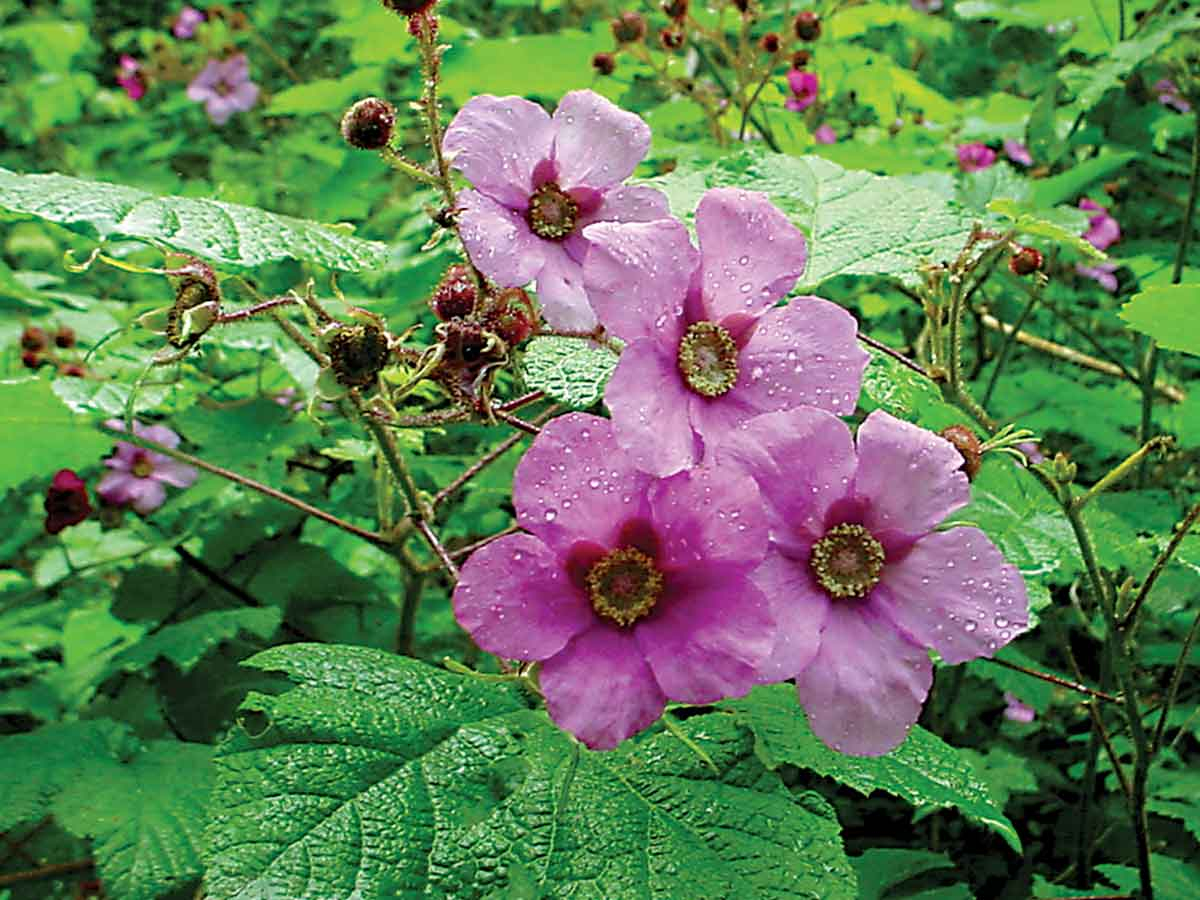 Purple flowering raspberry. Great Smoky Mountains National Park photo
Hi, my name is Adam Bigelow, and I am a Plant Nerd.
It's true. I love plants, and especially the native plants and wildflowers of Southern Appalachia. We live in a special place here in Western North Carolina, one of the most beautiful areas on Earth.
Outside of the tropical zones, our forests have among the highest diversity of plants in all the world. Southern Appalachia stands with the Pacific Northwest of North America, a province in China and an island in Japan as global biodiversity hotspots. There are so many plants and flowers around us here in Western North Carolina that it is hard not to be aware of them.
I didn't grow up with a connection to plants, or even gardening. I was a city kid. I grew up with streetlights and sidewalks. I hated yardwork and didn't eat vegetables. My mom laughs to this day, since I now do yardwork to grow vegetables.
My love for plants happened like many good things in life, completely by accident. I was 29, about to be married, and had spent my life working in the restaurant industry, mostly making pizzas, and I thought that I could use a job that was more adult-like, with health insurance and potential for advancement. So, I went and got a job at the Franklin Wal-Mart, and they put me into the garden center. That's how I got my start in plants.
I worked in landscaping and related jobs for a few years after that, and then took an opportunity to register for horticulture classes at Haywood Community College, which is when my whole life changed. I was a few weeks out from starting school when I read this little blurb in The Smoky Mountain News about this small, no-big-deal thing called the Cullowhee Native Plant Conference. I figured I might as well sign up since I was about to go study plants.
I had no idea that what I had walked into was the largest and oldest native plant conference east of the Rockies. There were people from all over the Southeast and they were all speaking Latin and talking about plants and flowers. I had no idea what was going on and actively thought, "I'm not supposed to be here."
But the people I met were great, they brought me into their fold, and I started school with a full-on native plant focus. This summer will be my 17th year of attending the conference, and I have been studying and working with native plants ever since.
For the last seven years, I have been leading groups of people on slow and gentle walks in the woods, where I teach about the plants and flowers we see along the way, sharing their many names, both common and botanical Latin. I also share the many stories about the plants that I have picked up along the way. Stories connect us with the world. All the plants around us have a story to tell, which can include details about the plant or flower's structure, their connection to each other, to the insects and animals, and to us, including their edible, medicinal and other human uses. The stories can be about European explorers, or the many intricate connections and relationships people indigenous to our area held with plants — including the Cherokee, whose land we are on and who are still here in their ancestral homeland.
I am the proud son of a children's librarian. I grew up surrounded by books and stories, and I love sharing the stories of plants with people of all kinds. That is what I'll be doing in this column — introducing you to plants and sharing their stories in hopes that you will fall in love with them too. Because if you don't know something is there, how can you love it? And if you don't love it, why would you care if it's there? I want us to care about plants, and flowers, and nature and the world. Because our lives depend on it.
(Adam Bigelow lives in Cullowhee and leads wildflower walks and ecotours through Bigelow's Botanical Excursions. This email address is being protected from spambots. You need JavaScript enabled to view it..)
Leave a comment
5

comments
Looking forward to your plant stories and hope to join you again on another walk.

Wednesday, 07/06/2022

Fantastic Adam! You have so much to offer and it is much appreciated already. Now so many more people will benefit from your passion.

Monday, 07/04/2022

So glad you'll be sharing your talents here, Adam!

Sunday, 07/03/2022

Thank you Adam for sharing your story. I hear you when you say All things Plant related make your Heart Sing! To find your calling, to be able to share your wisdom and knowledge from your Walmart beginning affirms there are no accidents.
Spirit chose you to open the eyes of others to the reality and importance the Plant/Nature Kingdom. Much gratitude for your willingness to educate the rest of us.

Sunday, 07/03/2022

Wonderful!! I'm so glad you're now writing about plants, which are two things I love (writing and growing plants). Good luck in your new endeavor!
Elsie Williams
Facebook friend of Ed Kelley

Friday, 07/01/2022