Archived Reading Room
Off to the beach with "Shrimp Highway"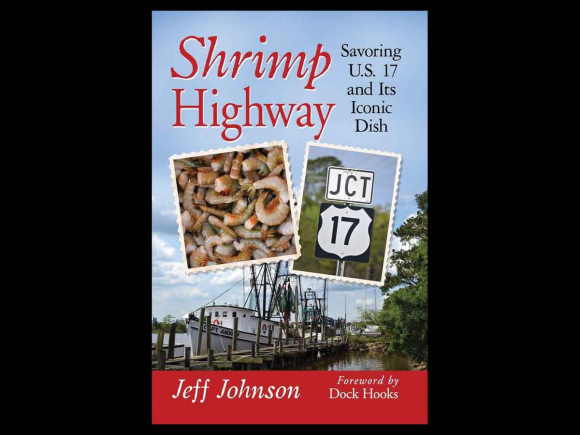 Too much time has passed since I last visited the coast.
Those days of sitting on the beach, on a screened-in porch, or on a deck, all the while watching the grandkids dart in and out of the waves, seem hazy and faraway. The pleasures of cooking seafood in the kitchen of the house we used to rent, or going to that rough-hewn restaurant on the Sound near Emerald Isle for fried shrimp, slaw, fries and hushpuppies — it's been so long I can't even remember the taste of those foods, mingled as they were with the tangy, brackish scents coming off the water.
But sometimes some small flame will cause the memory to flare up, and in this case the spark that ignited vivid recollections of those days at the shore was Jeff Johnson's "Shrimp Highway: Savoring U.S. 17 and Its Iconic Dish" (MacFarland & Company, Inc. Publishers, 2017, 233 pages).
Johnson, a playwright and teacher in Florida, spent his first 18 years growing up in New Bern, N.C., a town along the coastal road U.S. 17. Since then, Johnson has driven this highway many times, surfing as a young man, taking in the sights as he grew older, and always seeking out shrimp shacks and other seafoods eateries as he travels this road.
"Shrimp Highway" is a special book in several ways. First, it pays homage to a highway, the terrain through which it passes, and the towns it touches. Though Highway 17 extends farther south and north, Johnson focuses his attention on the shrimping parts of the road that run from Fernandina Beach, Florida, to Elizabeth City, North Carolina. He describes the building of the road, its condition today, and cities and towns like Savannah, Beaufort, Calabash and Sneads Ferry. He includes many landmarks in these descriptions, some of them historical, some simply local attractions, making the book, in a sense, a travel guide.
Along with the way, of course, Johnson visits numerous restaurants, often with names like Mudcat Charlie's and Skipper's Fish Camp. He always asks if the shrimp is netted locally and often discovers, to his great disappointment, that for various reasons — the relative scarcity of local shrimp versus demand, the costs of preparing fresh-caught shrimp as opposed to purchasing commercially harvested and cleaned shrimp obtained from other places, mostly overseas — means he's out of luck. In his descriptions of these restaurants, where he mingles with both the employees and the patrons, he gives readers a flavor of the region, what natives think of Route 17, and the vast knowledge some few people possess about shrimp.
And for those interested, "Shrimp Highway" serves as an introductory class on the many different types of shrimp, their history, and the ways they can be cooked. Johnson prefers his breaded and deep fried, like a lot of us, but he includes lots of the other ways people eat shrimp.
Hand in hand with his subtitle about savoring an iconic dish is Johnson's savory poetic prose, which brings this part of the coast to life. Here, for example, is this take from his youth:
"So U.S. 17, which began for me in New Bern, was more than an exotic highway. It was a fabled path connecting me to magical destinations, always near water, never far from the beach, or from the possibility of surf, no matter how 'East Coast' and sloppy the waves.
"And along this stretch of littoral southern states cut with that seacoast sliver of highway, I fell in love with fried shrimp."
In addition, Johnson also offers brief sketches and portraits of the people he meets, mostly waitresses and shrimpers. Here's an old man he encounters on the docks at Varnamtown, North Carolina:
"A crusty local offers a few comments. His skin is like crinkled leather. He never found the teeth he lost. He's as reticent as he is rugged. Says between seasons he works on heavy equipment, mainly dredging operations. He's never far from the water, and never far from U.S. 17."
Finally, Johnson looks at the changes time has brought to our coastal waters since his boyhood. Highway 17 is busier than ever, much to the chagrin of some of the locals. The fishing villages and open beaches Johnson remembers from his boyhood are now shopping areas and sport luxury vacation houses. The young people, like their counterparts across the company, often leave the homes and towns where they grew up in search of greener financial pastures, though as Johnson notes of them, "that U.S. 17 experience is in their blood; it's an ineluctable part of their Wonder Bread years."
But while much has changed, much remains the same: the surf and sound, the windswept beaches, the boats, and of course, the shrimp. After reading Shrimp Highway, I not only wanted to chow down on some of that fried shrimp and get my toes in the sand, but I also wanted to drive down part of U.S. 17, at least that part of it that follows the North Carolina coast, and stop in some of the towns Johnson visited, and just walk around the streets breathing in the briny air and taking it easy.
Someday soon ….
(Jeff Minick reviews books and has written four of his own: two novels, "Amanda Bell" and "Dust On Their Wings," and two works of nonfiction, "Learning As I Go" and "Movies Make the Man." This email address is being protected from spambots. You need JavaScript enabled to view it.)