Archived News
State puts the brakes on US-19 flyover project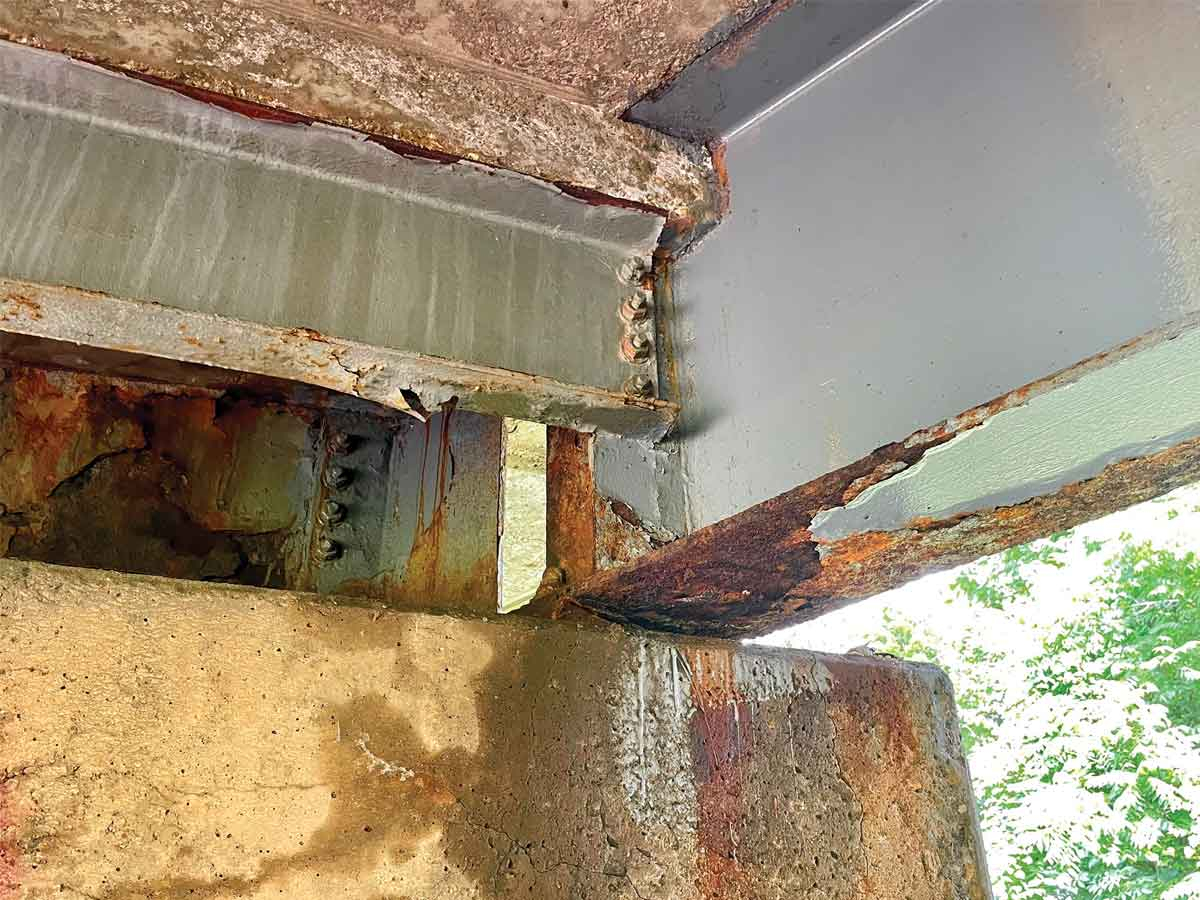 Girders supporting this bridge over Richland Creek, photographed in June, 2021, show significant rust and peeling paint. Cory Vaillancourt photo
A much-needed, much-lamented bridge replacement project planned for U.S. 74 in Haywood County will be postponed, per a June 10 statement from North Carolina Department of Transportation Division 14 engineer Garrett Higdon.
"NCDOT has made this decision to allow for more funding to be reallocated to the upcoming I-40 bridges projects," Higdon wrote in an email to local leaders. "The project will be redesigned to decrease the size and reduce overall cost. The Department is planning on having the redesign completed and project let by late 2023."
When originally proposed back in 2021, the project prompted immediate ire from local governments, several of which passed resolutions asking DOT to expedite it; the project footprint lies more or less in the heart of Haywood County and would have snarled traffic for miles, for at least 15 months.
"We really think this is a broader challenge for the whole county, and we will be a part of that because we are in the center," Ken Howle, executive director and CEO of the Lake Junaluska Conference and Retreat Center, told The Smoky Mountain News at the time.
Howle said he was ultimately in favor of the project because it would rectify a dangerous right-hand merge, but like others in the county, he was concerned about the economic impact the traffic and resulting detours would have on Lake Junaluska as well as surrounding municipalities.
Rep. Mark Pless (R-Haywood) also voiced concern over the project and its impact on emergency service response times. Pless is a former EMT, and pressed DOT to heed stakeholder input that resulted in DOT issuing a revised, expedited timeline for the work.
Now that the project's been pushed back , Howle said he's appreciative of the communication with the DOT and Pless.
"Over the next 18 months and beyond, we look forward to continued communication and collaboration with the DOT in this project and any others," Howle said. "The roadways within Haywood County are one of the most important aspects of maintaining our economy."
Initially, the project came into being due to concerns over the deterioration of three bridges built in 1965. Higdon said that DOT will perform repairs on the bridges to ensure public safety until replacement occurs.
In the meantime, bridge work on Interstate 40 will begin, with some projects starting as soon as fiscal year 2023. Two bridges over Beaverdam Road, one over Incinerator Road and one over Champion Drive will be first, followed by one over Thickety Road in 2024. In 2027, two bridges over Coleman Mountain Road and one on the U.S. 74 West ramp over I-40 will begin.
The U.S. 19 bridge project now joins two other high-profile DOT projects, Waynesville's South Main Street and U.S. 19-23 east of Canton, in a holding pattern.