Archived Outdoors
Measuring the top of the world: Tuscola alum leads Everest expedition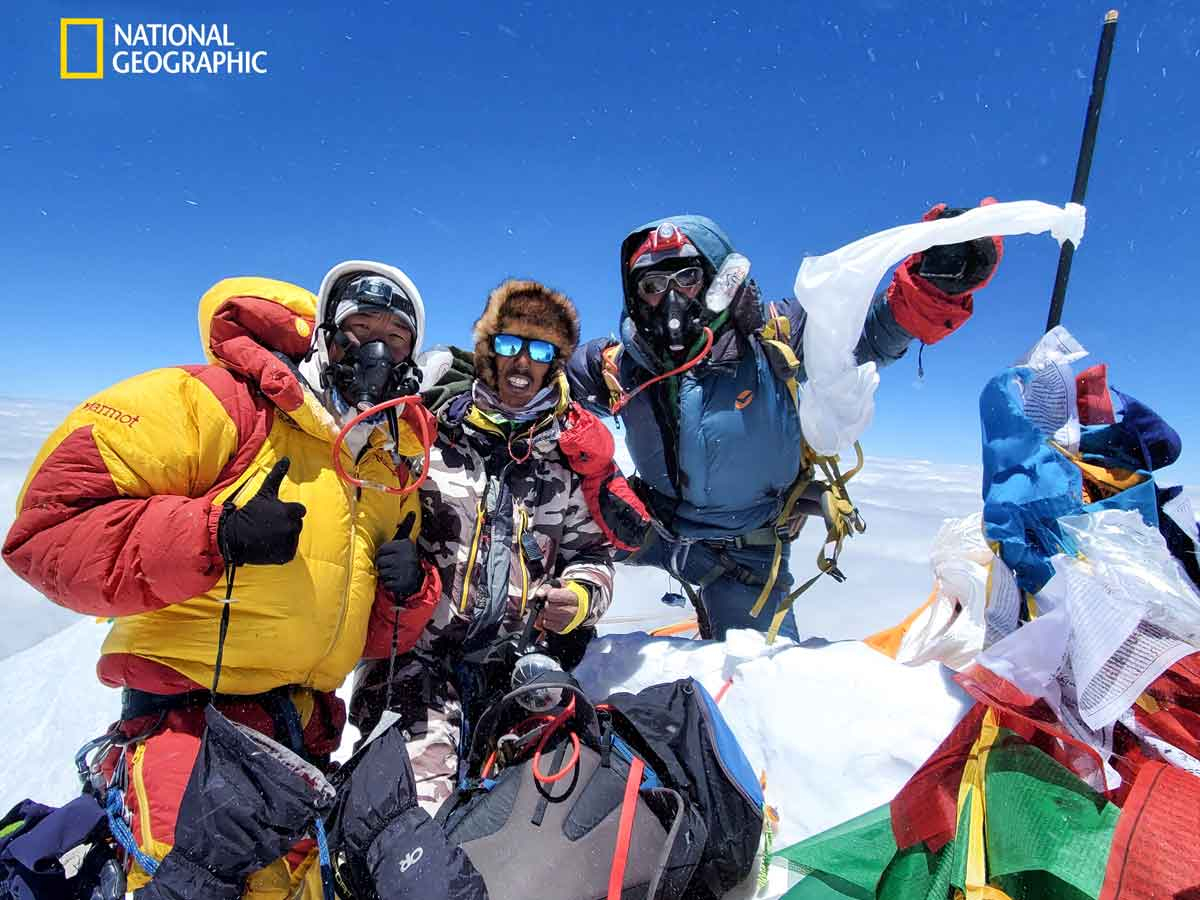 Tenzing Gyalzen Sherpa, Kami Temba Sherpa, and Nima Kancha Sherpa stand at the summit of Everest during a May expedition. Arbindra Khadka/National Geographic photo
Baker Perry's family arrived in Haywood County almost by accident. They'd been living in Bolivia, where his parents operated a nonprofit today called Curamericas Global, when political problems forced them to leave. His grandparents had a house at Lake Junaluska, so not knowing where else to go, the Perry family moved in.
Now a National Geographic Explorer who recently led an expedition to install the world's highest weather station on Mt. Everest, Perry considers his childhood in Haywood County pivotal to forming him into the scientist he became. He was a multi-sport athlete at Tuscola High School, and he credits the teachers and coaches who mentored him in the years following his fourth-grade arrival in 1984 with guiding him toward the opportunities that followed.
And then, there are the mountains themselves. From his home in Lake Junaluska the surrounding peaks spread in a panorama, and even as a young child Perry found weather — and especially snow — mesmerizing. He loved to sit outside, watching the clouds roll in.
"If snow was in the forecast, I was setting my tent up in the backyard and camping out in it," he said. "I can't tell you exactly why. Everybody thought I was pretty strange."
National Geographic Explorer Baker Perry takes an acclimatization hike on Lori Peak during the May expedition. Baker Perry/National Geographic photo
Decades later, he can still rattle off the dates and accumulations of the major snowstorms of his youth. In high school, Perry once got sent to the principal's office for playing his weather radio in chemistry class, unable to ignore the winter storm on its way. Another time, his coach yelled at him for playing poorly during a basketball game after he found out Perry had been to Cataloochee Ski Area in the hours before the contest. What the coach didn't know is that the athlete hadn't done any skiing — he'd merely walked around to see how much snow the most recent storm had dropped there.
Weather conditions could vary drastically across the county, and that fascinated Perry. Often, the northwest section around Fines Creek and the Smokies would get hammered while Waynesville and Lake Junaluska received barely anything. It's a phenomenon called northwest flow snowfall, and it would eventually become the topic of Perry's Ph.D. dissertation.
Perry's obsession would transform into a career.
A wintry view spreads from Everest Base Camp during the May expedition. Arbindra Khadka/National Geographic photo
Expedition to Everest
Contrary to what one might expect, the base of Mount Everest is mostly devoid of snow.
"You're just camping on grit and cold glacier ice," said Perry. "There's not much snow around."
That's disappointing to the little kid inside him, who still roots for a blizzard. But last month, Perry was at Everest as the leader of an elite team with a singular purpose — to bring the mountain's existing network of high-elevation weather stations up to 28,904 feet. He had to suppress his desire for snow, which would have compromised the mission .
The May 2022 National Geographic and Rolex expedition built on a previous undertaking in 2019, when Perry was on the meteorology team for a National Geographic/Rolex trek that installed five high-elevation weather stations on Everest. At 27,600 feet, Balcony Station was the world's highest until severe weather knocked it out of commission.
"The vertical scale is just mind-boggling up there," Perry said. "You're close to the same elevation as what airplanes cruise at on some flights. It's so high up there, and having that panorama is really incredible."
This year, the team returned to perform needed maintenance on the lower four stations and replace the Balcony Station with a new, higher unit at Bishop Rock.
The expedition team constructs the weather station at Bishop Rock during the May expedition Arbindra Khadka/National Geographic photo
Even for experienced mountaineers like Perry and his team of scientists, explorers and Sherpas, it was a massive undertaking. May on Everest is not springlike. At Base Camp, elevation 17,598 feet, highs sit in the 30s with lows in the teens. Up at Camp 4, elevation 26,000 feet, daily temperatures range from -20 to just above 0 degrees.
The thin air presents even bigger challenges.
"The limited oxygen just makes everything that much harder physically, and slower too," said Perry. "And it impacts your body's ability to recover, and especially sleep at night."
Installing a typical weather station requires wiring six wires per sensor, a slow process that takes between a half and a full day to complete. If they expected to put a functioning weather station at 28,000-plus feet, the team needed a machine that would work in extreme temperatures and be light enough to be carried up the mountain, strong enough to withstand the elements and simple enough for the team to assemble with gloved hands and the limited amount of time that their oxygen tanks and energy levels allowed.
Working out the engineering took time, but after hammering out the details and practicing the assembly process, the team was ready to go.
In 2019 , the crew spent a total of five weeks at Base Camp or above, and while they'd planned a similar schedule this time around, an unexpected push past Camp 3 shaved a week off the trip. The team had already left Base Camp when the weather forecast began to deteriorate, and when they arrived at Camp 2 it became obvious that the originally planned date for their summit attempt was not going to work.
"We had to make a really difficult call whether to try to go a day sooner, which meant a much bigger push in skipping Camp 3, or delaying, which would mean having to go back down to Base Camp and resupply and then coming back up and dealing with crowds and traffic jams ," Perry said. "And so we decided to go for it."
That ended up being a good call. Everest has gotten crowded in recent years, but it was still early enough in the season that the team had the route to themselves. They made good time, but fierce winds imposing a wind chill of -40 degrees jeopardized the trip's success.
"That's where I had to make the tough decision to remain at Camp Two to free up resources, both oxygen and Sherpa, to maximize our chances of success and putting in that highest station," Perry said.
Perry said he was disappointed to lose his chance to summit Everest, but he's glad he stayed. As team leader, he was responsible for ensuring the expedition's success, and from his position at Camp 2 he ended up managing evacuations for two expedition members — one a colleague from the U.K. who had a frostbitten finger and another a Sherpa who sustained a knee injury.
Besides, school was still in session. Perry is a professor in Appalachian State University's Department of Geology and Planning, and trekking didn't stop him from teaching. He recorded and delivered lectures along the way, uploading his students' final grades from inside his tent.
Baker Perry was a multi-sport athlete at Tuscola High School. Donated photo
Troubling discoveries
From his childhood hiking Haywood County to his career climbing mountains, it's obvious that Perry loves the outdoors. But Everest, he said, is challenging.
"It's a longer expedition, so to be honest there's a lot of suffering and uncomfortableness," he said.
It's worth it, though, if the reward is a window into one of the world's least understood and most important environments.
"Mountains are these critical water towers ," he said. "They have snow and ice that is stored up high that sustains downstream communities for water resources. Globally, we're talking a billion and a half people, or thereabouts, that live downstream from these water towers."
During the summer months, seasonal snowmelt sends that moisture downhill. Climate change poses a real danger for the people, plants and animals that depend on that water — should warming temperatures cause those reservoirs to shrink or disappear, the communities below could find themselves without the water they need to survive.
Despite the vital role tall mountains like Everest play in water dispersal, little is known about the mechanisms driving change on their slopes and summits.
"At the highest elevations there just are not weather stations to allow us to fully understand the processes that are driving that change," Perry said.
Since the first expedition to Everest in 2019, Perry and his co-investigators have published more than 10 papers on their findings. With an even higher station now in place, they hope to deepen their understanding even further.
One surprising — and troubling — discovery has been the magnitude of solar intensity atop Everest and its impact on snow melt.
"The models that predict future glacier behavior, they've assumed that there's no melt occurring unless air temperature is above freezing," Perry said. "That is not the case, and that has big implications for future projections of water resources."
The snow and ice on Everest is not pure — it contains pieces of dirt and rock that absorb solar radiation and heat up the frozen water around them. Due to all the reflection from light-colored snow and ice, observations from the Everest weather stations are measuring solar radiation levels higher than what Perry would expect to see at the very top of the atmosphere. Even with air temperatures as low as -14 degrees, snow is melting.
The team has also documented concerning signs much lower on the mountain. The monsoon season between June and September is responsible for 70-80% of the annual precipitation at Everest, but at Base Camp, nearly all of that monsoon moisture is falling as rain, with temperatures in the mid-to-upper 30s.
"That's just a really bad sign for the future of those lower glaciers in particular," Perry said.
The researchers hope to see the data improve weather forecasting on the mountain as well, cutting down on climber casualties.
"We're reasonably confident that about 25% of the unexplained deaths on Mt. Everest over the years have been related to weather, in particular winds," he said. "In many cases, people actually just get blown off the mountain and they're never seen again."
Better weather forecasts would help climbers make better decisions about when to climb and when to wait.
Members of the expedition team descend from Mt. Everest's south summit during the May expedition. Lhotse is in the background. Arbindra Khadka/National Geographic photo
In the years ahead, Perry plans to continue building the network of observation stations on the world's tallest mountains, though he's also working with the Nepalese government to eventually transfer responsibility for the efforts on Everest. Though ASU is currently responsible of operating and maintaining the weather stations, the plan is for Nepal's Department of Hydrology and Meteorology to eventually take over.
There's plenty of work to do, but first Perry has another mountain to climb. In July, he's headed to Peru for another National Geographic expedition to install a weather station — though compared to Everest, it will be an easy climb.
The mountain is only 21,000 feet tall.