Archived Outdoors
Writer takes residence in the Smokies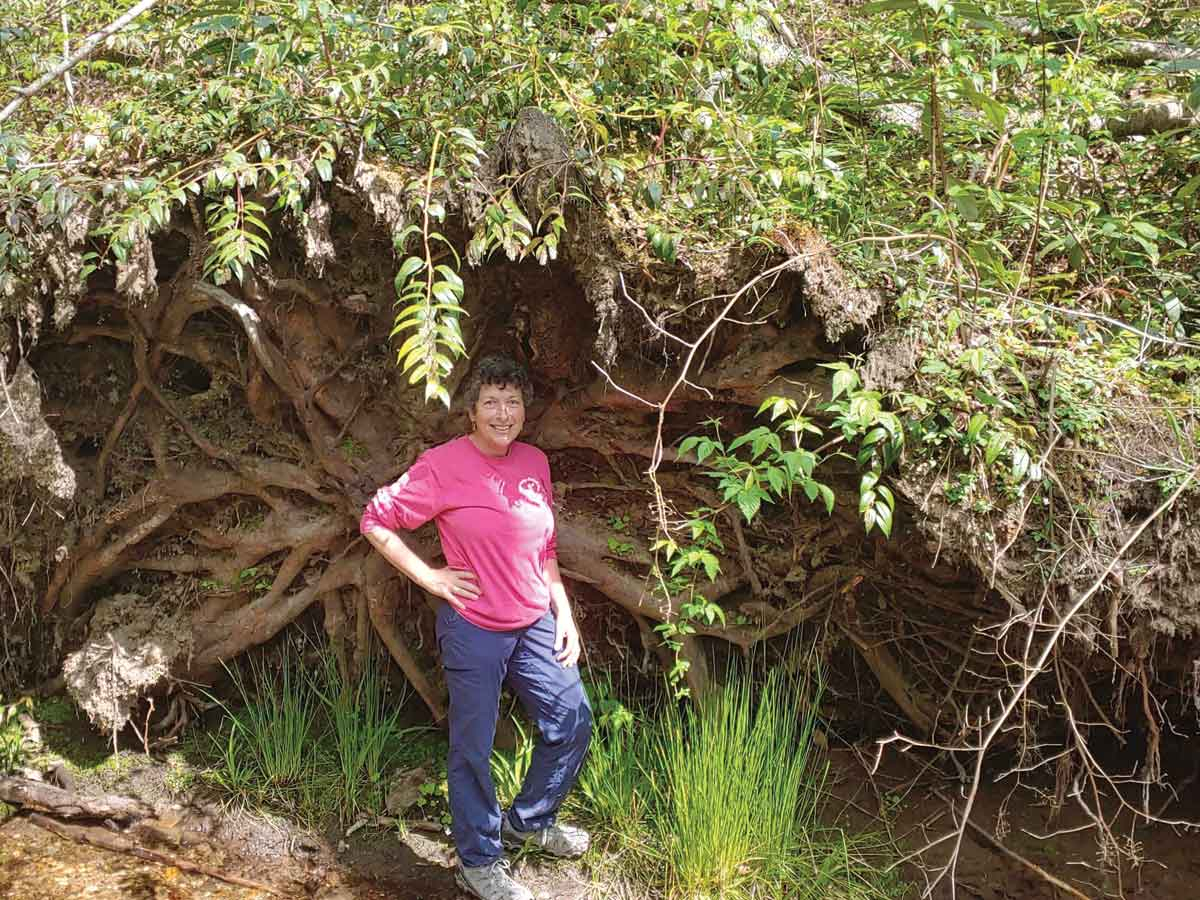 While hiking Cucumber Gap Loop in the Smokies, Sue Wasserman stands under an enormous massive root ball. Donated photo.
Bakersville, North Carolina, resident Sue Wasserman is taking her place as this year's Steve Kemp Writer in Residence at the Great Smoky Mountains National Park following a two-year pandemic delay.
"After waiting for more than two years to come to the Smokies for this residency, I am tremendously excited both to start on this work I've been planning and also to be an ambassador for GSMA," said Wasserman. "Having a walk and dinner with Steve Kemp to kick things off was truly awesome — especially given our shared love of nature and writing — and I'm ready to immerse myself in the rhythm of this magical environment."
Funded by the Great Smoky Mountains Association, the annual residency is designed to help writers of any medium connect in a meaningful way with the park, providing space to focus on craft in a retreat-like setting that will hopefully inspire some of his or her best work. The program is named for 30-year GSMA veteran Steve Kemp, who retired in 2017 after directing the publication of hundreds of written works to support the park.
During her residency, Wasserman will focus on three key projects with an overarching theme of Perspectives on Nature: "Six Weeks in the Smokies," a series of essays and images based on her experiences and personal introspection in the park; "Hike-Ooh," a series of nature-inspired haikus that may culminate in a poetry book; and a "Perspectives Quilt," for which Wasserman plans to collect ideas and viewpoints from many different individuals — park staff, park visitors, artists and craftspeople, schoolchildren, and members of different racial and/or cultural backgrounds — to be printed onto fabric with accompanying images, stitched into a quilt by local artisans and shared with the public.
Wasserman will also supplement her work by participating in many "edutainment adventures" with GSMA and park staff throughout her residency, the first of which was the Spring Wildflower Pilgrimage in April.
A writer, nature photographer, teaching artist and book editor, Wasserman spent more than 20 years in corporate communications and public relations, which allowed her to self-publish and promote two books: "A Moment's Notice" and "Walk with Me: Exploring Nature's Wisdom." Her work has previously been featured in the New York Times, Southern Living, American Style and the Atlanta Journal Constitution, as well as in GSMA's own Smokies Life journal.