Archived News
Report highlights bungled aftermath of sexual abuse claims at teen rehab center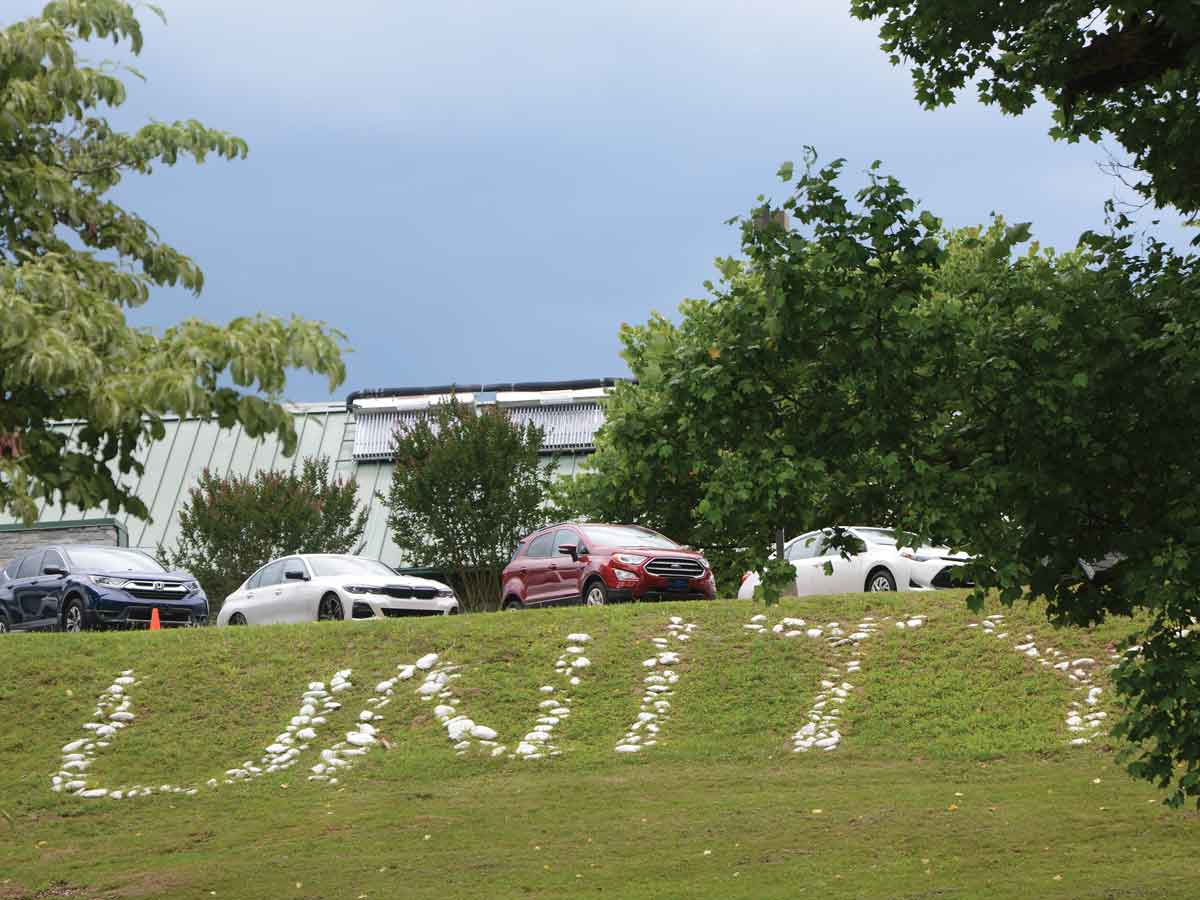 Unity Healing Center in Cherokee is a rehabilitation center for Native American youth run by the Indian Health Service. Holly Kays photo
Leadership at Unity Healing Center in Cherokee failed to properly investigate or report allegations that an employee of the federally run rehab center for Native American teens had sexually abused one of its residents in fall 2016, a newly disclosed report concludes.
The quality assurance review was completed by third-party consulting firm Milam Consulting in May 2020 and released last week in response to a 2019 Freedom of Information Act request from The Smoky Mountain News. It paints a scathing picture of incompetence, disregard for chain of command and a toxic workplace culture that created a "perilous environment" for staff and residents alike.
"The review found that multiple staff at Unity failed to comply with mandatory abuse reporting requirements," reads a statement from the U.S. Indian Health Service, which operates the center. "Unity Health Center staff did not recognize and report signs of possible abuse and suspicious behavior, and that left our patients vulnerable. The IHS acknowledges that it did not handle this incident appropriately."
One of five healthcare facilities under the jurisdiction of the Indian Health Service's Nashville Regional Office, Unity is the only such facility that focuses solely on Native American youth ages 13-17. Teens typically stay at the residential facility for 80-90 days, and treatment is aimed at "breaking the cycle of addiction and restoring hope and wellness to Native American youth, their families and communities," according to the facility's website .
Though heavily redacted, the newly released review backs up the version of events related in SMN's August 2019 story about the sexual abuse allegations and in the June 2019 Wall Street Journal article that brought the situation to the public eye.
Allegations surface
Unity was in crisis for years before the events of fall 2016, with former employees describing a chronically understaffed workplace where employees regularly came to work under the influence of drugs or alcohol and behaved in ways inappropriate to a professional environment.
When staff became concerned about the relationship between a 47-year-old maintenance worker and a 16-year-old resident, the situation came to a head.
SMN's previous reporting established that the employee in question was Nathanial "Bunsey" Crowe, a member of the Eastern Band of Cherokee Indians who had worked at Unity more than five years when the alleged incidents occurred. Crowe's name is redacted in all but one instance in the 484-page Milam report. The names of the resident and the former employees who reported their concerns are also blacked out.
Former Unity employees who spoke to SMN in 2019 said that, while they had been concerned for some time about Crowe's behavior toward the girl in public spaces, giant red flags arose when, in September 2016, security footage showed Crowe and the girl walk into the bathroom adjoining her room and remain there for about four minutes. Though anti-ligature attachments prevented her from killing herself, the teen was taken to the hospital later that month after attempting to hang herself, the teen's former therapist Tawna Harrison told SMN.
The Miram report references additional concerning interactions. It refers to "at least two separate episodes" of two people, whose names are redacted, being alone in the bathroom for four to five minutes with the door shut. Unity leadership also viewed video of a male entering a resident's room and remaining there for "30 seconds to one minute." Around the same time, a Unity staff member found a "romantic" letter that the resident had written to the employee.
Though the names of the parties involved are redacted, the report's executive summary makes it clear that sexual abuse allegations centered around interactions between the single staff member — who SMN's investigation found to be Crowe — and the teenage resident.
When interviewed in 2019, Crowe disputed the allegations, saying he and the girl were never alone with the door closed. He said that he'd entered the bathroom to fix an electrical outlet that residents reported was emitting shocks, and that the bathroom door was open with another employee standing outside when the girl came in to point out the outlet causing the problem. The Miram report reached a different conclusion, stating that the resident and employee were alone in the bathroom and that the door was closed.
In 2019, Harrison told SMN that Crowe gave the girl extra attention compared to the other residents, stopping by to chat, playing cards, and holding her hand in the hall, swinging it up playfully up and down like one might do with a child. While Crowe said he never showed the girl anything but simple kindness, the report backs up Harrison's version of events, stating that the employee "altered his behavior and normal work patterns to place himself in close proximity to [redacted]."
While the report found Crowe's behavior violated boundaries, he has not been found guilty of a crime or even charged with one — and determining his guilt or innocence was not the goal of the review. The goal was to identify what Unity and IHS leadership got wrong when responding to the allegations, and how to ensure those mistakes never happen again.
Failure of leadership
The report doesn't mince words when summing up the situation at Unity.
"Virtually every level of leadership failed to take action despite numerous opportunities to intervene and provide corrective action," it says.
At the time of Crowe's alleged actions, three women held the top spots at Unity. Tiara Ruff was its CEO, Tracey Grant was its clinical director and Cynthia Slee was the supervisory social services assistant. The review found that all three failed to take the allegations seriously.
"Unity leadership dismissed the actions of the staff member as non-sexual and determined that the alleged victim was pursuing the [redacted] staff member who was ultimately not able to resist the advances of the alleged victim," reads the report summary. "The alleged victim who was powerless and the most vulnerable was deemed to be the problem."
Multiple social services assistants interviewed for the report said that, prior to 2019, they hadn't received any training on how to report abuse allegations. At the time, they understood only that they should report concerns to their immediate supervisor — not to local authorities and the Office of the Investigator General, as they are trained to do now.
"It was difficult to quantify the degree to which front line staff (SSAs) reported frustration with respect to the reported failures of Ms. Slee, Capt. Ruff and Ms. Grant to effectively manage concerns or issues reported to them," the report states. "Multiple SSA staff reported they were not aware of any mechanism to effectively access higher level management without fear of repercussions from Ms. Slee. Despite their fears some front-line staff reported they specifically submitted concerns in writing to Ms. Slee and Capt. Ruff, but at the time of this review no such documentation had been located."
Rife with errors or missing completely, documentation at Unity was so inadequate that the consultants had a hard time constructing a timeline of events. The minimal actions that leadership did take only complicated those efforts further. Despite a lack of expertise and objectivity, Unity leadership took it upon themselves to investigate the allegations internally, and multiple staff accessed and viewed the security footage in question. This served both to taint the quality of interviews and to violate HIPPA guidelines.
Law enforcement didn't learn about the allegations until May 2017, when Christopher Herndon, a therapist at Unity who arrived on staff after September 2016, reported it to the OIG's office upon hearing staff members talk about the apparently unresolved incident. Around the same time, tribal law enforcement received an anonymous report regarding alleged sexual abuse at Unity.
"Protecting vulnerable [redacted] and protecting persons who may be falsely accused are not incompatible goals," the report says. "Ironically, the path to achieving both goals is identical. Securing the safety of the preservation of [redacted] documentation, creating space for objective evaluation of information, and deferring to trained professionals are essential tasks."
By the time Miram conducted its investigation, key information — certain documentation as well as copies of the security videos central to the allegations — was simply not available. The report also states that both the EBCI and the OIG declined to share information gathered over the course of their own investigations.
EBCI Public Information Officer Breanna Lucas countered that assessment, saying that the tribe "eagerly provided" the consultants as much information as it could in light of laws protecting the privacy of underage victims. The Office of Family Safety "acted swiftly to protect the victim" after hearing the allegations and had "multiple conversations" with the consultants as they prepared the review.
"After years of issues at this Indian Health Services managed facility, we are heartened to see the agency finally take responsibility, seek an outside evaluation, and take new steps to address the many problems," Lucas said.
Unity's local leadership are not the only ones who failed to respond appropriately. In fall 2016, Grant and Ruff conducted a Root Cause Analysis at the request of the Governing Board overseeing Unity. The RCA was not a response to the sexual abuse allegations, and while the report redacts language explaining what prompted it, in 2019 a former Unity employee told SMN that the RCA was a reaction to the resident's suicide attempt.
In minutes from a January 2017 Governing Board meeting Dr. Michael Toedt, then Chief Medical Officer of IHS, praised the RCA's quality. However, after reviewing the document "it was difficult to appreciate which components of the RCA were considered to be high quality," the Milam report said.
The document contained content, grammar and spelling errors, with no dates or signatures showing when it was initiated, how meetings were held or who participated in those meetings. Glaringly, the Root Cause Analysis did not identify any root causes, and the section that should have outlined a plan of action was "essentially left blank."
Then-Nashville Area Office Director Martha Ketcher was also missing in action — despite being responsible for activities related to the Governing Board and according to meeting minutes present at the Sept. 27, 2016, meeting when the necessity of an RCA was first discussed. Ketcher was included on several emails, but there was no documentation that she took any action related to the crisis at Unity, the report found.
"Lack of awareness or any documented interest from the NAO Director with respect to the services and care being provided to Indian Country at Unity was unambiguous and appeared to reflect a gross lack of institutional control at the highest level," the report said.
Exit from Unity
It does not appear that Crowe ever received official discipline due to his alleged actions. He told SMN he left Unity of his own volition in March 2019 so that he could run for Tribal Council.
However, the report indicates that a four-week transfer to Mashpee Wampanoag Health Service Unit in Massachusetts was not, as Crowe told SMN in 2019, a pre-planned detail to help get the facility ready for accreditation. The Miram report states that Facilities Engineer Allen Bollinger told consultants that Ruff sent Crowe to Mashpee because his "inappropriate behavior" meant he could not be on property at Unity. However, she did so without informing the IHS Nashville Area Office of the "actual reason" for his reassignment, the report says.
Crowe was never charged criminally related to the allegations of 2016, and while he did not win his bid for elected office, he did find a new employment opportunity within tribal government, working as housing monitor for the Housing Production Office.
"While we cannot publicly discuss personnel issues, our first priority is always the safety of our employees and those they serve," Lucas said in response to a question about Crowe's employment. "As such all employees are subject to background checks that consider all factors legally permissible under employment law as well as the rigorous enforcement of policies that ensure a safe and healthy workplace environment."
Crowe did not return a request for comment.
Grant, Slee and Ruff have since left IHS employment as well.
Grant was the first to go, working at Unity through July 31, 2019. The report described her as a "passive and conflict-avoidant leader" whose "failure to hold staff member accountable communicated a clear message that competent performance was neither necessary nor valued."
Ruff, whose "problematic behavior was manifested in withdrawal, silence, inactivity and indifference" according to the Miram report, was allowed to remain on the IHS payroll through her retirement on Jan. 1, 2021. However, she was transferred away from Unity in August 2018 and kept in non-supervisory positions until retiring.
Slee, who according to the report "attempted to compensate for her lack of training, lack of knowledge, lack of skill and lack of qualifications by assuming an authoritative role in which she focused on highlighting the errors or deficits of others," was allowed to continue working at Unity through June 8, 2020.
New safeguards
New leadership at Unity and the Nashville Area Office, as well as measures instituted throughout IHS related to sexual abuse prevention and required reporting training, have resulted in "great strides towards improving quality and patient safety" at Unity, according to an IHS statement.
Dr. Beverly Cotton replaced Ketcher as Nashville Area Director in January 2019, quickly directing Unity Leadership to review its policies and procedures, and ordering the review that has now been released to SMN. Joni Lyon has served as Unity CEO since April 2019.
Unity is now working to implement recommendations in the Miram report, including enhanced communications with investigative entities, training modules that emphasize safety and reporting, and supporting the learning process for both clinicians and support staff. Last year, an area-level committee was established to review incidents of misconduct and substandard performance.
IHS has also implemented new measures servicewide. These include making sexual abuse prevention training mandatory annually for all contractors and employees, establishing a 24-hour hotline for reports of suspected abuse within an IHS facility or by an IHS staff member, updating policies to include more stringent professional standards, and updating guidance on trauma-informed care and protection against sexual abuse and exploitation.
Regardless of whether sexual abuse occurred in 2016, the subject's "behavior and the impotence of the system in which he worked created an extremely perilous environment," the report said. Sexual abuse will never be 100% preventable, it says, but the right decisions and actions can minimize the risk and create safe environments where vulnerable teenagers can receive the care they need without being exploited.
"It is exceedingly difficult for sexual abuse or exploitation to occur in an environment where there is healthy and effective communication and respect for boundaries," the report said. "The absence of healthy and effective communication, and disregard for boundaries is a breeding ground for sexual abuse and exploitation."