Archived Reading Room
One man's vision of the Southern Appalachians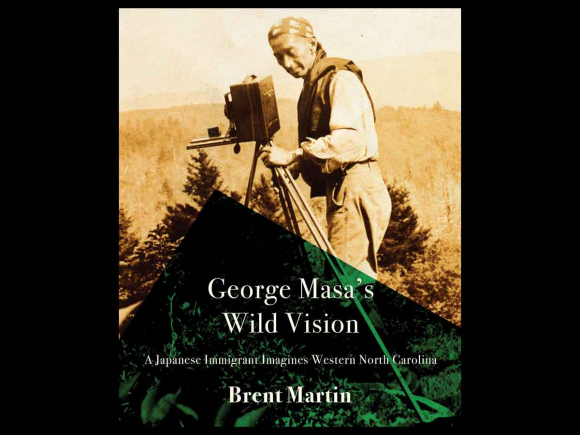 In my recent passion and ongoing interest in reviewing books by local and regional authors, I am offering here, yet another from our cache of talented writers that are close to home. In this case, it's a book just released in the month of June by regionally heralded Hub City Press in Spartanburg, S.C., just over the North Carolina line.
The book is "George Masa's Wild Vision" by Brent Martin, who is founder of Alarka Institute and current executive director of the Blue Ridge Bartram Trail Conservancy. He is the author, previously, of several books of poetry and non-fiction and resides in Macon County. As someone who has served on boards of many conservation organizations here in the Southeast and is head of a wilderness expeditions business, he knows these mountains as well as anyone and has devoted the better part of a lifetime to protect and steward our Southern Appalachian mountains.
"George Masa's Wild Vision" is a book that features the photographs of George Masa, who came to America in the early years of the 20th century from Japan, arriving here in 1906 or 1907 and taking up residence in the orbit of Asheville. Masa's eventual knowledge of our region and his photographs became a critical piece for the argument to create the Great Smoky Mountains National Park. In a more contemporary sense, none other than author Charles Frazier — of "Cold Mountain" fame — put him in his top 10 list of important Appalachian artists, writers, and musicians. Brent Martin explores the photographic locations Masa visited, using first-person narratives to describe the landscapes that Masa came to love, interpret and protect. Or as Martin states in his Introduction to the book: "Masa's artistic journey was into the soul of some of the oldest mountains on earth — a creative rendering of their light, their magnificence, their lushness, and their need of a voice to ensure their protection for generations to come. It was a love affair of place."
"George Masa's Wild Vision" is organized into chapter sections according to specific areas of particular regions of the Southern Appalachians — all within easy distance of Asheville and surrounds. These geographic areas and places include The Great Smoky Mountains National Park, the Highlands Plateau, Mount Mitchell and the Black Mountains, Chimney Rock, and Hickory Nut Gorge. In a chapter titled "Outliers," we see photographs from Stone Mountain, Georgia, the southern terminus of the Appalachian Trail and Mount Oglethorpe, all located in Georgia. Many of the locations familiar to many or all of us are included in this book and we will know them immediately from Masa's pictures and Martin's accompanying narrative: Nantahala Gorge, Grandfather Mountain, the Shining Rock Wilderness, some great shots of Chimney Rock, the observation tower on Mount Mitchell, Whiteside Mountain, Bridal Veil Falls, and Cullasaja Falls. Viewing and reading in this book is like taking an extended vacation abroad. Only in this case it's all in our own back yard.
No one is better at taking people on expedition trips in our region than Brent Martin. His own personal forays into these mountains and his group trips with the Alarka Expeditions part of his business have served him well and positioned him as "the man" in terms of getting to know in more explicit and intimate detail the place in which we live. Martin, like Masa, "had a vision — a goal, an ideal, or a mission; something spiritual or supernatural for his life here in the North Carolina hills." Or, as he writes in his Conclusion to the book: "Masa certainly had a fascination and obsession with wild places, whether real or perceived. Some of them were truly wild, such as Three Forks, and some were losing their wildness [mainly to human encroachment and development]. One is left to wonder if his work was celebration, lamentation, pleas for help, or all of the above. Or was it simply art — an obsession with craft and quality, born of ambition, that made the most mundane of landscapes at once magical and full of light!"
In Martin's personal narrative style, for which he is well-known, he describes a trip down from Highlands to his home in Cowee past Bridal Veil Falls, which is one of the most familiar and often visited place destinations in our region:
"On the dash down the gorge every afternoon of the week, I pass several Masa photo landmarks, including Bridal Veil Falls. The river looks wild and pristine, but like the Nantahala and any other number of Appalachian rivers, it's altered. But it still looks wild and to a great degree is wild, despite the damming of the river in Highlands for Lake Sequoyah and the multitude of RV parks and septic systems along its shores."
Martin is always looking for the beauty in places, but he is also attentive and finely tuned to those things that exist to threaten and destroy the pristine and beautiful spots in our Southern Blue Ridge Mountains landscape. In that sense he is both artist and conservationist, playing both roles via his books and his position with the Bartram Trail Conservancy. Always the watchdog and the artist. Brent Martin and Hub City have done us all proud in gifting us with this lovely large-scale hard-cover book full of Masa's full-page black and white photographs that give us a peek into this region's past as well as its heritage. We can all learn a lot about ourselves from knowing the natural history of this place we call "home." And George Masa's photos and Brent Martin's descriptions and commentary are a perfect place to start.
Thomas Crowe is a regular contributor to The Smoky Mountain News and author of the multi-award-winning non-fiction nature memoir Zoro's Field: My Life in the Appalachian Woods.