Archived News
Greenway planning begins in Haywood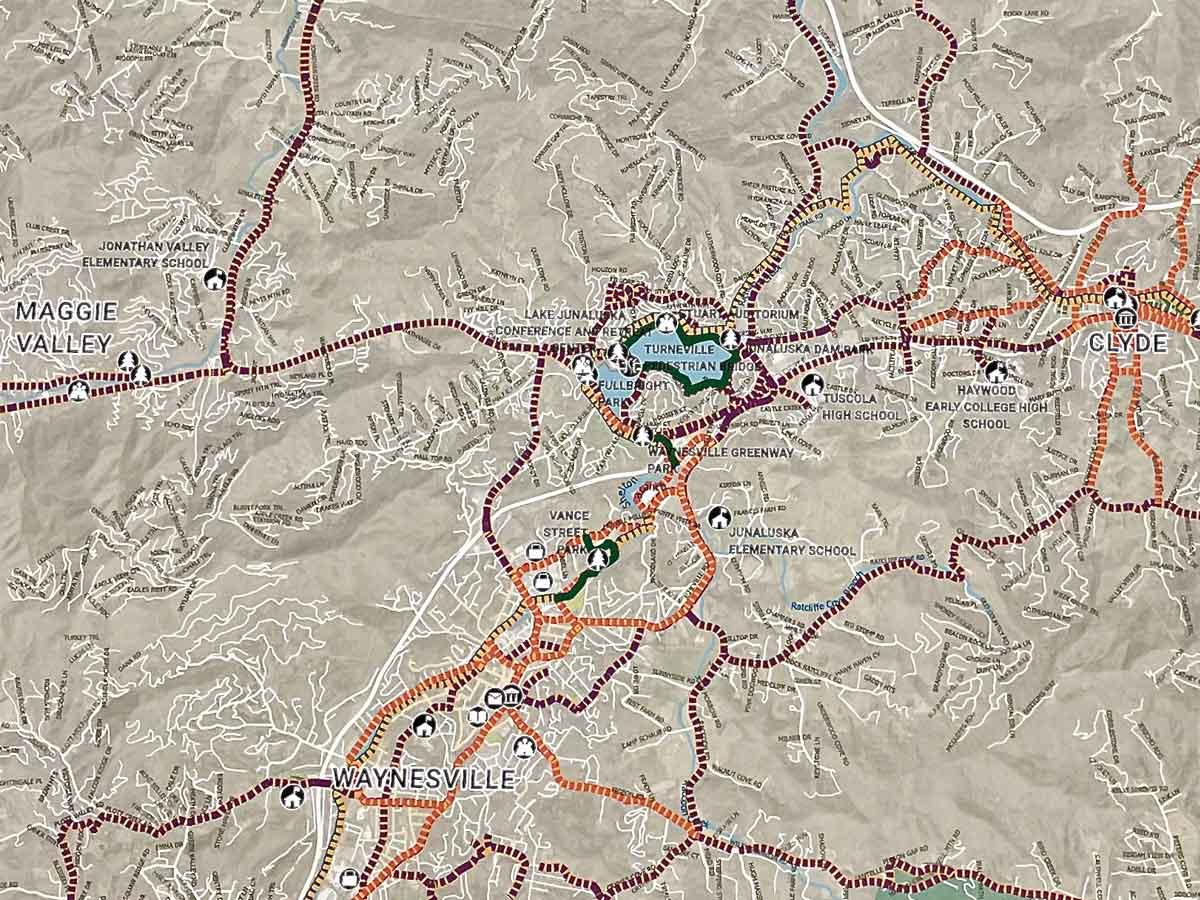 The French Broad River MPO is seeking input on potential routes and destinations for a county-wide greenway. Cory Vaillancourt photo
Haywood County is taking the first steps to establish a comprehensive greenway plan that could end up linking all the county's municipalities with nearly all its attractions.
"It's kind of a big first step in terms of envisioning a Greenway network for Haywood County," said Tristan Winkler, director of the French Broad River Metropolitan Planning Organization.
Back in 2021, Haywood County was awarded a planning grant by the North Carolina Department of Transportation and the Federal Highways Administration, through the French Broad River MPO, to create Haywood County's first-ever greenway master plan.
As suggested by the name, the master plan will guide the design, funding and implementation of the individual components of a countywide greenway. The ultimate purpose of the plan, according to the planning website , is to "help achieve local and regional goals for transportation, health, safety, economic prosperity and resilience to natural disasters."
The plan's development will be guided by stakeholders including all local government units in the county, along with Lake Junaluska, NCDOT, French Broad River MPR and Haywood Waterways, along with local businesses, advocacy groups and health care providers.
Drop-in informational workshops have already been held online and in-person in Canton and Waynesville. As of press time on June 7, only one more in-person session remains — Wednesday, June 8 from 4 to 6 p.m. at Maggie Valley Town Hall.
"A lot of our local governments have been doing local planning efforts. Canton did a bike and pedestrian plan relatively recently. Waynesville has been doing a lot of planning including the Richland Creek greenway plan completed a couple of years ago. The hellbender plan looks at a more regional viewpoint," Winkler said. "There are a few spots around Haywood County where getting more information to better plan is pretty critical. We know a lot about Canton and Waynesville and what's kind of coming down the pipe there, but connecting them, there's a lot of open questions. Getting more input from the public and getting a more technical view on those potential connections is really what we're trying to achieve."
For those who haven't had the opportunity to attend one of the sessions, there is a short web-based survey where the public can leave their thoughts about what the final maps should look like.
Lead consultant Matt Hayes, of Alta Planning, said the survey will remain online through the end of July.
A second round of public workshops is expected in the fall, with final plan development and presentation slated for winter.
"Once we get a good roadmap through the plan then we can start looking at what pieces of it are the most feasible to start chasing down funding for," Winkler said. "Right now, we have a project on Champion Drive, but there's been a lot of talk about U.S. 19/23 and Chestnut Mountain Park. How do we better connect that and what exactly are we going to be looking for there? Going from high level vision to more specifics and implementation is going to be the next step."
For more information on the plan, visit haywoodcountygreenwayplan.weebly.com .
Take the survey
Stakeholders are currently developing Haywood County's first-ever greenway plan, and they want to hear from you. First, visit haywoodcountygreenwayplan.weebly.com to learn more about the project and the process. Then, navigate to the survey or visit surveymonkey.com/r/haywoodcountygreenways to submit your input. The anonymous multiple-choice survey only takes about five minutes, and asks eight questions as well as for some basic demographic information.