Archived News
Big changes discussed for Cherokee Fair Grounds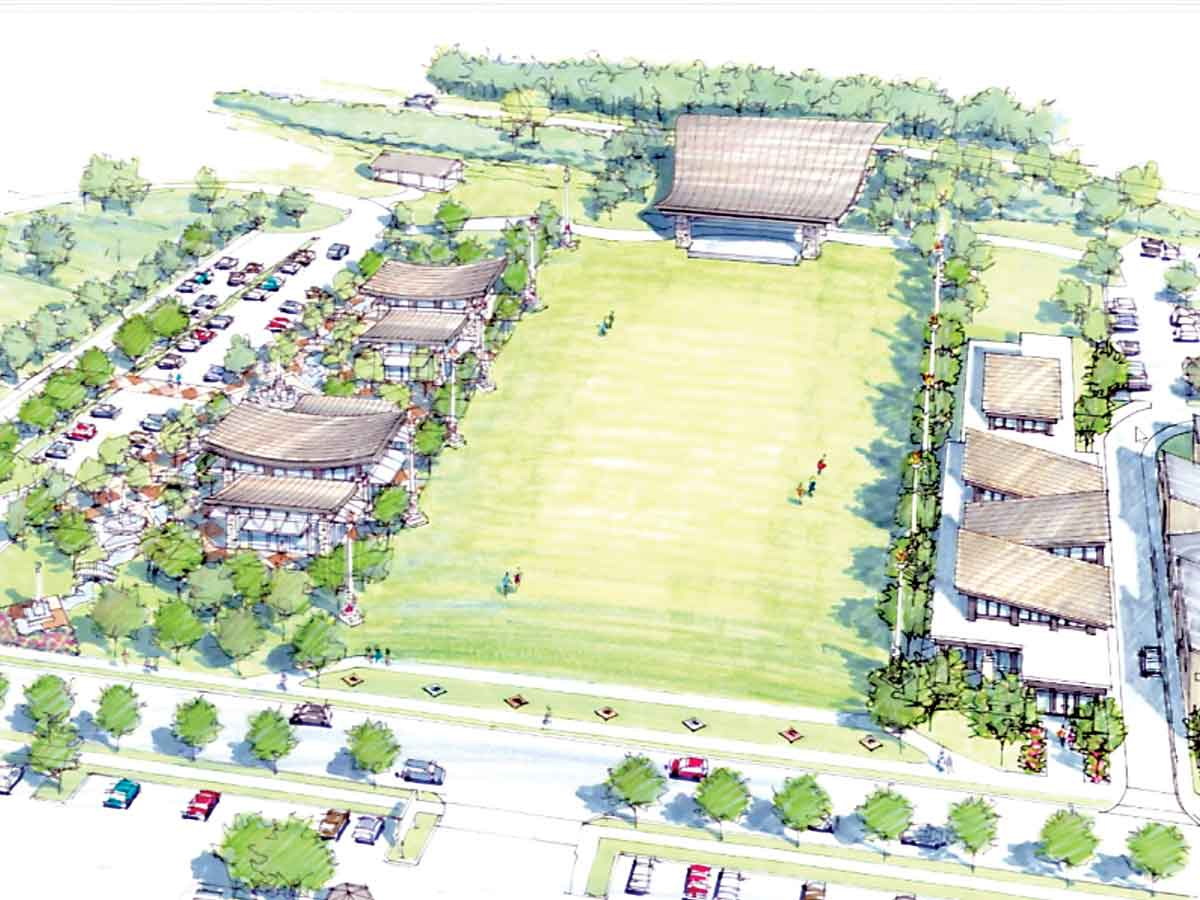 An artist rendering shows an initial concept for the future of the fair grounds. EBCI image
A crack in an amphitheater canopy column at the Cherokee Indian Fair Grounds could lead to a complete overhaul of the community gathering site — and a two-year relocation of all events typically held there.
"It's like ripping the BandAid off, right?" Chris McCoy, a member of the Eastern Band of Cherokee Indians Planning Board, said during a May 16 Planning Board meeting. "It's just going to take a minute. It's going to be an aggravation to some extent, but I think at the end of this two-year period when we look back, it's going to be one of the best decisions we've made."
The discussion began with the appearance of rust on one of the floating columns that holds up the fabric canopy covering the amphitheater. About four years ago, a windstorm damaged the canopy and dislodged one of the columns — the same one that recently developed the rust patch — and officials implemented a temporary fix to buy a few years before a permanent solution was necessary.
Upon finding the rust patch, the tribe commissioned a report from Phoenix Engineering. The rust patch is actually a crack that goes all the way through the metal, and the rust is caused by internal corrosion from water inside the column. It's unknown how much water is in the column, and because water expands when it freezes, there's potential for a catastrophic failure when cold weather returns.
"It's probably not a good idea to have anyone underneath this because we really don't know what condition this column is at this time," Travis Sneed of EBCI Project Management told Tribal Council.
Further assessing the column's condition would require disassembling the entire canopy structure, which is now more than 20 years old. The fabric canopy covering it has a 15-year life expectancy.
"If we're at this decision point of taking down the canopy and the public, the community, has had a want to really see some changes and renovations at the fairground, this is an opportunity to move forward with the renovation at this point, if we're beginning with partial demolition anyway," Sneed said.
He then unveiled a new vision for the fairgrounds property that Project Management hopes will better serve the community and accommodate events interested in locating in Cherokee.
The concept includes a much-expanded exhibit hall and a new, double-sided stage that would offer the opportunity to use the fairgrounds lawn as a passive seating area during concerts and other large stage events. The left side of the property — now "wasted space" holding an unattractive chain-link fence, a smattering of trees and electrical equipment — would host a row of retail spaces and workshops. This could include small working studios for local artisans, cafés and shops. That side of the property would also hold a water feature — an iconic fountain that would be visible from the Council House next door and fed by a newly liberated stream, now confined to an underground culvert.
Once a decision is made to proceed, the project is expected to take 18-24 months to complete. While the work takes place, the tribe aims to relocate activities that would typically occur on the Fair Grounds — such as the annual Cherokee Indian Fair — to a nearby property known locally as the old elementary school site. The site already has some of the infrastructure necessary to serve as a temporary location, but crews will likely fill it with gravel, roadbond and other materials to ensure the service is hard, safe and flat, McCoy said.
Overall, Planning Board members were supportive of the concept, though they did have questions. Concerns included projected demand for retail and fairground space, parking needs, and the project's overall cost and return on investment. However, the overwhelming sentiment was excitement about the ability to build something beautiful for the local community, rather than for casino patrons or off-boundary business interests.
"We don't have a problem finding money to spend away from here," said Planning Board Member Bill Taylor, who represents Wolfetown on Tribal Council. "Why don't we invest in ourselves, here? That's why I'm supporting the project."
"When you drive through this dollar store town, you get dollar store mentalities," McCoy said. "So it's time to live up to what we are. We're not that. We're better than that. Our people are better than that. It's time to put the Ferrari out there and let our people be proud of that."
The board voted 6-1 to recommend that Tribal Council approve the plan. That body is likely to discuss the issue at its next meeting June 2, though an agenda has not yet been released.