Archived News
HEMC flips the switch on new solar array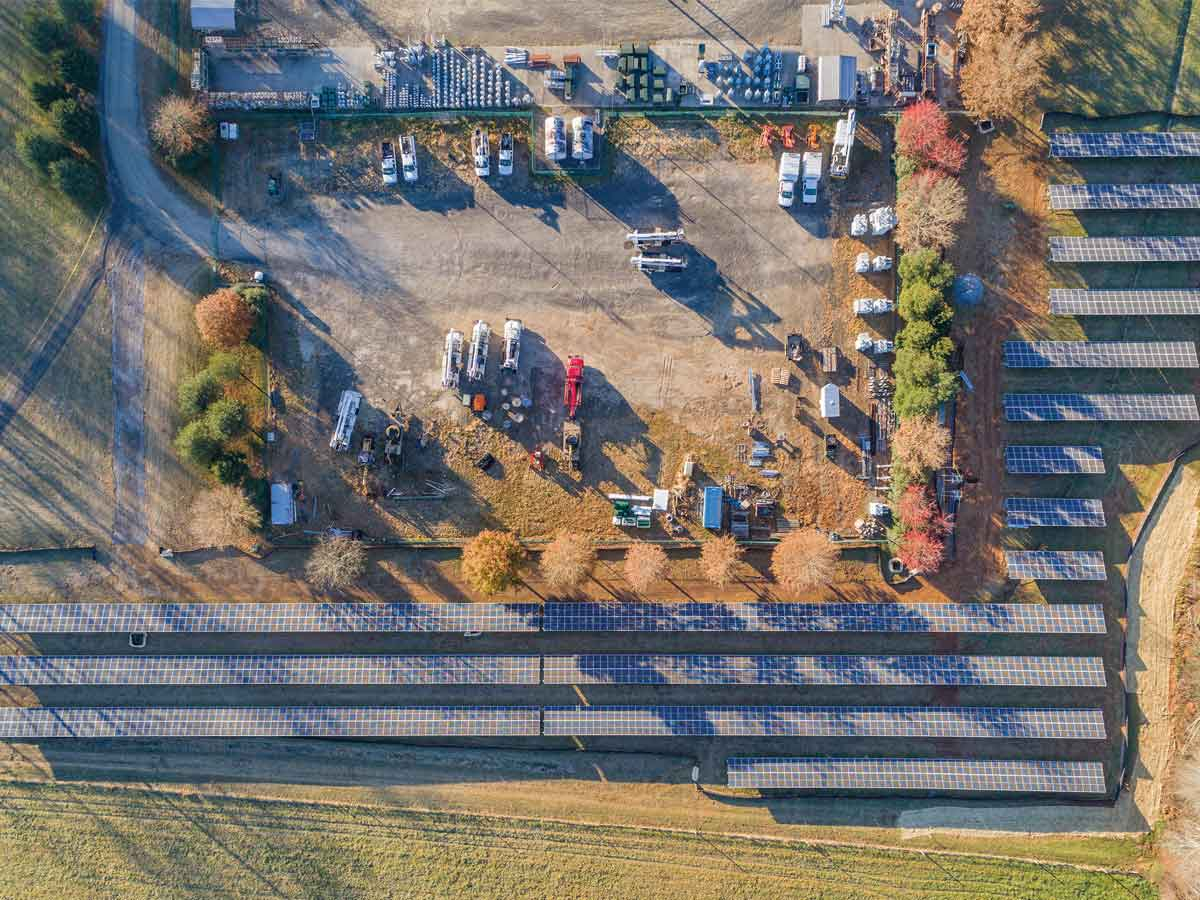 Seen from above, the solar array features 1,430 panels spanning about 3 acres of land right next to HEMC's headquarters. Donated photo
Haywood Electric Membership Corporation installed its first-ever solar array to power its own headquarters' operations, and its likely not the company's last foray into that arena.
The "switch" was flipped on the array during a brief ceremony on May 12, a day so sunny that the system was operating at just about its maximum output of around 500 kw, or enough to power 75 homes. On an average day, the array will be able to supply enough power to cover most operations for HEMC headquarters, but on a particular sunny day during which the headquarters isn't using too much power, it'll even supply enough juice to make it to the grid and power some homes.
The array uses a series of inverters to convert the direct current produced by the panels to alternating current, which then goes through transformers to get stepped up to the current used by the grid via the Jonathan Creek substation.
Allen Watts is the owner of Renewable Design Associates, the Asheville company that completed the construction project. Watts said this was his company's first project in Haywood County, adding that he enjoyed working with HEMC and the design firm, Pisgah Energy, also out of Asheville. Watts said that while some solar arrays — especially those seen in personal applications like homes or RVs — require deep cycle batteries, the grid has more than enough demand to pick up whatever power is being generated, so such storage wasn't immediately needed.
"In this case, the grid is essentially being used as storage," he said. "There will always be enough demand."
Federal Rural Utilities Service funding was approved by the USDA last summer. Last fall, ground was broken where the array — which features 1,430 solar panels on about 3 acres — would eventually sit. Although the project didn't offer any unwelcome surprises, there were a couple of expected issues, including long lead times for solar panel components and the challenge of anchoring the array into abnormally rocky soil.
Pisgah Energy owner Evan Becka elaborated on some of the supply chain issues, noting that there was a 10-12-week lead time for racking materials, which came from Ohio.
"We've got some long lead times on inverters, as well," he said, adding those took about eight weeks.
Becka also talked about difficulties installing the mounts for the array. To properly rack the panels, crews had to drill about 7 feet down into the rocky ground. However, Becka noted that despite any difficulties, because there aren't any exposed footings on the mounts, the array is not just functional — it's pretty nice to look at.
"It's a very aesthetically pleasing system," he said.
Considering the nature of his company, Becka keeps a close watch on the future of renewable energy. While he had concerns surrounding material lead times and potential tariffs that could pass extra material costs onto solar manufacturers, he also had reasons to be optimistic.
A large group of employees from HEMC, Renewable Design Associates and Pisgah Energy were on hand to "flip the switch" on the new solar array. Kyle Perrotti photo
"It's really promising from a policy standpoint on the federal, state and local levels," he said. "Our company has already really benefitted by a lot of those state and local policies."
Becka had high praise for HEMC for committing to such a large solar project to meet the needs of its own facility, as well as the greater community.
"I would like to say that this system is a sign of HEMC's commitment to clean energy and the environment, and they can produce this energy in a really cost-effective way, too," he said. "That's a substantial statement to make."
HEMC Chief Operations Officer Rex LaRowe noted that while the new solar array is the first of its kind for the company, they are looking at more.
"We're looking at a smaller community solar project there where people can get panels for their homes," he said, adding that they may do another array next to the Jonathan Creek substation.
LaRowe also noted that they are looking at doing a study to determine whether it makes sense to do a "storage project" that would provide power to operate the array in case power goes out on the grid.
"Most solar panels are just working when you have utility power there," he said.
Like Watts and Becka, LaRowe was excited that HEMC could display its growing commitment to clean energy sources.
"We're excited about having a renewable energy source for our system to be as green as we can," he said. "And we're looking forward to doing some more in the future."