Archived Arts & Entertainment
This must be the place: Sometimes the songs that we hear are just songs of our own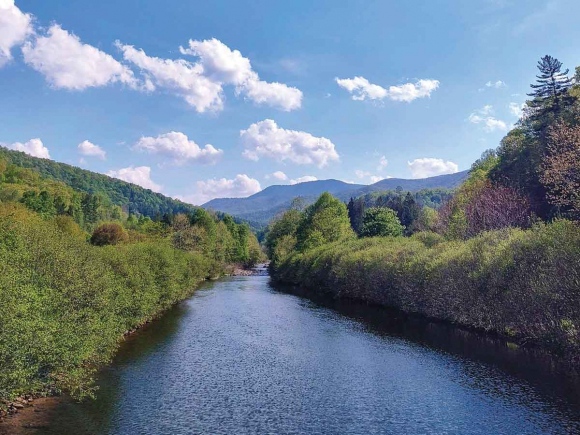 Standing on the sidewalk, I leaned onto the open garage door window of Sauced in downtown Waynesville. Sunday evening right before the rainstorm rolled in. An array of the younger, service industry crowd finally sitting down to congregate and enjoy a beverage on their own time.
Sipping a cold Pabst Blue Ribbon, this woman started chatting with me. I remember crossing paths with her years ago one random evening, but didn't remember her name. Friendly soul. She started talking to me about the newspaper and how it is I find enough things to write about, week in and week out, especially in regards to this column.
Well, truth be told, I usually wait until the last minute to put together my thoughts for this here column. For almost a decade, this segment of The Smoky Mountain News has appeared in print. Initially, it was created to complement the arts and entertainment feature in the previous pages. But, for the majority of its existence, it's served as a place to wander and ponder, a first-person counterbalance to the rest of the hard news and facts in this publication.
The point to this column is that there's (purposely) not a point to it. It's more about throwing thoughts, sentiments and emotions out into the universe and see what comes back to you. Sometimes nothing comes back. And sometimes something does. Who knows? It's all nothing and everything, the magic and lore of interaction, of time and place, and what one's place is in the grand scheme of things.
Thus, it's Tuesday morning and here I sit at my desk in the newsroom, more so the dimly lit conference room in the back of the building, a place where I can listen to my music and do my thing without bothering any of my co-workers. A blank page in front of me as I think about my column for the impending deadline (around noon).
Suddenly, the phone rings up in the front of the office. I can hear one of our advertising representatives say, "I think he's in the office. Let me check." The call soon gets transferred to the conference room. I pick it up and say hello. It was an older gentleman with a thick Southern Appalachian accent. The voice sounds familiar, but I can't place it, at least not at first.
He goes, "Well, hey Garret. I got a call to call you and rely a message. My brother played golf with your dad the other day at The Barracks [golf course in your hometown of Plattsburgh, New York]. He really likes your column in the newspaper. I do, too. I save every issue of The Smoky Mountain News and sit on'em for month, then mail'em to him. He's been up there in Plattsburgh since 1962 when he left Waynesville and joined the Air Force. Oh, he comes back home sometimes, and we go to the VFW, the Elks Lodge, wherever they have cold beer. But, anyhow, I was going to stop by your house the other day and tell you. I saw your truck out there with that big white camper top, can't miss that thing. [Laughs]. Well, it's been nice to chat with you. Have a good one."
My mind quickly remembers the caller and his brother. There was one quiet afternoon several years back, where it was just myself and another reporter in the office in Waynesville. That older gentleman and his brother swung by and knocked on the door. He wanted to introduce himself quickly, but we ended up talking for a little while, comparing notes about the North Country.
Hanging up the phone, I sat in my chair with a slight grin on my face. What a nice call to receive, this sentiment of solidarity and appreciation that always seems to put a kick in your step, especially when your life revolves around the written word and human interaction.
Gazing out the window on another bluebird day in Western North Carolina, I started to take inventory of where I am, whether physically and emotionally, and also thinking about the upcoming Memorial Day Weekend shenanigans of travel, adventures and cold drinks held high and in unison of the moment at hand with friends, family and loved ones.
Though I'm still not sure of my plans for the upcoming holiday weekend, I'll probably, like clockwork, be on the road, the nose of the ole Tacoma aimed somewhere, anywhere people are gathering and there are stories to be told, captured and written about.
To which, I started thinking about home, and about my dad playing golf at The Barracks, the views of the Adirondack and Green Mountains surrounding the Champlain Valley where the course is located. The old man telling tall tales and smacking balls down the fairways. And how he probably stopped at Clare & Carl's restaurant on the way back to my parents' farmhouse, picking up a couple signature Michigan sauce dogs for my mom to enjoy in the late afternoon.
And I think about how delicious those hot dogs will be when I once again find myself returning to Clinton County in mid-June for my niece's eighth birthday. She's growing like a weed and can't stop telling me over the phone how excited she is to see her uncle, especially since elementary school will be done for the year soon, the anticipation and excitement for the fun and activities only found in the depths of youth.
Yep, the summer is quickly upon us. And so is the end of this column.
Life is beautiful, grasp for it, y'all.