Archived Outdoors
Haywood septic repair project earns award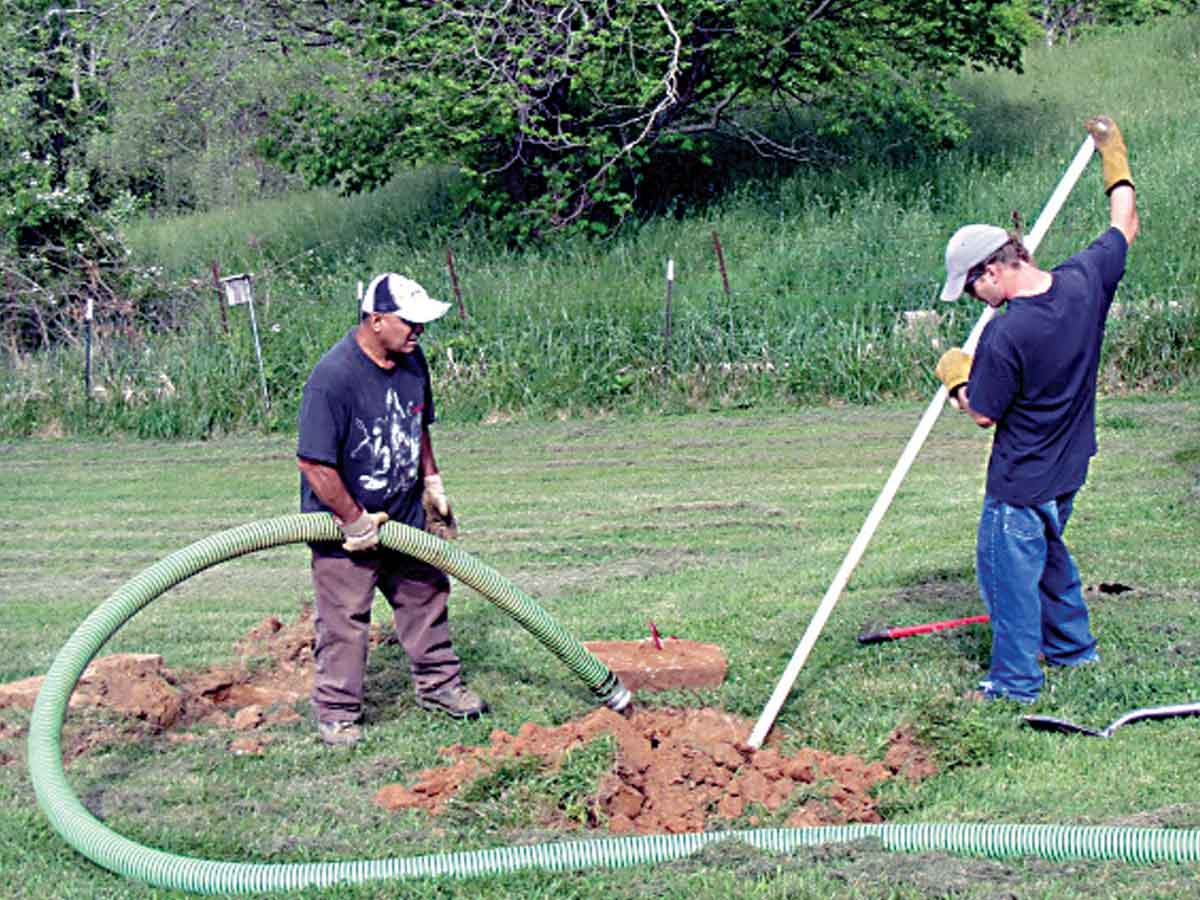 Workers repair a failing septic system. Donated photo
A project aiming to keep drinking water clean by helping people repair failing septic systems has earned Haywood County organizations statewide recognition from the N.C. Source Water Collaborative.
Haywood Waterways Association and the Haywood County Environmental Health Department won the Surface Water Implementation Award for their Haywood County Septic System Repair project. The Town of Black Mountain was also recognized with the Groundwater Implementation and Education Award for their Wellhead Protection Plan project.
The septic system project has funds to cover 75-100% of total repair costs for failing septic systems, with eligibility determined by failure severity, proximity to a waterway and financial need. Haywood Waterways partnered with Haywood County Environmental Health to help homeowners determine if they qualify and go through the process of finding contractors and ensuring the repair is done correctly.
Septic systems are efficient, but if not maintained properly they can fail, which when the failing system is near a river, stream or lake allows untreated wastewater to enter the waterway. The average septic system repair costs $5,400, more than many families can afford up-front. Through the program, the average homeowner would be responsible for $1,350 of that cost with the remaining $4,000 covered by grant dollars. So far the program has helped 143 homeowners and prevented as much as 51,480 gallons per day of untreated human waste from entering Haywood County streams.
Funding is available throughout Haywood County, but the partners are focusing on the Richland Creek watershed — including Raccoon and Ratcliff Cove creeks — due to high bacterial counts in these waters. Foul odors, slow drainage, soggy soil, liquid waste on the drain field and excessive grass growth can signal septic system failure.
The program is funded by the N.C. Department of Environmental Quality Section 319 Grant Program and the Pigeon River Fund of the Community Foundation of Western North Carolina. For more information, contact 828.476.4667, ext. 11 or This email address is being protected from spambots. You need JavaScript enabled to view it..
The N.C. Source Water Collaborative is a partnership of volunteers from nonprofits, universities, professional associations and all levels of government that develops and supports strategies to preserve drinking water sources and the land that protects and recharges them.
Septic system Q&A planned
Homeowners can get all their questions about septic systems answered during a free workshop offered noon to 1:30 p.m. Thursday, May 26, at the Haywood County Agricultural Service Center in Waynesville.
Staff from Haywood Waterways Association will be on hand to discuss everything there is to know about septic systems — how they work, common problems, solutions and financial help to implement them. Preventing and addressing septic system failure is key to maintaining water quality throughout the watershed.
RSVP to Christine O'Brien at 828.476.4667, ext. 11, or This email address is being protected from spambots. You need JavaScript enabled to view it..