Archived News
Madison Cawthorn's brief political career is over, at least for now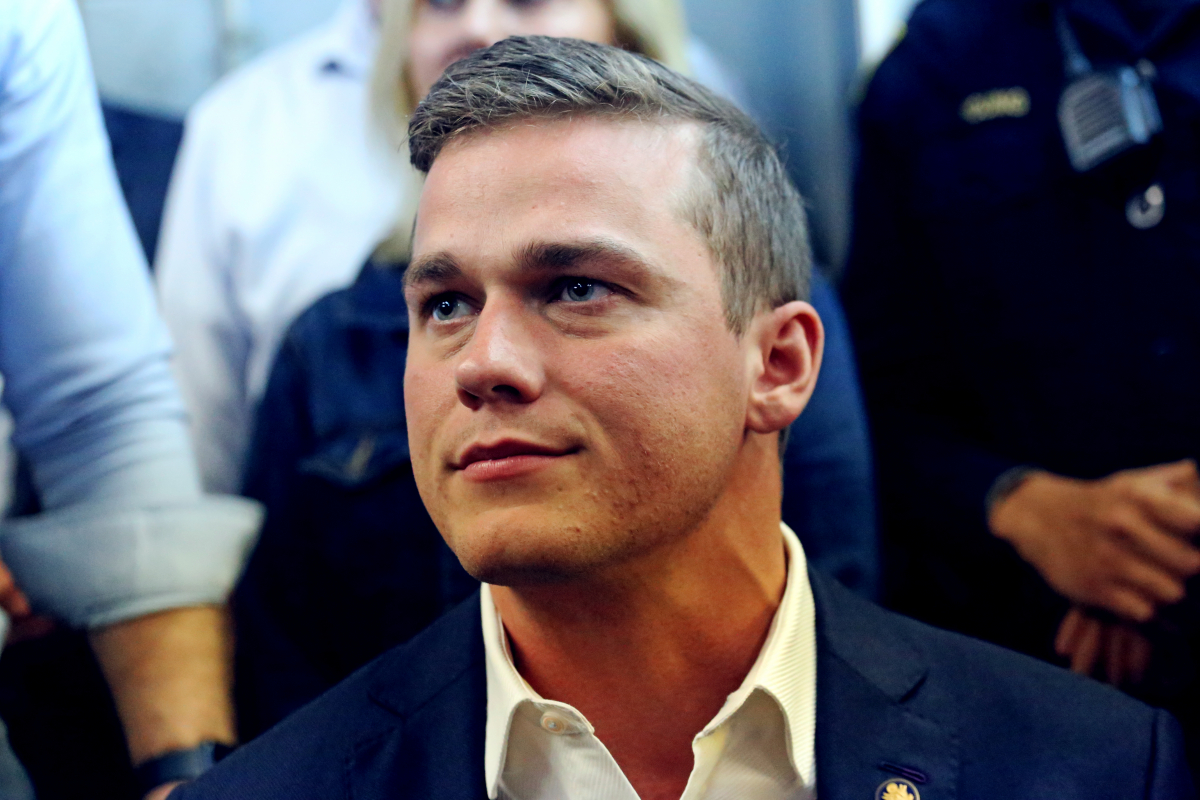 Madison Cawthorn speaks to supporters on May 17, 2022.
Jeffrey Delannoy photo
Less than 17 months after being sworn into office, Republican congressman Madison Cawthorn has been voted out of office by his Western North Carolina constituents.
Cawthorn, who was only three days into his term when he first drew attention for his speech preceding the Jan. 6 insurrection, spent much of his first term as the target of frequent criticism for controversial comments and a series of unsavory scandals that undoubtedly contributed to his loss.
With 100% of precincts reporting, three-term incumbent Republican Sen. Chuck Edwards (R-Henderson) had 29,411 votes to Cawthorn's 28,092 a difference of 1,319, or 1.5%.
Cawthorn spokesman Luke Ball confirmed to The Smoky Mountain News that Cawthorn had called Edwards to concede.
Edwards was able to avoid a runoff by accumulating more than 30% of the vote.
Buncombe County businessman Matthew Burril posted a surprisingly strong tally of 9.4%, good for a distant third. Bruce O'Connell, owner of the Pisgah Inn, placed fourth with 6.9%, followed by retired Army Col. Rod Honeycutt with 6.5%.
Michele Woodhouse, former NC-11 GOP chair, claimed 5.3%, followed by Wendy Nevarez at 5.1%.
Edwards will face Democrat Jasmine Beach-Ferrara, who likewise avoided a runoff, in November.
Leave a comment
8

comments
NO!!!NO!!!NO!!! How many of you can Honestly say they have 3 or more of the same things happened to them!!! Abbey Edwards

Sunday, 05/22/2022

I see way to many messages against him which only having one comment to make only having gone through some of the same horrific things that he has gone through back THE FREAK OFF!!! Abbey M. Edwards

Sunday, 05/22/2022

How do you like Joe Biden these days? What's the matter Libtards, having buyers remorse? Sorry but there's no refunds for Biden voters.

Friday, 05/20/2022

Although it's a relief to see this unstable, narcissistic confabulator soon out of office, please remember that he still carries loaded guns, hides knives in his wheelchair, and thinks nothing of speeding down our roads without a license. It will be no solace to know that he 'hated to kill fellow Americans' who disagreed with him. As long as this menace to society remains untreated for whatever troubles him, none are safe.

Thursday, 05/19/2022

Although it's a relief to see this unstable, narcissistic confabulator soon out of office, please remember that he still carries loaded guns, hides knives in his wheelchair, and thinks nothing of speeding down our roads without a license. It will be no solace to know that he 'hated to kill fellow Americans' who disagreed with him. As long as this menace to society remains untreated for whatever troubles him, none are safe.

Thursday, 05/19/2022

As a registered independant, this was the first time I voted for a party in the primary with the express intent of voting out an incumbant who is a danger to the country. Maybe even the world. So cathartic.

Wednesday, 05/18/2022

O'Connell does not own the Pisgah Inn. The National Park Service does. O'Connell is just the concessionaire who runs the services there. In my experience, he is arrogant and rude and puts himself before the visitors; other have said he is racist. (I myself have never seen a person of color in the restaurant,but can't say it never happened.) Every employee I have met hates him and turnover is usually high, with a struggle to keep enough through the busy fall. While National Park Service mandates that accommodations are to be affordable, the Inn and restaurant no longer are. He also removed the badly-needed (by campers, bikers, cyclists and hikers) washer and dryer from the country store. It's all about HIM. Glad the voters recognized that and rejected him.

Wednesday, 05/18/2022

Pack up all your cares and woe,
There you go, swinging low
Bye-bye, Cawthorn!
Now no one can vote for you.
Donald Trump hates you too!
Bye, bye, Cawthorne!
No one here can love or understand you
Oh, what hard luck stories they all hand you
Made your bed and hit the light,
You were done late tonight!
Madison, bye, bye!

Wednesday, 05/18/2022