Archived Outdoors
Right in rain: After 15 years of forecasting, Local Yokel is shifting focus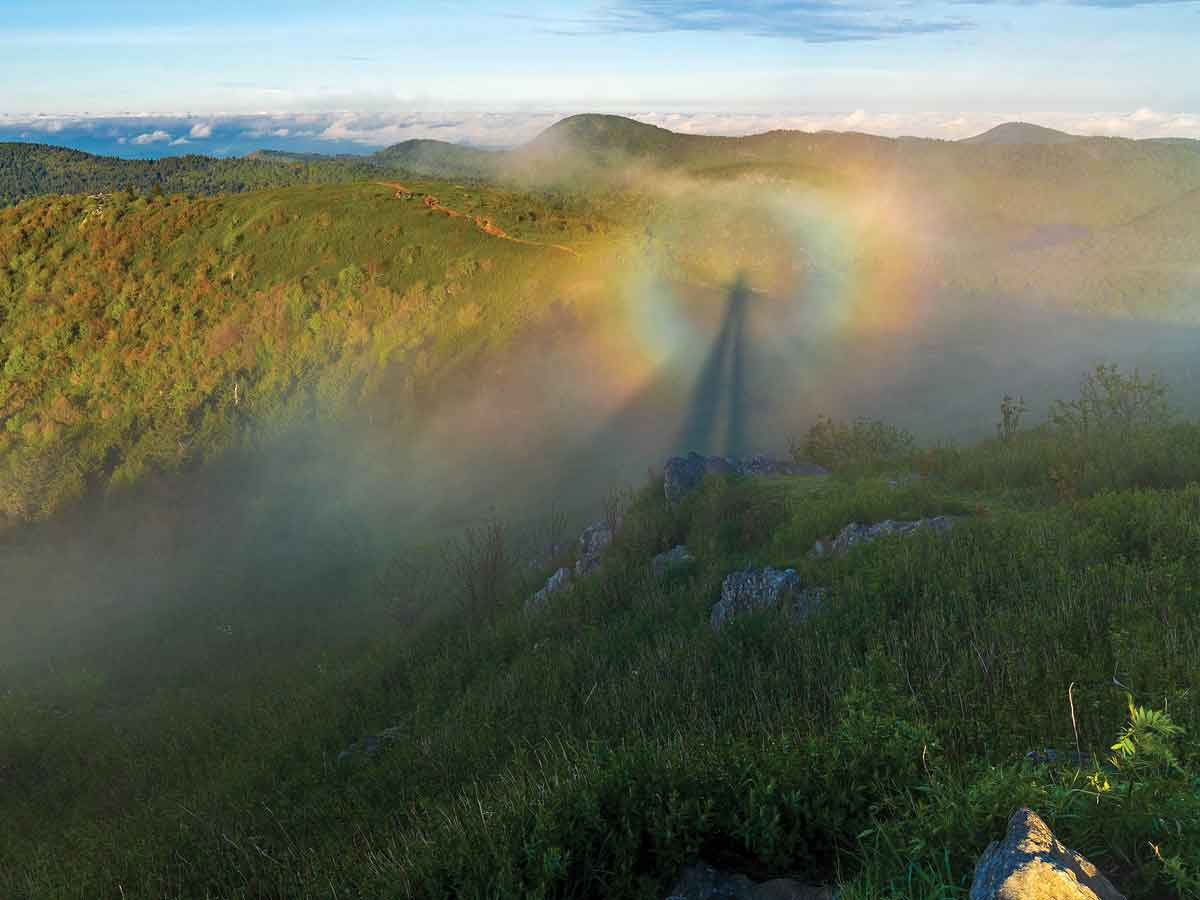 A Brocken spectre, a phenomenon that occurs when the sun is low, magnifies a shadow cast upon the upper surfaces of clouds that sit lower than the mountain from which the shadow is cast. Steve Reinhold/Appalachian Adventure Company photo
Preston Jacobsen, a man some know better as the Local Yokel Weather guy, comes by his love of meteorology honestly.
"Since I'm such an observer — I can't stop observing and taking note of things and thinking— that data helps calm that and centralizes that desire to observe that weather is a neat thing to watch play out," he said. "It's always in motion."
Jacobsen's dad was a weather nut too, a guy who grew up wanting to be a hurricane hunter, but when his eyesight disqualified him from that career path, entered the business world instead. Born in New Orleans, Jacobsen lived in hurricane country until middle school, when his father's career moved them north to Charlotte.
"We used to map hurricanes every season on a giant four-by-six poster every year on a wall," said Jacobsen. "The Weather Channel was always on. Local on the Eights was like a background noise in our house."
When Jacobsen asked how hurricanes form, or what causes a rainbow to spread across the sky, his dad had an answer. As he grew toward adulthood, those conversations inspired him to keep asking questions, and keep looking for answers.
Self-taught forecaster
That desire eventually gave birth to Local Yokel Weather , an endeavor Jacobsen, now 35, launched shortly after finishing his sophomore year at Western Carolina University. While living in Jackson County, Jacobsen grew frustrated with what he terms the "megaweathers" — The Weather Channel and Accuweather, for instance — posting forecasts that bore little similarity to on-the-ground results. They'd call for 1-2 inches of snow in Sylva, and town would get flurries while the Plott Balsams would pick up 3-6 inches.
"Seeing the microclimates at play and watching the forecast never match up, I was very interested in learning how to fix that," Jacobsen said.
Jacobsen wasn't a meteorology major. He went to school for environmental science and hydrology, but he considers himself to be very much a "numbers person" and a "pattern person." So he formed Local Yokel and started forecasting.
He quickly realized how difficult it was to do well, so after finishing his degree he took more classes at the University of North Carolina-Asheville, positioning himself as a self-taught local forecaster.
"Through time I fine-tuned that forecasting skill and also along the way, in tandem, added stations where I could," he said. "The slogan was, 'Local weather for local people.' This was the only outlet forecasting for this spot in this spot."
Preston Jacobsen holds the new remote weather stations he plans to install soon near Pinnacle Peak in Sylva. Holly Kays photo
The data used to build forecasts for the mountains comes mainly from the two nearest National Weather Service stations, in Morristown, Tennessee, and Greer, South Carolina. Those locations shoot radar beams into the sky to gather information about what's happening in the atmosphere, and forecasters crunch the data to guess at how those conditions might translate to future weather observations.
But those radar beams can't travel through mountains, so they have to be tilted at a higher-than-optimal angle to clear the ridges marking the region's edge. This means the beams miss the lower air layers, important information for forecasters trying to predict how atmospheric forces and mountain topography might interact. While developments in the last decade or so have made the radar beams more effective, large areas of the mountain region still rely on limited forecasting data.
"The Escarpment and the Great Balsams tend to block a good portion of Southwestern North Carolina, and then the Smokies and the Black Mountains as well as Grandfather, they tend to block the radar for folks in Marion and Old Fort, Wilmington on the shadow side," said Jacobsen.
Jacobsen honed his forecasting skills by paying careful attention to local features — ridges, creeks, hollers and coves — and how they might affect temperature, rainfall or wind. And from the beginning, he also prioritized improving localized data collection, something that's sorely lacking in many areas of the mountain region.
"I think the only edge I held was the local insight and the stations I put in those areas that didn't exist," he said. "They didn't necessarily help with forecasting, but they helped with real time, and/or validation that the forecast was correct."
Jacobsen currently has six weather stations installed at various locations across the region, and as he nears the 15th anniversary of Local Yokel's creation, he expects these stations — and the new ones he hopes to add — to become his main focus.
Shifting focus
This year, Jacobsen told his 3,200 Twitter followers that he's done forecasting. After 15 years, he's gotten tired of it; meanwhile, other outlets have improved their own forecasts. He no longer feels the need to be as aggressive as he has been with producing detailed predictions to inform the public.
"I've always wanted to be niche," said Jacobsen. "I've never wanted to do what everybody else is doing."
Instead of producing regular forecasts, Jacobsen plans to shift toward covering storm events and focusing on fundraising for more weather stations in places where they don't exist — and, in his view, probably never will unless he puts them there.
"I'm trying to push that envelope as much as I can to grab data from spots that traditionally have never seen any centers or maybe have failed for different reasons," he said. "I want this level of network to outlast my time."
The next addition to that network will be in place soon near Pinnacle Peak, Sylva's flagship viewpoint at the top of the town's former watershed. Money from a GoFundMe campaign paid for the $1,500 remote cellular station — though Jacobsen is also investing $500 of his own money — and plans to install it at the same elevation as Pinnacle Peak but not on the peak itself, where it might impact the view or incur increased risk of vandalism.
It's the first remote station Jacobsen has ever purchased, and he's excited. Always before, setting up a new weather station involved procuring a standalone computer, using a cord to connect the station to the computer, and setting it up so the computer would stay dry and powered up.
"I'd like to see more weather stations in remote areas that can be used by people that are already utilizing the outdoors," he said. "So Panthertown, Pinnacle Peak, Chestnut Mountain Park are good examples of where we can drop a weather station and send (the data) to people so they can use it however they see fit, whether that's getting ready for their day or put some science to it and use the data."
Though Local Yokel was an income-producing business between 2010 and 2018, right now it's more like an intense hobby. At heart, Jacobsen isn't the ad salesmen he needed to be to keep Local Yokel turning a worthwhile profit. Between his family, his bookkeeping business and his job as finance manager for the Southern Appalachian Wilderness Stewards , right now he only ends up with an hour or so per day to work on Local Yokel.
But he views weather as a lifetime pursuit. Local Yokel has already seen plenty of change in its 15-year history, and Jacobsen expects even more shifts as the story continues.
If he's learned anything over the past decade and a half, it's that it's hard to predict the future.