Archived News
Haywood tourism boom continues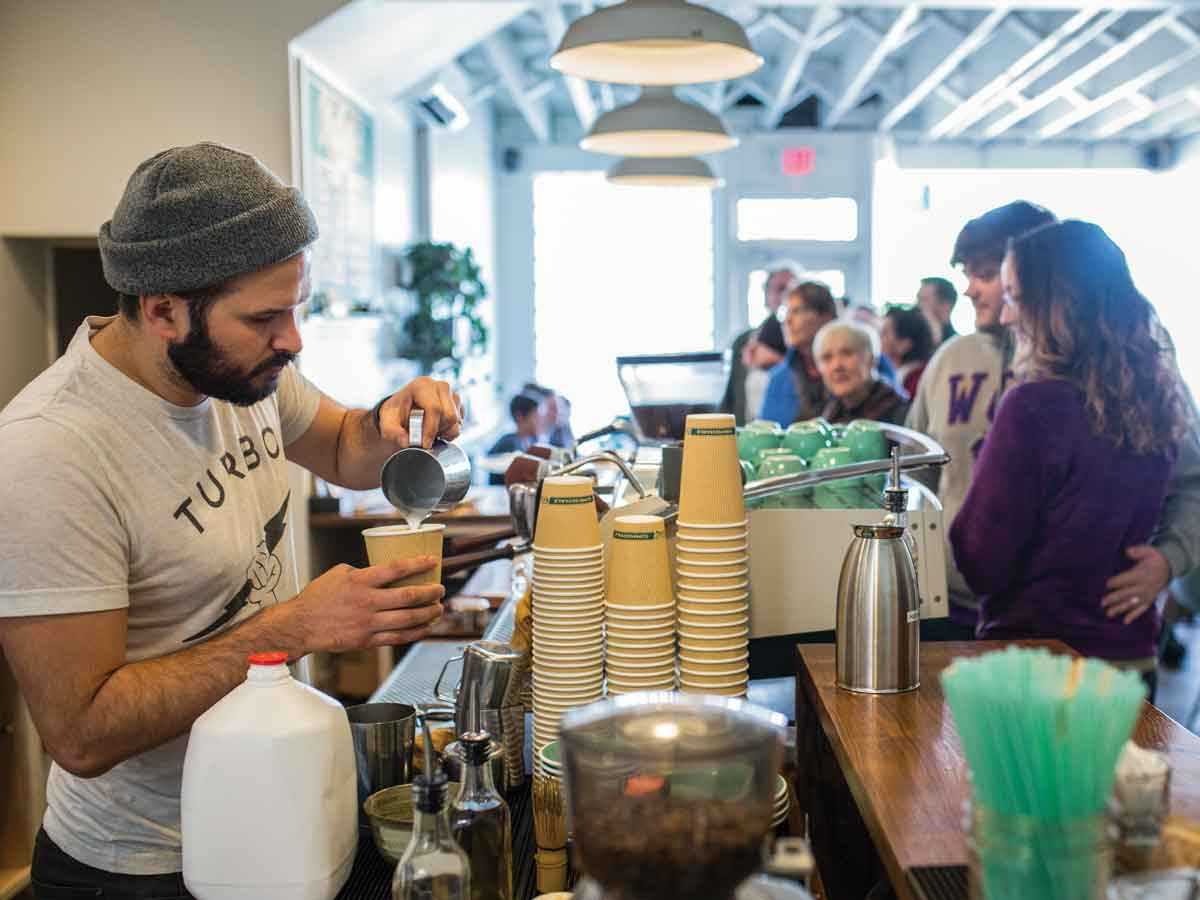 Visitors flock to Cabell Tice's Orchard Coffee in Waynesville. File photo
When Haywood TDA Executive Director Lynn Collins showed up to the Haywood County Board of Commissioners meeting to deliver her mid-year report on May 2, her opening statement didn't exactly take anyone by surprise.
"As you can see, things are still going quite well for tourism in Haywood County," Collins said.
All five zip codes that receive a share of room occupancy tax collections (Canton, Clyde, Lake Junaluska, Maggie Valley and Waynesville) reported being between 18-32% above year-to-date projections, according to data provided by Collins.
Every month from July 2021 through January 2022, each zip code exceeded projections except for Lake Junaluska in November, Clyde in December and January, and Canton in September — likely because much of the town was still digging out from mid-August flooding that destroyed parts of downtown.
The strong results, which are measured by a fiscal year that begins on July 1, are the continuation of a trend that's been apparent for at least six years.
Beginning in 2007, the TDA usually collected about $900,000 per year until finally hitting the $1 million mark in 2014-15. In 2015-16, the TDA collected $1.22 million for the entire fiscal year. The next year, it was $1.43 million. In 2017-18 it grew to $1.56 million. Then, $1.6 million in 2018-2019.
The Coronavirus Pandemic year of 2019-20 included four months — March, April, May and June — during which widespread closures impacted the hospitality industry generally, and hotels specifically. Total tax collections dipped that year to $1.54 million, but came roaring back during the 2020-21 fiscal year, at $2.55 million.
Although data for February, March and April aren't yet available, and collections for May and June haven't happened yet, the TDA already reports collections of $1.80 million for the current fiscal year, with five months of data still outstanding.
"It looks like we are on track to hit the $3 million mark this year," Collins said. "You can see that last year, 2021, we collected more than a million dollars more than we had in the previous year."
Room occupancy is also tracked by accommodation categories; Collins said that in January of this year, the county reached an all-time high in the percentage of visitors who booked vacation rentals, which gobbled up 79% of the market as opposed to campgrounds, hotels and bed and breakfasts. A report contracted by the TDA says that in February 2021, there were 899 listings for vacation rentals in the county, but in February 2022, there were 1,344.
As the post-COVID landscape changes for tourism in Haywood County, the TDA will return to a tried-and-true marketing campaign.
Before COVID, they embraced the clever "Hay Now" campaign, but during the pandemic, switched to "Embrace unusual," apropos for the unusual times. Now, it's back to "Hay Now."
"They [Crawford Strategies] have updated the 'Hay Now' logo and they have added a new tagline for us," Collins said. "All of the taglines start with 'Hey would,' [like] 'Haywood you like to step things up? Haywood you like to go with the flow? Haywood you like to get high?' for a hiking shot."
Collins said the TDA had such a great year last year that the governing board decided to designate $500,000 from fund balance for a one-time special project fund for capital projects.
All five zip codes were represented in the eight applications received by the TDA last week. Some sent two.
Hopefully, Collins said, the TDA will award the money in June. Projects will have two years to be completed. Applications total more than $500,000, so not all projects will be funded.
"It looks like we're having another good year this year so maybe we can award some additional funds for those projects," she said.