Archived News
Tribe buys land for housing, cannabis production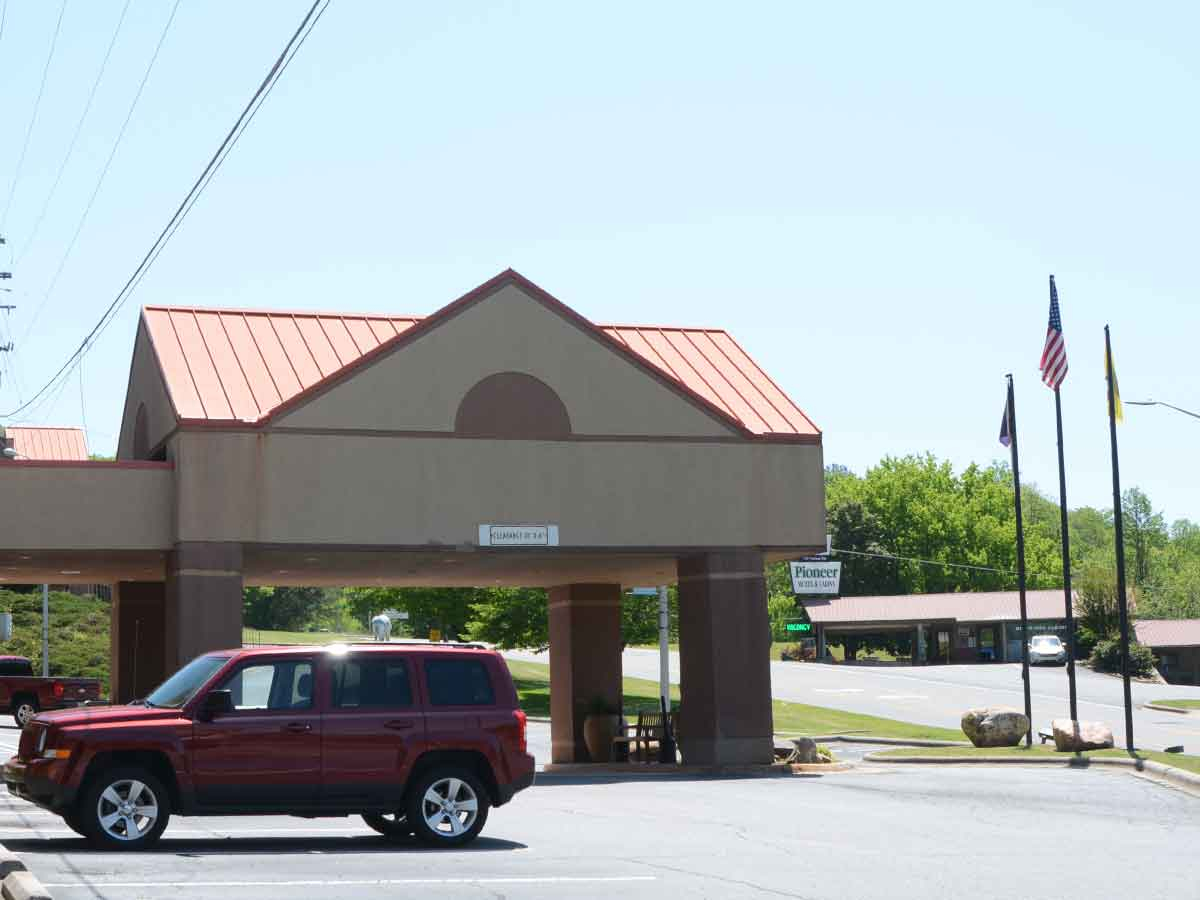 The purchase includes property on both sides of U.S. 19 that currently holds the Pioneer Cherokee Motel, Hampton Inn and Chestnut Tree Inn. Holly Kays photo
Tribal Council voted last week to spend $15 million for the tribal government to acquire 95 acres of trust land for housing and cannabis production.
Authorized in two separate resolutions during the May 5 Council meeting, the purchase includes the Pioneer Cherokee Motel, Hampton Inn and Chestnut Tree Inn along U.S. 19, as well as a parcel on Acquoni Road and a 37.7-acre parcel behind Harrah's Cherokee Casino.
Speaking on behalf of the Lands Acquisition Committee, which vetted the proposals prior to bringing them before Council, Principal Chief Richard Sneed said that both groups of properties were appraised prior to the pandemic, with those assessments coming in about $3.5 million higher than the final asking price.
"We can only assume that the value is more now," Sneed said.
Birdtown Rep. Boyd Owle praised the purchase as a good deal for the tribe.
"We've been vying after this property here for a while," he said. "It's been on the market. We've talked about it. I think it's a great move."
The land behind the Pioneer Motel that abuts the Oconaluftee River would be used to grow medicinal cannabis for the tribe's recently approved medical cannabis program , which is still in the development process. The three hotels, as well as the dozen small cabins on the Pioneer Motel property, will be used to address the ongoing housing crisis .
"Combined, Resort and Valley River, we're now over 1,000 open positions with no relief in sight," Sneed said. "And the main driver is the same that it is for all of Western North Carolina — there's no affordable housing."
As first presented, both resolutions state that the properties would be used for workforce housing, but Council struck down those provisions. Members recognize that housing is an acute issue — but they don't want to see the properties used solely to house casino workers who may or may not be tribal members.
"When we're talking about workforce, we need to not just talk about business workforce," said Big Cove Rep. Teresa McCoy. "We need teachers, we need health professionals in the hospital. We need professionals across this Boundary to help us get through. My point is that they're looking for housing, too."
People who have recently graduated from substance abuse recovery programs , been evicted or survived a house fire could also benefit from expanded housing opportunities, McCoy said. She didn't meet any resistance from her colleagues around the horseshoe, who voted unanimously to approve amendments striking sentences in the resolutions designating the projects for workforce housing.
The first resolution, which committed the tribe to spending $10 million to buy the Pioneer Motel, the parcel on Acquoni Road and the Painttown property, passed with Yellowhill Rep. David Wolfe, Snowbird/Cherokee County Rep. Adam Wachacha and Painttown Reps. Tommye Saunooke and Dike Sneed all opposed. The tracts are currently owned by Debra Cooper MacCourtney, Susan Cooper Spees, James David Cooper, Janene Cooper Lancaster and Dustina Cheryle Cooper.
The second, which approved $5 million for the 9.5 acres that includes the Hampton Inn and Chestnut Tree Inn, passed unanimously. Those properties are currently owned by Debra Cooper MacCourtney, Susan Cooper Spees, James David Cooper, Janene Cooper Lancaster, Dustina Cheryle Cooper and Candler Ray Cooper.
In addition to the purchases on trust land, Tribal Council approved resolutions authorizing purchase of an additional 29 acres of deeded land in Jackson and Swain counties.
The larger property, a 23-acre parcel on Sheeprock Cove Road in Whittier owned by enrolled members Thomas Ray and Clara Janet Wahnetah, will be purchased for the assessed value of $250,000. The tribe plans to use it for housing, but that plan elicited skepticism from Yellowhill Rep. T.W. Saunooke, who has 25 years of experience in the construction industry. Due to the topography and the need for septic and well on each parcel, Saunooke said the property couldn't supply enough house sites to make the purchase price worth it. He ultimately voted against the resolution.
Meanwhile, Chief Sneed said that even if the acreage provides only four house sites, that's still a per-house land cost that is "not astronomical" in today's climate.
"Given the topography of where we live, everything we do from this point forward is going to have those same challenges," he said. "All of the easily buildable stuff that used to be agricultural land, that got built on first."
Council also approved $119,000 to purchase 5.76 acres of land currently belonging to enrolled member Alyne Stamper, located on Goose Creek Road in Swain County. That decision was not controversial, passing unanimously. The property is adjacent to the 345-acre Coopers Creek tract that was recently taken into federal trust. The tribe plans to build 250 housing units there over the coming years.
"We actually need this piece of property to go along with the water tank tower up at the top of the piece," said T.W. Saunooke. "I think it's a good deal for us."