Archived Arts & Entertainment
This must be the place: Every day it comes to this, catch the things you might have missed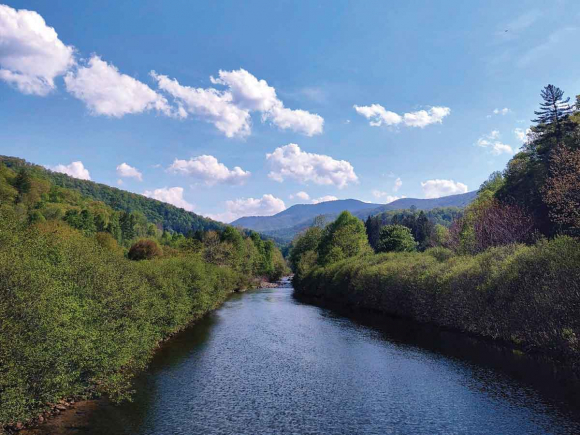 Feeling a bit deflated lately. It's funny how one thing just triggers everything else, this domino effect that tumbles and echoes throughout the infinite physical and emotional chambers of your body, mind and soul. And usually (seemingly) out of nowhere.
The deflation is writing-related, where every-so-often an obstacle appears that just throws everything else into whack. To preface, everything is fine (100 percent) with my newspaper work at this fine publication, etc. I love, adore and am absolutely grateful for this gig, the foundation of my everyday existence.
But, the balloon pop comes from the pursuit of dreams beyond that — way beyond the size and scope of what it is I am doing, trying to do, and ultimately want to do within the realm of the written word.
A rather large obstacle appeared this past week and it has me stopped in my tracks, at least for the moment — sizing up the object, grasping what the object means, and how to properly proceed and pivot around, over or through said object.
It's also at this point where there's also a piece of your subconscious that goes, "Dude, fuck it. Why put yourself through this?" But, as I've done for the last 16 years as a journalist running towards the endless horizon of dreams long-held, I ignore that question and keep going. Pain is pleasure, eh? Push on ahead towards the new, unknown day.
Like everything worthwhile in life, there are peaks and valleys. Ups and downs. Chaos and beauty. Ying and yang. Take the good with the bad. Thus, this morning was one of those mornings where I woke up with that question bouncing through my mind: "Why put yourself through this?" Anyone who puts their dream ahead of everything else can attest to that damn query.
Anyhow, I sat on my apartment porch and started taking an inventory of where I stand, whether physically, emotionally, financially, etc. For every big milestone in my writing career, there's also been the discarded remains of former relationships, friendships, missed birthdays and anniversaries, and so on. I've never taken for granted that what I love to do in my everyday life (write, see live music, meet new people, in-depth conversations, the outdoors, traveling) is what I've made into my career.
The line between work and play is blurred, and had been for a long, long time. But, it's also a double-edged sword, as in when something on either side of the blurred line goes wrong, you're unable to contain and compartmentalize the problem at hand in an effort to find a solution. In essence, the whole thing crumbles until you find enough physical and emotional energy to start the rebuild process.
It's rough to spend 16 years of your life — day in, day out — with a singular goal and focus, only to have these hiccups that just tear apart any and all footing held.
Of course, I'm not naive, well aware this is part of the deal you make within yourself at the starting line of your dreams that — come hell or high water — it's all worth it, seeing as your living your dream in real time, whether you see it at that moment or, perhaps, acknowledge it in hindsight.
And as I've been having all of these thoughts lately, I came across a clip of guitarist Cory Wong interviewing bassist Victor Wooten, where Wooten talked about people whose identity is all wrapped up in their art (musicians, writers, etc.), and where the pandemic and shutdown really brought forth an identity crisis for those artists (myself included).
With everything shutdown, now what do I (we) do? Your life revolves around constant motion, interaction and creation. Everything stops, so who even am I anymore? I sincerely felt all of that through the shutdown, with traces of those thoughts still running rampant in my mind, for good or ill.
Wooten went on to say, "When you define yourself by what you do, then you're lost when you can't do it. But, no one can take away who you are." All of this rolls into my next thought this morning of being cognizant of "the now." If you're not living in "the now," then is anything you're chasing after actually worth it?
If you're always thinking ahead and worried about what's next, then does the joy and glory you've cultivated to that point just go out the window, ignored by your fear of being left behind and pushed aside, left on the side of the road of your dreams because you didn't have your thumb pointed out to catch a ride to the next stop along the line of unknown characters, places and spaces? Sure does.
To which, if you've read this far down, you can see where I overanalyzed myself into a minor existential crisis on my apartment porch, with the only cure being to write it out and purge these heavy, overbearing thoughts out of my soul (hence this column).
In closing, I'm a work in progress. What came before today are memories and moments that can never be taken away from me, always hanging proudly and lovingly on the walls of my mind. What tomorrow brings is out of my control.
All I can do is put my best foot forward each day I'm lucky enough to awaken into, radiating the positivity and connectivity that resides at the core of my being, and just remaining grateful for the journey and the work at hand (and those people alongside you), whatever the outcome or whatever shifts in the road may appear — that's the beauty of life, am I right?
Current vibes and mentality (to bring about balance once again): "When you define yourself by what you do, then you're lost when you can't do it. But, no one can take away who you are."
Life is beautiful, grasp for it, y'all.