Archived News
Graphic video shows Rep. Cawthorn in compromising scene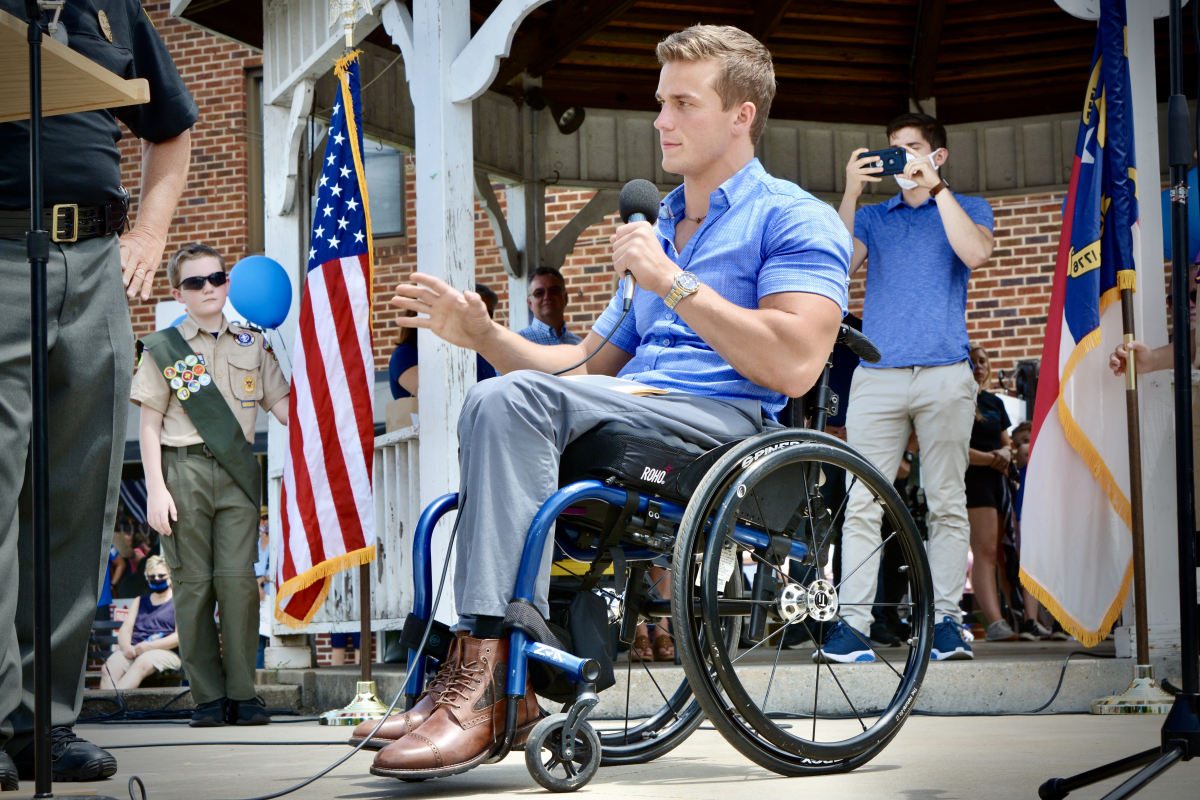 Madison Cawthorn speaks at a rally in Macon County in July, 2020.
Cory Vaillancourt photo
Yet another video that depicts embattled Western North Carolina Republican congressman Madison Cawthorn in a compromising situation has surfaced, according to a story first reported May 4 by The News & Observer .
The story cites the American Muckrakers PAC, better known as firemadison.com, as the source of the video.
A statement on the firemadison.com website says the video was sent to the PAC by a former supporter "who asked to remain anonymous."
The PAC has mercilessly hounded Cawthorn with ethics complaints, leaked audio from whistleblowers and other grievances since shortly after Cawthorn was elected.
In the video, which looks to have been shot in a hotel room, a man who appears to be Cawthorn is seen in a state of undress grinding on another person while uttering an exaggerated series of grunts and groans. The other person is only seen for a moment, and has not yet been identified.
Others in the room laugh as the not-safe-for-work video continues, until finally someone off camera calls the naked man "Madison" and asks him to stop.
David B. Wheeler, president of the PAC, issued the following statement on the website:
"Madison Cawthorn should resign from Congress today. While his sexual orientation or behavior behind closed doors is no interest whatsoever to us, his actions should have consequences. This video was passed to us by a former supporter and big donor of Rep. Cawthorn that wishes to remain anonymous. Only Madison Cawthorn knows the date, location, names and ages of participants, or whether they are Cawthorn staff. Ask him for any of this information. We do not know those details. We do know Rep. Cawthorn shouldn't be in Congress regardless of when this video was taken. We don't have any further comment at this time."
Cawthorn acknowledged the authenticity of the video in a tweet, but didn't provide information on where, when or by whom the video was shot.
"A new hit against me just dropped." Cawthorn wrote . "Years ago, in this video, I was being crass with a friend, trying to be funny. We were acting foolish, and joking. That's it. I'm NOT backing down. I told you there would be a drip drip campaign. Blackmail won't win. We will."
North Carolina's Primary Election will take place on Tuesday, May 17, although in-person early voting is nearly halfway complete. Cawthorn faces a field of seven Republican challengers. If no single candidate gets more than 30% of the vote, a runoff between the top two finishers will take place on Tuesday, July 26.
Six Democrats are also vying for the right to face the Republican nominee in November.
Leave a comment
10

comments
Some stupid prank done as a college or high school student doesn't interest me one way or the other. Where MC failed was in his performance. He had the perfect opportunity as a young Congressman to really influence his own generation. We need this generation to conquer the old Republican stereotypes of old white men out of touch with the everyday life. He could have brought new blood and a fresh outlook. He could have introduced something environmental… maybe ban the use of plastic bags in his area of NC. He lives in a gorgeous area but rather than breaking the old white male Trumper reputation he embraced the divisiveness that Trump has a tendency to evoke. He needed to be himself, cut out his own path. Whoever ran his campaigns and his career should be fired. What a waist of his time and ours.

Friday, 06/10/2022

Some stupid prank done as a college or high school student doesn't interest me one way or the other. Where MC failed was in his performance. He had the perfect opportunity as a young Congressman to really influence his own generation. We need this generation to conquer the old Republican stereotypes of old white men out of touch with the everyday life. He could have brought new blood and a fresh outlook. He could have introduced something environmental… maybe ban the use of plastic bags in his area of NC. He lives in a gorgeous area but rather than breaking the old white male Trumper reputation. What a waist of his time and ours.

Friday, 06/10/2022

It's totally OK if he's gay or bi. It's totally not ok to be secretly gay or bi while demonizing anyone else who is.

Saturday, 05/21/2022

Boy Scouts are NOT allowed to participate in political events. Shame on those leaders.

Tuesday, 05/17/2022

If only someone could release a similar video of mcconnell. You know mcconnell has done worse.

Saturday, 05/07/2022

Typical lying Trump goon. Every time Corrupt Trump was exposed his comeback lie was "Fake News" because he knew his brainwashed morons would swallow that lie hook, line, & sinker. Well I'm one honest, Christian, lifetime Republican with good character traits & I never swallowed his baldfaced lies after his first 3-6 months in office. So sorry I voted for him the first term but I had no choice with crooked Hillary his opponent. I voted libertarian 2 time & proud of it.

Saturday, 05/07/2022

C'mon, SMN! Don't you have better articles to right than this!

Friday, 05/06/2022

Madison Cawthorn is not a serious congressman. He is an overgrown frat boy in Congress only for the performances he delivers and fundraise from. Surely there is a better candidate among those running.

Friday, 05/06/2022

I know people can make a lot of mistakes in their younger years by not making the best decisions- as he has obviously done numerous times. However, not everyone is in a position such as his. I am a teacher of young children. If a video came out of ME acting the way HE has acted, I most assuredly would be fired. He needs to resign.

Friday, 05/06/2022

He is a disgrace to Congress like so many of the GOP. He needs to resign.

Thursday, 05/05/2022