Archived News
Legislators, governor usher in new age of clean energy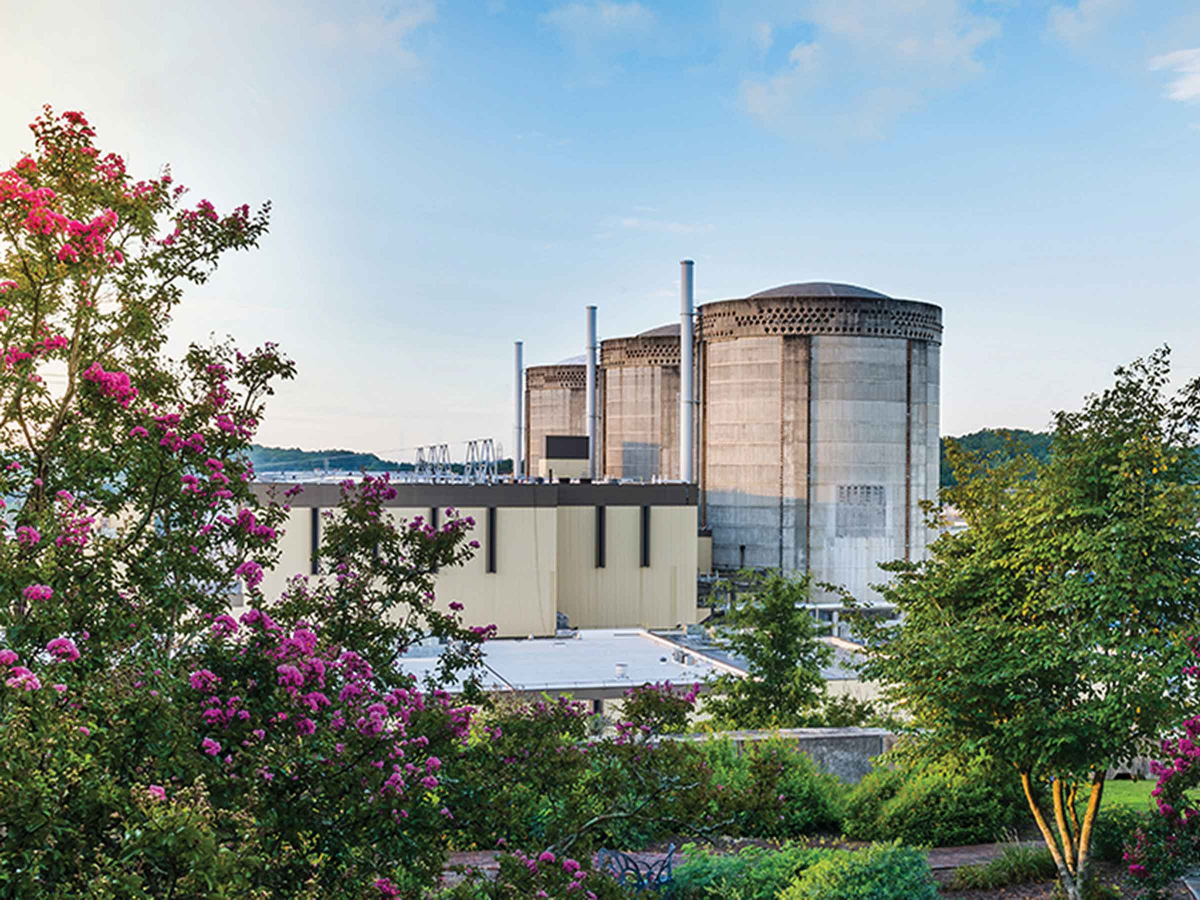 The Oconee Nuclear Station produces enough energy to power 1.9 million homes. Duke Energy photo
As more states have pledged their commitment to reducing carbon emissions over the last decade, North Carolina has begun to follow suit.
Gov. Roy Cooper has pushed the issue since he was elected in 2016, and in 2018, he signed an executive order that laid the groundwork for future legislation and orders, including one signed earlier this year that took the most extreme action yet. And the General Assembly has shown its interest in reducing greenhouse gas emissions, albeit to a lesser degree, passing a bill last year that established quantifiable goals.
Cooper's 2018 order pledged to reduce greenhouse gas emissions to 40% below 2005's levels by 2025, but it didn't stop there.
"Cabinet agencies shall evaluate the impacts of climate change on their programs and operations and integrate climate change mitigation and adaptation practices into their programs and operations," the order reads.
Cooper's order also required that a "greenhouse gas inventory" be released by the department of environmental quality, which was done early the following year . The inventory accounts for greenhouse gases from human activity in key source categories from 1990 to 2017 while also projecting emissions through 2030.
The Greenhouse gas inventory was updated earlier this year . The key takeaways were that net greenhouse gas emissions between 2005-18 were reduced by 23% while the population and real gross state product grew by 19% and 24%, respectively. In addition, net greenhouse gas emissions are expected to decrease by 39% relative to the 2005 baseline.
"The updated inventory shows that North Carolina is making progress and our efforts to cut greenhouse emissions are paying off," said Department of Environmental Quality Secretary Elizabeth S. Biser. "It also highlights the need for continued focus on the transportation sector to meet our climate goals."
In October of last year, the General Assembly passed HB 951, which Cooper signed into law within a week of its Senate vote. In addition to calling for 70% reduction in emissions by 2030 and carbon neutrality by 2050, it also mandated that Duke Energy change its coal plants over to natural gas, which happened at Buncombe County's Lake Julian Power Plant in 2019.
"Today, North Carolina moves strongly into a reliable and affordable clean energy future," Cooper said in an Oct. 13 statement. "This new bipartisan law requires the North Carolina Utilities Commission to take steps needed to get North Carolina a 70% reduction in carbon emission by the year 2030 and to carbon neutrality by 2050. Making transformative change is often controversial and never easy, especially when there are different points of view on big, complex issues. But coming to the table to find common ground is how government should work."
While the bill passed with bipartisan support, not all Democrats voted for it, and some groups didn't think it went far enough.
"It is our position that while every piece of legislation is an opportunity for action, no bill exists in a vacuum," a newsletter from MountainTrue read. "HB 951 has its shortcomings: it's a good climate bill but seriously lacking as a piece of climate justice legislation."
HB 951 passed the House by a margin of 90-20, with 12 Democrats and eight Republicans voting against it. Of Western North Carolina's representatives, only Rep. Mark Pless, R-Haywood, voted against the bill.
"The biggest reason I did it is because we are mandating that these Duke Energy plants go from coal to natural gas, and we're not paying for it," Pless said. "Businesses and residents will have to pay for it through rate increases."
Rep. Karl Gillespie discussed his support for the bill.
"I think the bill is a step in the right direction. We need to not only be looking at the big picture, the U.S. needs to do what we can reasonably do to become energy self-sufficient," he said. "So when we start talking about some of things in 951, those are a step in the right direction."
The update to the Greenhouse Gas Inventory noted that the transportation sector accounts for 36% of the state's gross greenhouse gas emissions and is projected to decrease emissions at a low rate compared to the projected decrease in electricity generation.
In January, Cooper issued an executive order that partially addressed that issue. The order states that the NCDOT must come up with a plan to change its fleet of vehicles over to electric.
Following the announcement of Cooper's order, the Raleigh News & Observer reported that it focused on "environmental justice," requiring state agencies to create "public participation plans" that guide their actions by the end of June.
"This is an important day for our state," Cooper said. "I am excited to see the new green energy jobs and the efforts that we are making to get students from many of these communities to get trained for the jobs that will improve their lives, their family's lives and the life of the planet, as well."
"I do recognize that there is a lot more to do," Cooper added. "But I believe that this order can help establish a framework for all of us to succeed."
Environmentally focused groups praised the order.
"I am pleased that it will increase the likelihood that all North Carolinians are able to live in vibrant communities and pursue employment in workplaces free of environmental risks," James Johnson, chair of the Department of Environmental Quality's Environmental Justice and Equity Board, said in a news release.
Cooper's order also mandated the formation of a council made up of people from each cabinet agency, as well as his office, to come up with strategies to diversify industries that negatively impact climate change. The council is also tasked with expanding programs to get younger people up to speed to work in the "clean energy economy" with a focus on schools in underrepresented communities.
"For too long, conversations regarding equity and climate have been siloed, when in reality these issues deeply intersect as historically marginalized communities bear the disproportionate burden of pollution and are on the frontlines of increasingly damaging climate impacts," David Kelly, North Carolina State Director for the Environmental Defense Fund, said in the News and Observer story. "[The order] sets the stage to consider these issues in tandem, which is essential to making meaningful progress towards a more equitable, climate-safe future."
Now that Cooper has signed his executive order, activists are wanting more action to be taken, and municipalities have shown their own commitment to green energy [see Waynesville clean energy pg. 8]. WNC General Assembly members have mixed opinions on the future of clean energy in the region.
In interviews with WNC legislators, Pless was the least ready to accept alternative forms of clean energy because he believes there's a downside to things such as solar and wind power, at least in their current forms.
"The problem with wind and solar are the mechanisms it takes to generate power are hazardous materials in the first place," he said, referring to oil needed for lubricating windmills and the batteries needed in solar power plants.
Pless also had concerns about putting windmills on the picturesque ridgelines of the Smoky Mountains.
"I suspect if that was something that was constructed out here, people would have issues with the size and what it would do to the area as far as our mountains," he said. "It destroys the view. If we had any of those here and people knew what they were, they would object to them."
Rep. Karl Gillespie, R-Macon, shared Pless's sentiment, to a degree, recalling a recent visit he and his wife paid to a hydroelectric power plant in the mountains. He talked about the pristine view from atop the dam.
"You look around, and you don't see one house as far as you can see," he said. "That's what makes that area so unique; you have a lake and those beautiful mountains, and there's nothing on them. We can't clutter those up with windmills. I'm not against windmills, but I'm against windmills when they're not in the right place."
"I'm also very sensitive to anything that will impact agriculture and agricultural lands," he added. "I think there's a balance there that we can achieve without using up all our farmland for energy production."
Gillespie also called for a "balanced approach" — one that could perhaps even include small modular nuclear reactors, which are portable while still generating a tremendous amount of power.
Rep. Mike Clampitt, R-Swain, also expressed enthusiasm for nuclear power.
"You get the most bang for your buck, and second to nuclear, I go for hydroelectric because we have lots of water and ability to have those here," he said, adding that he doesn't think solar or wind power are efficient enough yet to justify their widespread use.
Each legislator said they didn't know of any executive orders or legislation that may come our way in the near future but that clean energy will continue to be a topic of discussion. Sen. Kevin Corbin, who voted in favor of HB 951, said he welcomes such a discussion.
"I have no problem exploring all of those sources of power," he said. "As we move forward, obviously things like coal are eventually going to run out, and eventually I think we're going to be using more alternative forms of energy. There was a time when coal was probably an alternative form of energy."
Leave a comment
1

comment
Distributed Solar is one way to go. Duke does not make it easy since they take any excess power credits away June 1 every year. So people who have solar and have net metering, lose but Duke wins because they keep the credits as what they are doing to encourage renewable energy. NC should subsidize the installation of solar panels so those who want them and have a good place for them can afford to put them on their roofs or as a shade for a parking area. We do not have to use farm land.

Friday, 05/06/2022