Archived News
Waynesville approves 
housing development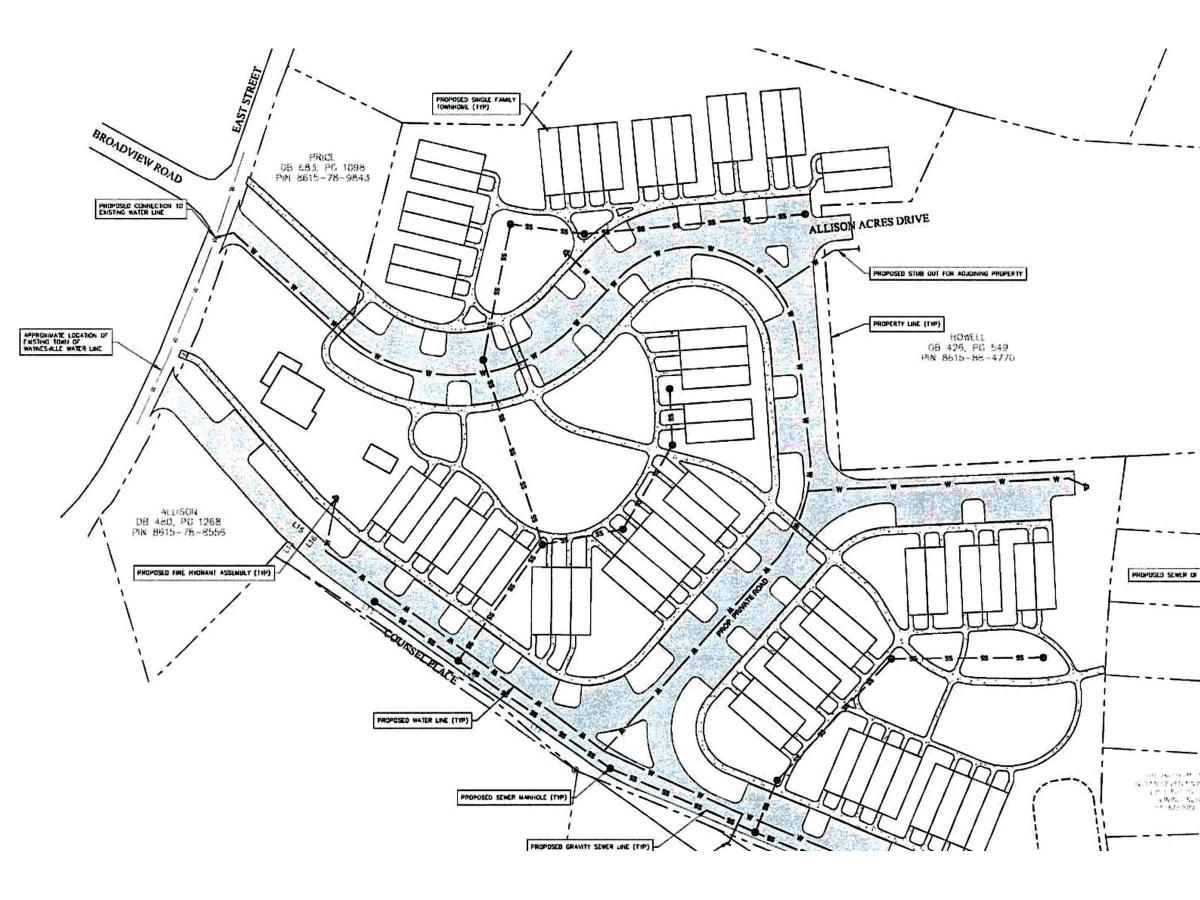 Construction is expected to begin soon on 59 units in Waynesville. Town of Waynesville photo
A 59-unit townhome development on 7.7 acres just off East Street in Waynesville has been approved over opposition from neighbors, several planning board members and a town alderman.
"I can't recall an instance where the planning board was so divided," said Waynesville Alderman Jon Feichter. "Based on the documentation in the agenda packet, there were four planning board members that voted to approve and three that voted in opposition."
Feichter was the only alderman to vote against the project, noting that all of the comments at a March 21 planning board meeting were against the proposal. Concerns centered around traffic impact and the general impact to the neighborhood, according to Development Services Director Elizabeth Teague, who was present at the meeting.
Opposition came despite developers Quartz Properties LLC taking several steps to exceed existing zoning guidelines, particularly in unit density.
The development consists of four adjoining parcels that happen to lie in two separate zoning districts. In one, the maximum base density is 10 units per acre. In the other, it's 16 units per acre. The development, as approved, comes in at just 7.7 units per acre, although developers could have theoretically asked for 77 or 123 total units instead of 59.
Developers also could have proposed three-story units, but opted for two stories instead.
Per town standards, a minimum of .39 acres would need to be set aside as civic space; developers carved out more than 2.1 acres, or 27% of the total land area.
As stated in the staff report addressing the project, the intent of the developer was to maximize open space in the development by creating lot sizes, widths and setbacks that are less than allowed by the town's land development standards.
Additionally, the development's road network is designed to minimize the total area of impervious surface (i.e. concrete and asphalt), which helps alleviate problems with stormwater runoff. No alleys, driveways or garages were proposed for the project.
In granting project approval, aldermen said that the development was consistent with the goals of the town's new 2035 Comprehensive Land Use Plan, namely that it promotes smart growth principles by creating walkable neighborhoods from infill, mixed-use and context-sensitive development.
The comprehensive plan also encourages the development of diverse new housing stock within town limits and extraterritorial jurisdiction. Developers haven't yet announced plans regarding the sale or rental of the units.