Archived News
Waynesville takes a look at board meeting procedures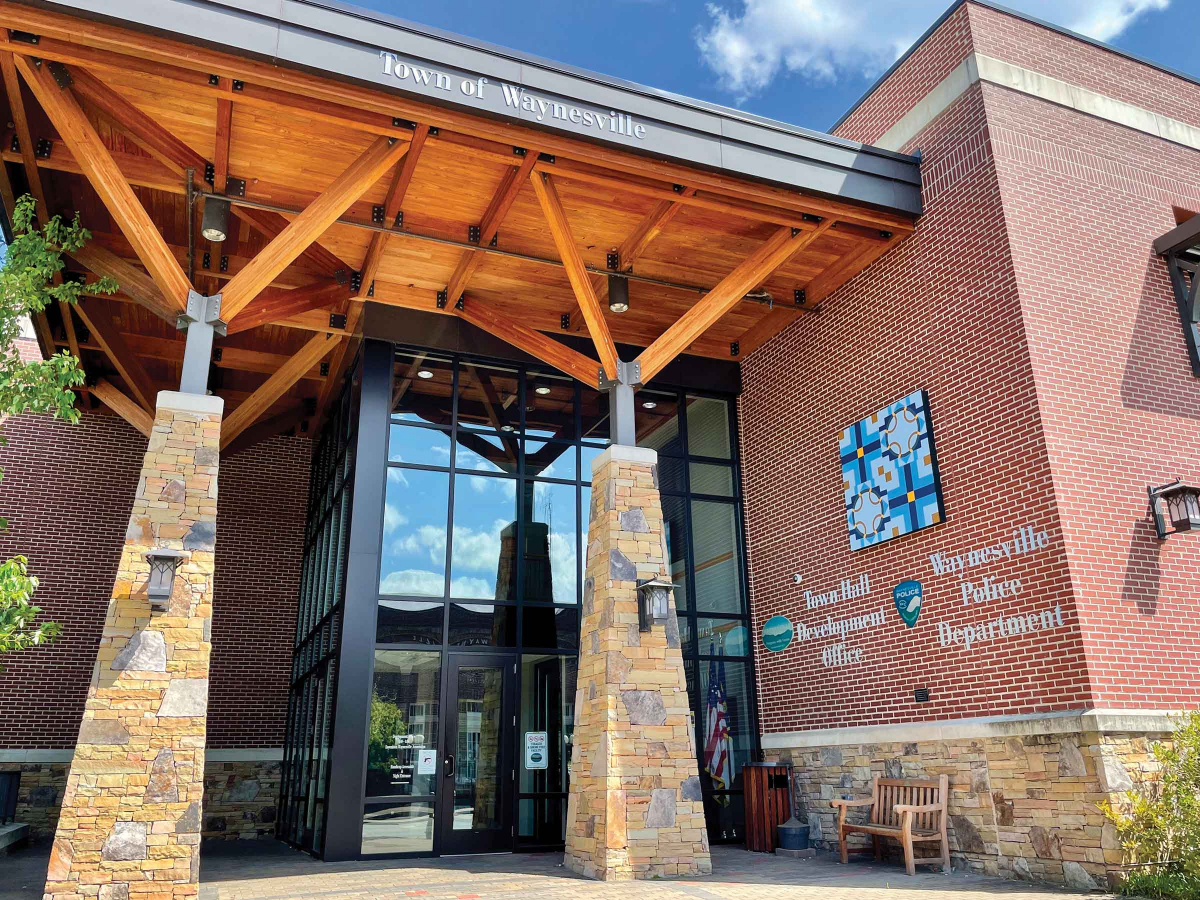 The Town of Waynesville's budget process is nearly complete. Cory Vaillancourt photo
Governing a small municipality is work enough, but add in unprecedented amounts of federal recovery funds that need to be appropriated and a strong undercurrent of residential development and the workload for Waynesville's aldermen and planning board only gets bigger and bigger.
That's resulted in longer and longer meetings ­that frustrate the public, waste scads of staff time and delay the disposition of time-sensitive agenda items with hours of sometimes repetitive, redundant and irrelevant comments from the public.
Although it's a guaranteed right of citizens to be heard by their representatives, it's not an unlimited right, and the town is now contemplating a number of formal changes and additions to policies designed to bolster the professionalism and efficiency of its municipal governing boards while also maintaining those rights.
The proposal, however, contains no formal enforcement regimen.
The Pros
On Tuesday, April 26, at the end of another three-plus hour meeting of the Town of Waynesville Board of Aldermen, Town Attorney Martha Bradley presented to the board a lengthy list of meeting procedures for aldermen to contemplate.
Given the hour (meetings begin at 6 p.m.) Bradley's presentation was tabled, in essence proving its own point.
"No one actually said, 'Can you put together a comprehensive set of procedures?' It was not that formal. It was offhand remarks after particularly contentious public comment sessions over the course of months," Bradley said. "I think all of [the aldermen] have made some sort of offhand comments."
Bradley's 46-page proposal doesn't exactly create new policies so much as codifies customary practices of Waynesville's governing board.
One proposal would establish an official procedure by which members of the public can request permission to give an informational presentation to the board.
Another outlines a process for members of the public to submit action items to the town board for consideration during a meeting.
Yet another asks the board to determine if it should carry on its usual practice of holding a public hearing before passing an ordinance. Very few ordinances, like budget ordinances or zoning ordinances, actually require a public hearing.
Most of the provisions contained in the proposal are sourced from the UNC-Chapel Hill School of Government and Robert's Rules of Order. If adopted, the proposal would give the public and the board — in fact, all of the town's various boards and commissions — some formal boundaries.
"It concerned me that members of the public aren't aware of how the town bureaucracy operates," said Bradley. "I think that particularly in the political climate we have right now being more transparent about how to work with us is important. I think it also protects town staff because if they don't have a set of guidelines to follow, they're more likely to make arbitrary decisions unintentionally."
The most significant codifications address the growing trend of lengthy public comment sessions that can delay the discussion of actual town business for an hour or more.
The proposal for public comment sessions limits the sessions to 30 minutes, although the board can always hold a vote to extend the session. Then-Mayor Gavin Brown did exactly that during public comment sessions on NCDOT plans to obliterate historic Walnut Street back in 2017.
The proposal also requires speakers during public comment to fill out a card with their name and residential address — not just a PO box — as well as the general topic of their comment.
For public comment sessions that come during a public hearing, there's an even stricter limit that as of late has not been observed.
The total time for a public hearing would be limited to one hour, with a 10-minute limit for applicants or petitioners, 10 minutes for licensed professionals who've been retained by a group to speak on their behalf, five minutes for speakers who have standing in the matter, and three minutes for everyone else.
"Case law is quite clear that the board can place reasonable time and place limits on public comment at meetings for the sake of safety and efficiency," Bradley said.
However, that doesn't stop people from reaching out to individual members of the board outside of meetings and either expressing their concerns in writing, with a phone call, or a visit to town administrative offices.
"I know that [Town Manager] Rob Hites will take just about anyone's call. People wander in and out of Assistant Town Manager Jesse Fowler's office all the time," said Bradley. "This is not meant to limit people's access to their elected representatives, it's merely an attempt to try to be respectful of the board's time during business meetings."
The Cons
Given the protected right of citizens to appear before their municipal governing boards, there are some nuanced lines that can't be crossed for fear of appearing to stifle public comment.
Nevertheless, there are some additional lines that can't be crossed during public comment, like personal attacks or refusal to provide a name or address. But in the end, what the proposal actually lacks is any means of meaningful ways of enforcing of the rules.
"There is usually a uniformed officer in the room and they are certainly the best equipped and trained to deal with individuals who completely refuse to respond to polite but firm suggestions and or instructions," Bradley said. "The board has a number of procedural options such as calling for a motion for a recess, and then we could all just leave and then let law enforcement talk to this person who was on being uncooperative. The mayor is very charismatic and has an ability to speak to people in that frame of mind, so I think that the best solutions are soft solutions."
Additionally, the proposal doesn't lay out any process to address violations of order during public meetings.
Near the end of a nearly five-hour Waynesville Planning Board meeting on March 21 — rife with procedural problems, time-consuming redundant public comment and shouts back and forth from the crowd —Mountaineer reporter Becky Johnson took it upon herself to participate in the discussion without being asked and against the wishes of chair Ginger Hain.
"You can either be a professional whose job it is to be objective and provide neutral third-party insight and advice, or you can be a participant, but you cannot be both," said Bradley. "That's the reason why attorneys have to do conflicts of interest checks. That's the reason why doctors have ethical prohibitions against treating certain people like their family members. What concerned me about that episode was the blurring of the professional and the private."
Bradley said she wouldn't have written a rule to address Johnson's conduct because Bradley feels it's something that would be "more appropriately handled by the publisher."
In follow-up interviews, three aldermen — Chuck Dickson, Jon Feichter and Anthony Sutton — and Mayor Gary Caldwell all expressed dismay that Johnson had spoken up during the meeting without being recognized.
"Oh, it was definitely wrong. She broke every ethic you can think of. I wasn't happy about it," Caldwell said.
"The reporter was there to report on the issue and interjected themselves into the meeting," Sutton said. "And it was not at a point after the meeting, when everything had been recessed that the reporter asked questions, it was actually during the actual meeting time. Generally, the reporter's responsibility is to be impartial, and they interjected themselves into the story."
Alderman Jon Feichter expressed similar dismay.
"There should be boundaries in terms of what is permitted by anybody that's in that chamber," said Alderman Jon Feichter. "Obviously for a member of the press to pipe up in a meeting and engage in discussion I think is out of bounds."
Alderman Chuck Dickson, formerly Maggie Valley's town attorney and also the longtime town attorney for Clyde, echoed Sutton and Feichter.
"I think that reporters should report and if they have contributions they'd like to make, maybe they can wait until after the public part of the meeting and speak individually to members of the different boards," Dickson said. "We're of course glad to get any sort of feedback we can get, but it seems to me that it compromises the impartiality that a reporter should show."
Included with a public records request made by The Smoky Mountain News was an undated recording of Development Services Director Elizabeth Teague, who took issue with the Smoky Mountain News' characterization of the March 21 planning board meeting as a "chaotic."
"In fact, I thought the meeting went exactly as it was supposed to go," Teague said, ignoring Johnson's intrusion, a testy exchange between a member of the crowd and Planning Board Attorney Ron Sneed, multiple questions shouted from the crowd without recognition from the chair over nearly five hours, near-constant chatter amongst members of the crowd and the repudiation of Johnson by planning board member Tommy Thomas.
Aldermen will review Bradley's proposal at an upcoming meeting and may vote to adopt, suggest changes or disregard the proposal altogether.