Archived News
Macon commissioner candidates discuss education, broadband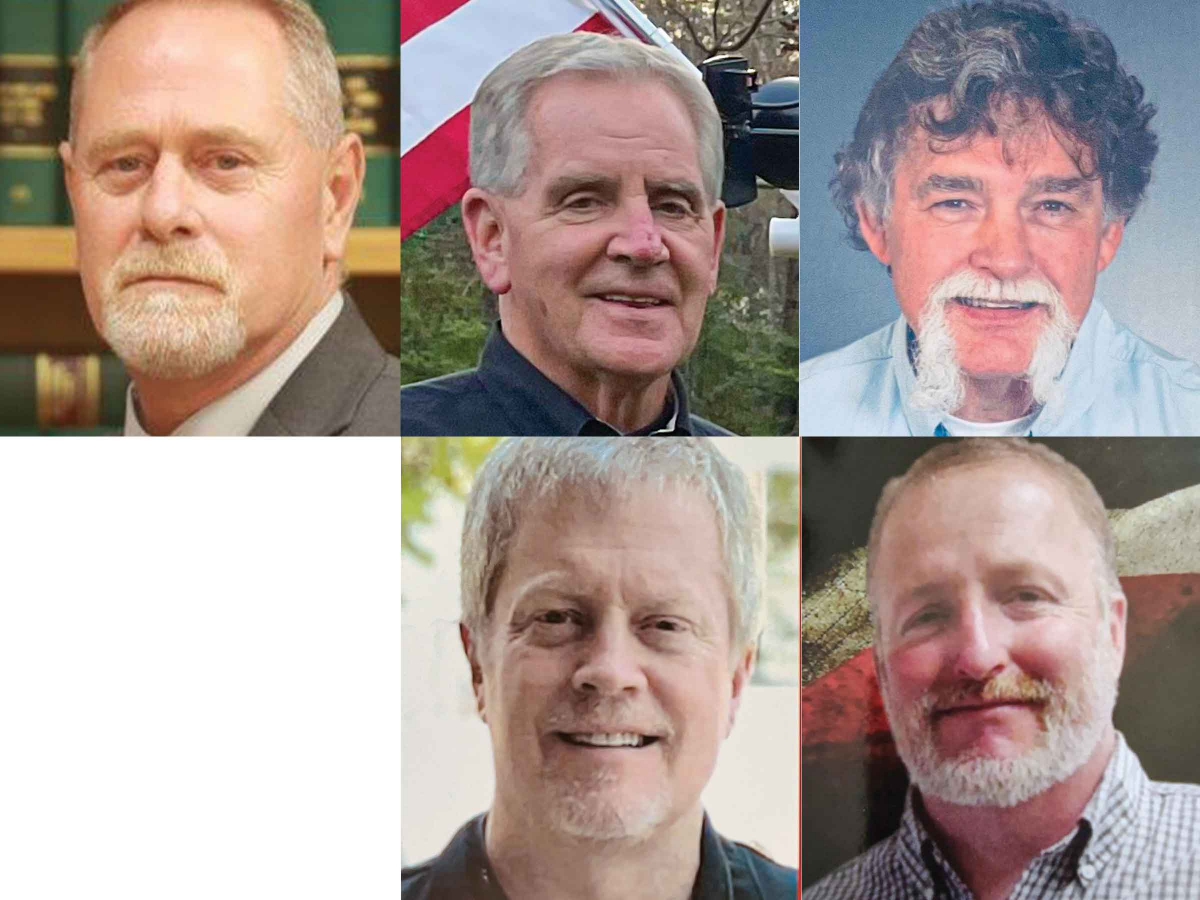 Clockwise from top, left? Don Willis, Gary Shields, Richard Lightner, Gregg Jones, Danny Reitmeier.
Several problems and opportunities await Macon County's next board of commissioners.
From the backlog of essential capital projects to a push for increased access to broadband internet, whoever is elected will have to prioritize between the county's many needs. Here's a look at the candidates running in the Republican primaries.
District I
Because no Democrats are running for District I, which includes Ellijay, Highlands, Sugarfork and Flats, whoever wins the Republican primary between Don Willis and John Shearl won't have to wait until November's General Election to know their fate.
Shearl declined an interview with The Smoky Mountain News unless questions were offered in written format.
Don Willis retired last year after a career with the Macon County Sheriff's Office. When he left the office, he was the Lieutenant over the Criminal Investigations Division. Some might question why Willis would run for commissioner instead of sheriff, especially considering Robert Holland, the man who's served in the position the last two decades, is retiring.
"I loved my job, and I loved serving and protecting, but it just wasn't my calling," Willis said. "I think I can do more for the citizens of Macon County as commissioner."
However, Willis pointed out that he feels he learned skills during his time running a team of detectives that would be invaluable if he were elected.
"It gives you leadership skills necessary to move forward and communication skills to be able to talk to folks and work with your fellow commissioners in moving forward," he said.
Willis said his main goal is to ensure the safety of students and teachers, which requires the construction of a new high school, something that's been a hot-button issue in the county for quite some time.
"We need to provide them with safe facilities and places to learn," he said.
Willis said he also wants to focus on economic development, which for him includes not only expanding broadband access, but also bringing certain industries back to the county that would offer high-paying jobs to residents with certain technical skills. And with that, he'd like to see a place where folks can learn those skills and get relevant licenses.
Willis said that since he's retired, he believes he can give his duties as commissioner his full attention and noted that hopes to continue some of the strong work folks in the county have been doing for years now. The goal: to keep moving forward.
"I have the experience and leadership to take our county forward," he said. "I have the skills to work with fellow commissioners to negotiate with them and provide the best services we can provide to the citizens of Macon County."
District II
District II, which includes Frankin, has two incumbents running, Republican Gary Shields and Democrat Ronnie Beale. There won't be a Democratic primary, but because there are five Republicans running including Shields, there will be a Republican primary. The top two vote getters from that race will advance to November's General Election.
Whoever the top two vote getters are in the Republican primary for district II will face off in a four-way race for two seats against Democrats Ronnie Beale, an incumbent, and Betty Cloer Wallace
Gary Shields
At 75, incumbent Gary Shields is the oldest Republican candidate running for commissioner. While he acknowledges he's done a lot in his eight years on the commission, prior to which he served four years on the school board, he wants people to know that he has unfinished business.
Specifically, Shields, formerly Franklin High School's principal from 1989-2010, wants to see the schools get their due. First, he discussed the state of the high school.
"Having been there 21 years, you become very much aware of the quality of the buildings and infrastructure," Shields said.
Shields said the conversation to upgrade the high school has been ongoing but added that he feels like the county has "never been this far" into the evaluation process.
In addition, Shields said he wanted to see the renovations at Macon Middle School through, a project that should be completed next year, as well as a middle school athletic building, which is currently in the planning stages. Beyond schools, he also said he hopes to see the project to improve the Nantahala Community Center and Library to the end.
While many have talked about the challenges in bringing broadband to remote areas of Western North Carolina, Shields has been in it for the last six years. He believes that the shutdowns related to the Coronavirus Pandemic brought that issue front and center for many families.
"We're entering into an area after the pandemic we all realized we're going to miss trying to get the educational Zoom component into the homes," he said.
Shields said he hopes he's already earned voters' trust and that he thinks his reputation can get him across the finish line to a third term.
"When you're in this arena … there's nothing you've been able to hide or anything like that," he said. "I feel like I'm a person who's thought about these things and I believe in mutual respect. When you address people if you address them with respect it comes to you the same way." Do you
Richard Lightner
Richard Lightner is now retired but previously served as Macon County's tax administrator for 35 years. Although he's never held an elected office, he noted that tax administrator is a political job that requires an appointment every four years.
"I was the longest serving public administrator in the county's history," he said.
In that role, Lightner had a host of duties, including collection of taxes and property assessments. In all those roles, he worked closely with numerous county managers.
"I was hired by Democrats, but I worked for five Republicans, and the board switched off and on," he said. "I worked with Democrats and Republicans."
Lightner said his philosophy on the importance of working with everyone regardless of political affiliation to achieve a common goal.
"Once you're elected, it's not about Democrat or Republican or independent, it's abouts serving people of the county," he said.
The office went from paper filing to being entirely digital under Lightner.
"We were the first in the state with digital photographs," he said. "And we were one of the first to do computer appraisals in the field. I also set up our GIS web system."
When asked what issues are facing Macon County, Lightner was quick to highlight the state of the county jail, something he used to explain the need for several capital improvement projects. It all goes back to poor planning for future growth, he said.
"We are reacting to circumstances," he said. "For example, our high school is 75 years old and out of compliance with everything. We did not plan far enough ahead."
Lightner said a hallmark of his seat on the commission would be transparency and availability to the public.
"That's why I ran my tax office that way," he said. "We have to inform the public; we have to educate the public, and we have to listen to the public. From day one, there's no one who can go into seat of county commission and sit down and understand budget and history … I know how to start from day one so there's no learning curve and problems."
Danny Reitmeier
Danny Reitmeier said he has never run for office but that it's something he's thought about. Recently, more and more people have encouraged him to run for a seat on the commission.
"I've been around it and I'd like to say I'm pretty well known here," he said. "I've been involved in lots of things. The running joke with my wife and kids is if we go anywhere, they know just go on and do the shopping or just get to the table if it's supper because I'll always stop and talk to somebody."
Reitmeier, an Air Force veteran, is currently the landscape maintenance operations manager for Clark and Company Landscape Services, where he works with owner Richard Clark, whom he said is "more like a brother."
Like Lightner, Reitmeier said he thinks some of the problems facing the county now, including the state of the high school and jail, are the inevitable result of kicking the can down the road too many years.
Reitmeier also discussed the county's drug problem — a problem that mirrors the rest of the region — noting that the county needs to give young people things to do in hopes that they won't be as likely to turn to narcotics.
"There's a big drug problem in Macon County, and I know all the sheriff's candidates are talking about it," he said. "We as the commissioners deal with the budget. We've got to do something to keep our kids from turning down that road."
Reitmeier also hoped to see industries that offer high-paying jobs return to the county. While he acknowledged there are plenty of places with "now hiring" signs, many are jobs that don't give families a chance to make ends meet.
"I'm a big chick fil a fan but we've got to do something besides fast food to give people a place to work," he said.
One option could be giving people a chance to work from home if they can; however, that would require enhanced broadband access.
Reitmeier said he'll be a man of action and someone folks can come to and discuss problems they may see in the county.
"I don't think any of them can outwork me; I don't think any of them can have more passion," he said of the other candidates. "I know who I am and how I approach things, and I'm going to listen to our citizens and give them every means to get in contact with me and let them know there's a true strong voice in that position."
Gregg Jones
Although he hasn't run for office in over two decades, Gregg Jones said the time is right to take another shot at getting elected to the Macon County Board of Commissioners. In the late 1990s and early 2000s Jones ran for commissioner and a seat on the school board but was defeated.
"I've been sitting back long enough, and it's time to give the voice back to the people, and the commissioners' office needs to be more transparent and let the taxpayers know where their money goes," he said.
Jones now does grading work and some odd jobs but also has five rental properties. He mentioned the need to rural broadband in the county, but also talked about other things that can be done to bring services to those areas.
"We need a grant writer to be able to get these rural area grants," he said.
"People don't realize how much money is just lying there. … and it'd help build schools and do good things for Macon County," he added.
Jones noted that the county needs some restructuring "across the board" to be able to meet the demands of a changing world while still ensuring folks who call Macon County can enjoy living in one of the most beautiful places in the state.
"I just love Macon County, and I want to see it on the right road and give it what it needs to build for the future," he added. "Technology is coming, and we're not there yet."
Finally, Jones highlighted his Christian values, noting that his decisions are constantly guided by his faith. To him, that goes hand in hand with being a constitutional conservative who values transparency in government.
"I want to make sure our first responders and law enforcement are took care of," he said. "Make sure our kids and older people are took care of. Make sure that we can take our county to the next level and build for the future and make at least a five-year plan so we can know where we're going."
District II candidate Danny Antoine did not respond to multiple SMN interview requests.