Archived News
Sheriffs in Western North Carolina face challenges, change
Wednesday, April 27, 2022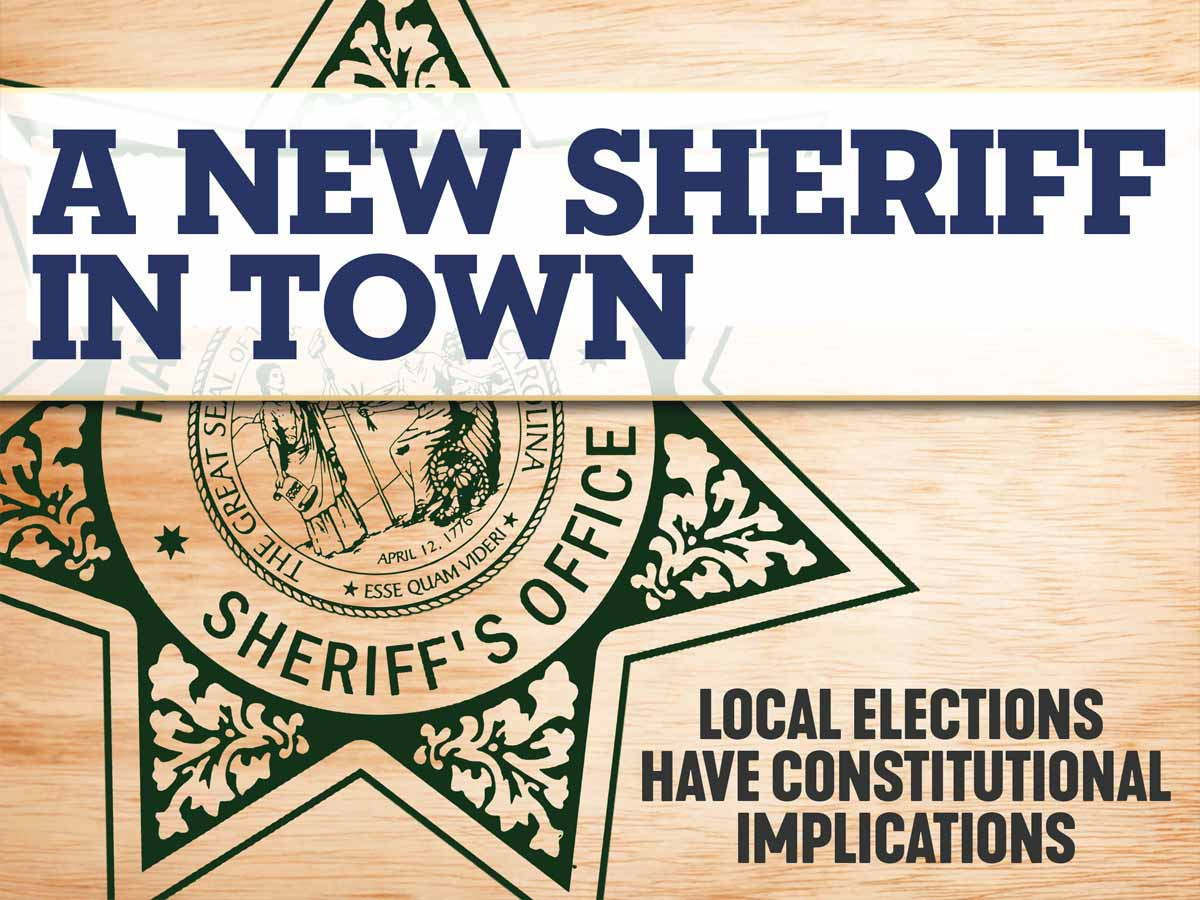 The job of the county sheriff is important even though the county sheriff's job is widely misunderstood.
Sheriffs don't just hold the keys to the jail. They're responsible for fiscal and personnel management, community outreach, legislative advocacy, local government relations, inter-agency coordination and supervising a department of men and women charged with carrying out statutory law enforcement duties in an efficient, professional and safe manner.
They're also partisan political figures whose influence can have a substantial impact on public policy and electoral campaigns from a local to a national level.
In the 17-county Western North Carolina region, only nine sheriffs are seeking reelection this year.
Voters in the other eight counties will say goodbye to years of experience and institutional knowledge, but they'll also have the chance to shape the future of law enforcement in an era when sheriffs are increasingly being called upon by some to determine what laws, exactly, they intend to enforce.
They'll do so beginning with the May 17 Primary Election, as they navigate the political chasm between defunding police and increasing policing power.
SEE ALSO: Christopher's shadow looms large over Haywood sheriff's race
Chapter 162 of the North Carolina General Statutes outlines the qualifications, obligations and responsibilities of sheriffs and establishes statewide a term of four years.
To run for sheriff, a candidate must be 21 years of age, a qualified elector in the county where they wish to run, and cannot have been convicted of a felony. They also can't practice law or be a member of the General Assembly while serving as sheriff.
No other training, education or law enforcement experience is required.
The basic duties are threefold – maintain custody of the jail and its prisoners; execute process service, court orders and judgements; and ensure the security of the county's courtrooms.
While those duties haven't changed much over the years, just about everything else has.
"Gosh, looking back through my career, there's been lots of changes," said Robbie Holland, Macon County's sheriff since 2002. "I can remember a time where when your patrol car broke down, you used your personal vehicle to get through the week until you could have your patrol car fixed."
Holland said he was also one of the first Macon County law enforcement officers to have a computer of his own, borrowing a used laptop from the county's social services department.
Greg Christopher, sheriff of Haywood County since 2013 and a four-decade veteran of law enforcement, cites technology as a force for change in law enforcement.
"Social media, more so than probably anything else, has changed the way that we do our jobs," Christopher said. "The demands of never being off duty, having to now answer emails and text because of a cell phone that you have with you, you just cannot get away from the job at all. One thing I've learned about being the sheriff is when you are the sheriff of a county, you are everyone's sheriff and everybody knows that you are the sheriff and there are so many things that people want to specifically talk to you about."
SEE ALSO: Five compete in Jackson Sheriff primaries
But technology has also led to the professionalization of the sheriff's office, especially since the advent of the cheap, plentiful, web-enabled video recording technology that brought light to misconduct charges in the cases of George Floyd and Eric Garner, among many others.
"Things change," Holland said. "What might work yesterday may not work today, and you've got to look at different ways to handle those things. I think that the standards that they're coming up with, they're good."
In 2020, the North Carolina Sheriffs Association created a working group made up of 10 of its 100 member sheriffs and issued a report recommending sweeping reforms on recruitment, certification, and use of force procedures as well as the creation of an employment database meant to weed out the small percentage of bad apples rotating from department to department.
"Any time I have an officer that applies with us that comes from another agency I'm always calling on that sheriff to find a little bit of background about that individual," Holland said. "I think that's important because sometimes officers bring baggage with them, and it's important for us sheriffs to be forthcoming about that because a problem child in another county agency doesn't need to come here and be a problem child to us too."
Other unexpected challenges, like ensuring public safety during the large public demonstrations of 2020, can be an unexpected affair for a county sheriff – especially when the demonstrators are demonstrating against law enforcement.
"We were out there to protect everybody. We were out there to protect those who came to watch the protest, but more importantly, we were there to protect those people that were having the protest," he said. "We support their right to voice their opinions and their concerns. Even though some of it was negative toward us, we support that [right] and we wanted to make sure that they were safe."
SEE ALSO: Five Republicans vie to become Macon's next sheriff 

That becomes even more difficult in a small town like Franklin.
"I had friends that were on that line of the protestors," Holland said. "Several of them came up and hugged me and told me they loved me. I support their opinions. People have died to give us those rights and so I think our community saw how we reacted toward them and I think it gained us even more support, because we respected them."
The local protests were not without tense moments between counter-protestors, as well as other safety concerns.
Some local sheriffs participated in the rallies. Holland hosted a Back The Blue Rally in Franklin while Cherokee County Sheriff Derrick Palmer spoke at the Black Lives Matter Rally in Murphy.
Macon County Sheriff Robbie Holland speaks at a "back the blue" rally in Franklin in 2020. Cory Vaillancourt photo
Christopher, too, was present at demonstrations in Haywood County.
"This is a very important job for us, and [demonstrators] feel it's important to express their First Amendment rights," Christopher told The Smoky Mountain News on Aug. 1, 2021, just prior to a Black Lives Matter march in Maggie Valley. "We're here to protect those that want to do that."
Neither Christopher nor Holland will seek another term this fall, and neither will sheriffs in Avery, Cherokee, Clay, Jackson, Transylvania or Rutherford Counties.
In all of them, citizens end up losing years of experience – 20 for Macon's Holland, and 10 for Haywood's Christopher – and will soon see a new sheriff in town, some for the first time in decades.
Maintaining respect for and continuity in the agency even after he's gone is a priority for Holland. Three out of the five candidates in Macon County's Primary Election are current deputies at the sheriff's office.
"I've had the privilege of sitting down with all three of my employees that are running for sheriff. I see some of the visions that they have and some of the changes that they want to make and I support it," Holland said. "I think what all of them have is very good, and just imagine if all three of them come together, when this is all over with, if they put all three of their ideas together, we could have a really great agency and be proud to be associated with it."
Holland, a Republican, says that if one of them is elected, he will be happy, but all five candidates are Republicans. No Democrats filed for the seat, making the Primary Election all-important.
It's slightly different in Democrat Christopher's Haywood County, where two Democrats and three Republicans will run their own Primary Election campaigns in hopes of replacing him. Of the five, two are current employees of the HCSO, one is a former employee and former interim sheriff, and the other two have significant law enforcement experience in Buncombe County (see HAYWOOD p. 6).
Party affiliation matters. Haywood County has slowly but surely become more Republican over the past few years, beginning in 2018 with a Republican takeover of the county commission for the first time ever. Christopher is a conservative Democrat and at least politically, the remnant of a bygone era in the South.
Sheriffs sometimes issue endorsements of political candidates because they often remain influential local players – even after they're out of office.
Current NC-11 Congressman Madison Cawthorn garnered a bevy of endorsements from sheriffs across the region, including retired Henderson County sheriff George Erwin, that helped propel him to victory in 2020.
Erwin has since rescinded his support, and the embattled Cawthorn is running in an eight-candidate field. Will it matter? The opinions of sheriffs could be a deciding factor, just as when the "Second Amendment sanctuary" movement hit North Carolina in 2020.
Resolutions were put forth across the South in part because of gun control legislation moving through the Virginia General Assembly.
Cherokee County was one of the first to become a "sanctuary" in 2019. The designation is largely symbolic and promises to uphold the Second Amendment rights of citizens.
In Macon County, the debate lasted three months. Holland called it an important moment in his career.
"The problem that I had with that is the Second Amendment is very important, but so is everything else within the Constitution. I've already taken an oath to uphold the Constitution, which includes the Second Amendment. One of the major issues that I had with signing this oath for the Second Amendment ... it wasn't the oath that I take for office. It was only a portion of that oath," he said. "And so, I had legal advisors outside of Macon County that were giving me advice that you need to understand that if you're signing an oath, a new oath, then you could be null and voiding your oath that you've already taken."
Holland provided the county commissioner a version of the resolution from the N.C. Sheriff's Association that did not conflict with the Constitution. Macon County ultimately passed a resolution protecting the U.S. Constitution, N.C. Constitution and all other laws.
In Haywood County, Christopher took the position that "sheriffs do not possess the legal authority to interpret the constitutionality of any law."
Haywood also passed a "Constitution protecting county" resolution that focused on the entire document and all its amendments, rather than just the Second Amendment.
The Second Amendment and COVID-19 restriction enforcement have both been key issues for groups who want local law enforcement to have more power.
One group, the Constitutional Sheriffs and Peace Officers Association, wants local sheriffs to assert powers they say take precedence even over those of the commander in chief.
The CSPOA was founded in 2011 by former Arizona Sheriff Richard Mack to "remind sheriffs and peace officers about their oath of office," according to the group's website.
The Anti-Defamation League calls it "an anti-government extremist group whose primary purpose is to recruit sheriffs into the anti-government 'patriot' movement" similar to the sovereign citizen movement.
Mack hawks nutritional supplements and precious metals on the group's website, which also puts forth a variety of positions and pledges by which so-called "constitutional sheriffs" should govern themselves.
The CSPOA's "Statement of Constitutional Sheriff" specifically asks law enforcement officers to sign a pledge stating that they will not enforce legal orders from elected officials, especially in relation to mask mandates, saying that sworn officers must "… resist such edicts and orders and act in such a manner as to shelter and protect the citizenry from all acts of lawlessness, even and especially when they originate from civil authorities."
The group's "Statement of positions" lays out several more dubious propositions, including on immigration ("immigrants are not assimilating into our culture as they once did") and on federally-owned land within the states, regarding which sheriffs should "use their authority to assist in the transfer of control of the land" back to the county and state.
Likewise, the CSPOA opposes most every gun control measure out there, including universal background checks.
All told, these CSPOA's positions are founded in their contention that "The vertical separation of powers in the Constitution makes it clear that the power of the sheriff even supersedes the powers of the President."
Holland said that he has sworn to uphold the Constitution in the sheriff's oath and that he always wants to make sure that federal and partner agencies are following the law in Macon County.
"You have to make a decision in your life. If you're the sheriff and you have taken this oath, there may come a time where you have to make a decision. Luckily, I've not been put in that position," said Holland. "Do I hesitate to question another authority that comes to my county, whether it be a state or federal agency? Absolutely not. I don't hesitate. We work with our partners, and I don't hesitate to question what they're wanting to do and I make sure that before we act on something that it meets the criteria of the law."
Because of widespread recognition – if not support – from within the law enforcement community, the CSPOA may become an issue in local contests and has already been mentioned in the Haywood County Republican Primary Election.
Comparatively, other law enforcement reform organizations across the country continue to call for very different goals than the CSPOA. Those organizations want police funding to be decreased while involving mediators, mental health experts and social workers more in 911 situations.
Most recently, President Joe Biden brought police funding to the forefront of his State of the Union address in March.
"We should all agree: The answer is not to defund the police. The answer is to fund the police. Fund them with resources and training they need to protect our communities," said Biden.
Biden's proposed federal budget for 2023 includes more than $24 billion for law enforcement centered programs and even more for research on gun violence, mental health services and other services.
These conversations about law enforcement reform are currently being hashed out local governments like the city of Asheville.
In 2020, Blue Ridge Public Radio hosted a community conversation on policing with Buncombe County Sheriff Quentin Miller, Historian Dr. Dwight Mullen, Zaria Abdulkarim of Democracy NC, Rob Thomas of Racial Justice Coalition AVL and President local chapter Fraternal Order of Police Rondell Lance.
The first question was: Where do you stand on defunding the police?
"Defunding the police, to me, is a multifaceted word that needs to be broken down. I prefer to use divest from the police and reinvest in the community," said Thomas.
Miller is one of the few local sheriffs who is running for reelection. Before discussing police funding at the event, he explained the difference between the sheriff's office and the police department. The sheriff is responsible for the detention center and is also responsible for the courts and civil process. Defunding those systems would have a negative effect on public safety, according to Miller.
This year, Buncombe County Detention Center had the worst death rate in North Carolina, according to an investigation.
Comparatively, defunding local police departments is a controversial option that could have altogether different impacts on public safety. For example, Thomas wants to reinvest police budgets into community programs and services.
In 2020, Miller said he was open to conversations about defunding and compared George Floyd's killing to the beating of Rodney King in 1991, which sparked protests and riots in Los Angeles.
"You know, we felt the changes were made, and we would never be here again," Miller said. "Some 30 years later, we are there again. I'm just saying for me, his beating, if you will, was in vain, if we are not willing and ready to make a step."
In the last two years, the conversations around law enforcement funding, systemic racism and local government have continued in Asheville including a lawsuit brought by a Western Carolina University student who was allegedly blinded during the 2020 protests.
In the 2022 primary, Democrat Miller will face one challenger. In the General Election, a Libertarian and the winner of the Republican primary will be on the ballot to decide the next chapter of the Buncombe County Sheriff's Office.
Ultimately, that ballot box is guaranteed to bring change, all across Western North Carolina.
(Lilly Knoepp is an award-winning regional reporter for Blue Ridge Public Radio, based in Jackson County. Cory Vaillancourt serves as the politics editor for The Smoky Mountain News.)