Archived Arts & Entertainment
This must be the place: Every piece to the puzzle snaps tight in the groove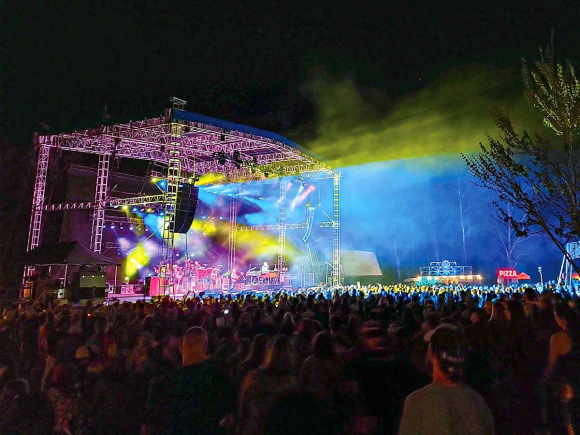 The String Cheese Incident, Asheville. (photo: Garret K. Woodward)
It was somewhere towards the end of Set One of Night Two of The String Cheese Incident's gig at the sold-out Salvage Station in Asheville on Saturday evening when the jam-band icons went into its new song, "Into the Blue."
There's always one moment during a concert where I can "feel it," you know? It's this pure and innocent feeling of happiness for the moment, and also bittersweet sorrow for people and places you start to think about and miss when you're within that moment of melodic joy — the entire spectrum of human emotion in full swing.
This crashing wave of overwhelming emotion, more so body chills, starting in your toes and working its way up your legs, along your spine and into the back of your head, soon to emerge as that sensation in your face right as your eyes begin to get a little misty — a unique and singular moment conjured only in the presence of live music.
And it's funny to stand there in this massive audience of thousands, simply thinking back on why it is we're all here in that one moment, to witness the melodic madness of this sextet from Colorado who radiate this sense of joy and collaboration for raucous folks here in Western North Carolina.
I first got wind of The String Cheese Incident back in the late 1990s. I was a young teenager in middle school on the Canadian Border of Upstate New York, already a rock-n-roller, headlong into the explorative, psychedelic sounds of The Grateful Dead and Phish — a lifelong jam-band kid in the making, as they say.
Well, my mom was a teacher in the adjacent high school. One of her co-workers was a good friend whose son, Ronnie, was also a jam-band freak. Ronnie had already graduated high school and was gone to college by the time I arrived in middle school. Lo and behold, with Ronnie making his parents empty nesters, his mom cleaned out his room of what was left of his stuff.
One day after school, while I was waiting in my mom's classroom for her to finish up before she would take my little sister and I home, Ronnie's mom walked in with a box full of his stuff she was going to toss if I didn't want any of it.
Inside was a handful of cool band shirts, some knickknacks, and two posters: an SCI concert poster from a recent show in Vermont and a ski area poster for Crested Butte, Colorado (where SCI formed). I took home the entire box. It was a like a treasure trove for young kid.
Unrolling the two posters, I put both up on my bedroom walls, images of curiosity flowing through my mind of maybe someday seeing SCI live, maybe someday finding myself on the slopes of Crested Butte on a bluebird sky day filled with fresh powder (these posters are currently on the walls of my Waynesville apartment).
It would be another seven years before I'd finally get to stand in the presence of SCI. As a junior in college in Connecticut, I found myself at the Great Woods Amphitheatre in Mansfield, Massachusetts, on a hot night in July 2006 for the SCI co-headlining bill with Bob Weir & Ratdog (aka: the "Cheese Dog" tour).
As expected, it was a pretty magical experience. But, aside from that, I vividly remember that night, seeing as I was on a date with this girl, Ali, who I had a huge crush on. She was the first person to ever encourage me to become a writer. I had met her the previous semester while visiting UMass-Amherst for a spring break party.
After the "Cheese Dog" Mansfield show, I remember sitting in the living-room of her friend's parents' house near the venue. It was way past midnight. Everybody asleep except the two of us, just talking and connecting in such a profound way. She had recommended months earlier that "if you want to be a writer, you should start be keeping a journal."
So, I shared with her my scribblings from the black and white composition notebook. It was just ramblings and dribble jotted down from the summer, but she liked what I read to her and encouraged me to "keep going and keep writing."
And it was that spark that pushed me into taking creative writing and magazine journalism classes once I returned back to Quinnipiac University for my senior year, ultimately graduating in 2007 with a degree in print/broadcast journalism.
Following college, I ended up with my first reporting gig at the Teton Valley News in Driggs, Idaho. And, oddly enough, one of the first articles that I ever had published was interviewing members Jason Hann and Michael Travis of SCI in March 2008. Though the band was on hiatus, the duo formed an improvisational electronica group, EOTO, who hit the stage at the Knotty Pine Supper Club in Victor, Idaho.
"The deeper we get into this project, the more possibilities there are, there is stuff always happening and that is what's exciting for us," Hann told me after the show, inspiring words that have stuck with me all of these years as I continue to dive deeper into the realm that is the written word.
And I think of all of those interactions, concerts, interviews and such with SCI and each one of its side projects. Backstage in Denver, Colorado, or the Rothbury Music Festival in Michigan, the Nateva Music Festival in Maine or Wakarusa Festival in Arkansas, Higher Ground in Vermont or that blurry night of shenanigans in that town I can't seem to pinpoint nowadays.
All those feelings and moments leading up to the three-night SCI run last weekend in Asheville. It's so wondrous, maddening and ultimately fleeting. Time flies when you're having fun, eh? And this is why we music freaks continue to run towards the horizon with a reckless abandon — always in search of the unknown magic that lies within the art of live performance.
Life is beautiful, grasp for it, y'all.
Leave a comment
1

comment
"One day after school, while I was waiting in my mom's classroom for her to finish up before she would take my little sister and I home,"

Dear Garrett. If you are serious about pursuing a career in writing, PLEASE learn and use correct grammar.
The incorrect use of the pronoun "I" is sadly rampant in our culture today. The above you wrote should be "she would take my little sister and ME home." Simple test - remove 'my little sister' and it reads "She would take I home". ERRRRR, eror!

Step out, speak up, and help take back the English language!

Thank you from the son of an English teacher.

Monday, 05/02/2022