Archived Arts & Entertainment
Into the blue: Bill Nershi of The String Cheese Incident
Wednesday, April 20, 2022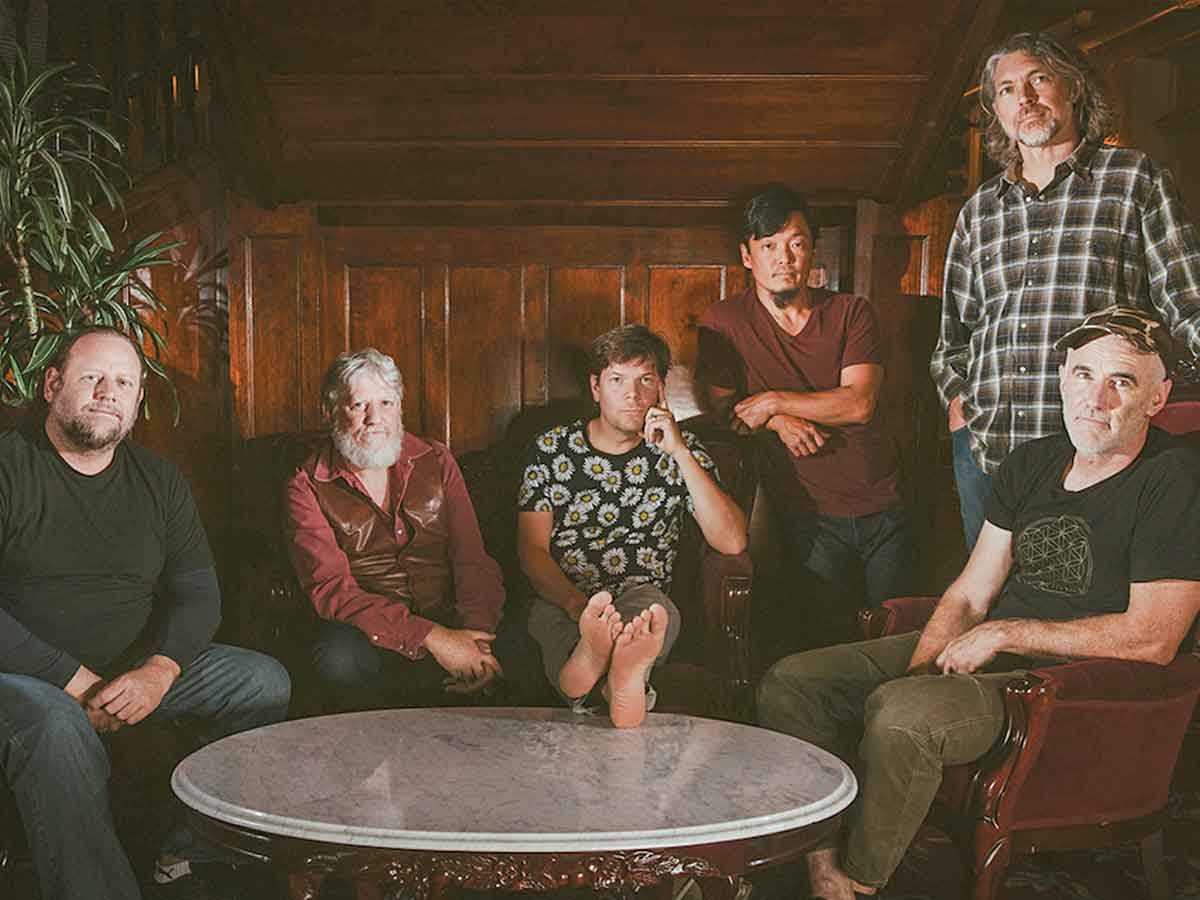 The String Cheese Incident
Scott McCormick
With its latest album, the EP "Into the Blue," Colorado-based jam-band icons The String Cheese Incident have offered up a glimpse at where the group currently resides on the musical spectrum — everywhere and anywhere inspiration strikes.
The record is another new and unknown chapter for SCI, a beloved sextet that's remained a proud and vibrant torchbearer of innovation and improvisation since its inception in 1993 on the ski slopes of Telluride and Crested Butte.
It's also a testament to the power and depth of SCI, this bastion of continual melodic exploration in the realms of rock-n-roll, bluegrass, electronic and jazz fusion — a breadth of talent and possibility that seemingly knows no bounds.
And at the center of SCI is lead singer/guitarist Bill Nershi. Originally from New Jersey, Nershi came of age as a curious, music-seeking teenager in the 1970s. His deep love of prog-rock, folk and bluegrass music led to a pilgrimage to Colorado following high school.
Nershi took off for the Rocky Mountains in a lifelong quest for freedom and enlightenment along his own respective journey in life, an ethos of sorts that resides at the core of SCI — this free-flowing entity that came together by happenstance almost three decades ago, only to now be considered an American musical institution of sound and purpose.
Smoky Mountain News: It's interesting that you start out as an acoustic jam band, but now you have this sound that's all over the map. It's a real melting pot. Is that kind of by design or just how you go with the flow in terms of what you're creating?
Bill Nershi: Well, it was always a melting pot, to some degree. Maybe it's a little more amplified or magnified now. We've always tried to throw in different styles — world beat, African, Latin, funk, different things.
I don't want to abandon our old, innocent acoustic type sounds completely, though. But, that's me, I'm on the end of the spectrum trying to keep it real. There's a lot of balances. The one thing that we try to avoid is saying "no" to ideas, so that accounts for the variety of styles.
We need to keep it interesting for us, so that we can stay excited about the music, and so we can make it fun for the audience and our fans.
SMN: You're from New Jersey. What spurred that move to Colorado?
BN: Originally New Jersey and I've been in Colorado since 1981. I was probably getting ready to drop out of college [at that time]. I moved to Telluride when I was pretty young. And that was what really turned me onto to music, the [Telluride] Bluegrass Festival.
[Telluride] had [all kinds of] festivals there — rock, jazz, all these different things. I was really exposed to a lot of different kinds of music and started playing music in Telluride. Eventually, I moved to Crested Butte and met the guys in String Cheese and started playing shows.
[Initially], I had a brother living in Colorado. He became a hang glider pilot out there. He was kind of this rowdy hippy living in Telluride. And I went to visit him. It was in eye-opener. This was the 1970s. There was no law. You could kind of do whatever. Everybody was left to their own devices. It was pretty fun.
SMN: And with Cheese, what do you remember most about those early years, those first interactions and expectations, if there even were any expectations?
BN: There were no expectations at all. You know, [1993] was another winter in a ski town. I moved to [Crested Butte] to ski a different mountain after 12 years of season passes in Telluride.
I knew [bassist] Keith Moseley from various bluegrass festivals, hanging out drinking beer and playing music at the festivals. So, I drove my [converted] school bus and parked it over by his place, which I later found out was owned by [percussionist Michael] Travis.
I played in all the local little picks and played some shows in bars with pickup bands, with Keith and with other people. And then, someone told me about [mandolinist Michael] Kang and I looked him up. I said, "Let's get a regular once-a-week gig where we can play happy hour or après-ski up on the mountain."
We started playing and Keith joined us, eventually Travis. We played our first show as a four-piece, it was nothing more than something fun to do, and maybe we could get a few gigs around Crested Butte and Telluride.
And it was really the reaction of the audiences we played to that gave us the light bulb over our heads to continue with the four-piece. Not long after that, [keyboardist] Kyle [Hollingsworth] joined, and then later, [percussionist] Jason [Hann].
SMN: When you talk about the vibe and freedom of that time and place, I feel that — consciously or subconsciously — it probably played into the freedom of exploration within the music.
BN: Yeah. We were really open, and as long as we were having a good time, you know? And that's what I want to make sure we remember now. We've busted our asses for many years and spent unbelievable amounts of hours together. [We need to always remember] that we're still in it to have fun and enjoy the process, whether we're recording, rehearsing or playing shows.
And I really think that's a big part of what people latched onto with us, "Oh, these guys just look like they're having fun," and, in turn, the audience is having fun. I want to remember that while we're working at our craft and while we're playing our shows — this is what we're spending our lives doing. If we can't enjoy the thing that we spend the most time doing, then there's no point.
The main point is to enjoy ourselves and enjoy the fact that we have people there [in the audience who] love listening to us — that's a blessing.
Want to go?
Jam-band legends The String Cheese Incident will perform April 22-24 on the outside stage at the Salvage Station in Asheville. All shows begin at 6 p.m. Doors open at 5 p.m. Admission is $59.50 per person, per night. Tickets are general admission, with three-night passes still available. All shows are all ages. Rain or shine. Large event parking. No refunds. For more information and/or to purchase tickets, go to salvagestation.com and click on the "Events" tab.