Archived News
Haywood commission candidates face significant challenges
Wednesday, April 20, 2022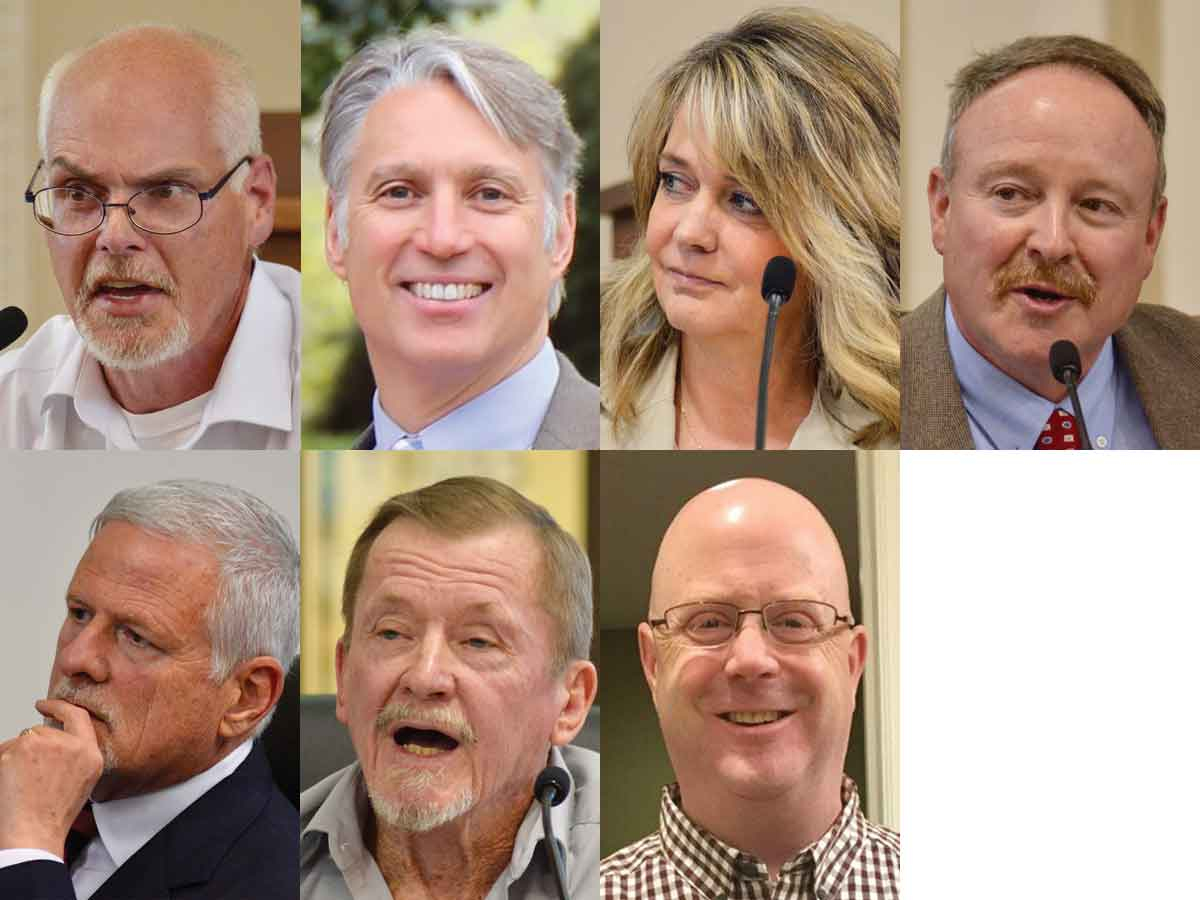 Clockwise, from top left: James Nash, Kirk Kirkpatrick, Jennifer Best, Tommy Long, Jeff Haynes, Terry Ramey, Erich Overhultz
Haywood County's growing, and with that growth comes change – change not everyone is happy to see. Traditional hot-button issues like fiscal control are intricately tied into other issues like affordable housing, which are tied into still other issues like the opioid crisis, the mental health crisis and the homelessness crisis.
Throw in a 500-year flood that's still not over for some and a clear picture of a county with some important choices to make begins to emerge. Increasingly, residents are asking if and how county government should intervene, financially or otherwise.
Three seats on the Haywood County Board of Commissioners are up for election this year, and all three incumbents in those seats are running for reelection. Four challengers are hoping to claim a seat of their own, and whoever wins could have a tremendous impact on how Haywood County develops over the next four years, if not 40.
Incumbent Republican Commissioner Tommy Long is just finishing up his first term.
"The biggest thing I've learned in the last four years is, life comes at you fast," Long said.
That's exactly what happened on Aug. 17, 2021, when a devastating flood – something county government could neither predict nor prepare for – killed six people and visited utter devastation on portions of the county.
County government's role in recovery is nearly complete; Haywood advanced $5 million from its rainy-day fund and is awaiting reimbursement from the U.S. Federal Emergency Management Agency, which could take years. Thankfully, the county remains in excellent financial shape.
All candidates agreed that the county did a good job during the aftermath of the flood, but some things left undone by FEMA raise the issue of whether or not the county should do more, especially in regard to stream cleanup.
"It worries me that we're no farther along with cleanup," said Commissioner Jennifer Best.
Best, a Republican, was appointed to her seat in 2020 after Mark Pless was elected to the General Assembly and will have her name on the ballot for the first time as an incumbent.
The board's lone incumbent Democrat, Kirk Kirkpatrick, is seeking his sixth term and sees a role for county government in the ongoing recovery efforts.
"It might be helpful if the county stepped in and provided some kind of service, once every month or something like that, to help pick up the rest of that stuff," Kirkpatrick said. "There's still a lot of trash and stuff in that river, and that's a real jewel for our county as a whole."
Republican challengers Terry Ramey, Erich Overhultz and James Nash weren't directly involved in flood recovery, but a Democratic challenger, Jeff Haynes was. Haynes has spent his career in law enforcement, and is currently chief deputy in the Haywood County Sheriff's Office.
Haynes has also had experience over the years dealing with the county's three-headed monster – homelessness, opioid addiction and untreated mental health issues.
"As a county commissioner, I want to continue to push that agenda, because at the end of the day, it's not only about quality of life; it's about saving lives," he said. "We need to be proactive in grant-seeking, we need to be proactive in making sure the resources match the needs, and we do that through partnerships and collaborations."
Rep. Pless (R-Haywood) visited a Raleigh rehabilitation facility and was so impressed that he pushed to get one somewhere in his home county, or at least somewhere in the region. Although Pless couldn't quite get the funding from the General Assembly to make it happen, most candidates still want to see that materialize. Except for one.
Overhultz is a retired lieutenant from the Broward County Sheriff's Department in Florida, and saw drugs and crime infiltrate that community over the course of 30 years. He's been vocal on several fronts in addressing Haywood County's current and future problems, and thinks the county should be sending its most vulnerable citizens to existing rehabilitation facilities elsewhere.
"Time is of the essence right now," he said. "We have people that are really hurting, and by the time you figure out a place where to put it – which is going to be a problem, because frankly no one is going to want that in their neighborhood, and I don't blame people – but by the time you're done dealing with that fight and you build a place, how many people are going to perish because of their addictions?"
Ramey, a retired wrecker operator, wants judges to have the opportunity to issue mandatory rehabilitation for people addicted to drugs.
"I think we need to keep people out of jail as much as we can. If we have rehab, that could put them back into society and make them successful," he said.
A concurrent conversation has been taking place over the need for local mental health treatment.
"We've got to have the facility to handle this. That's a big part of what it takes to make a great community," said Ramey.
James Nash, a Buncombe County native and HVAC contractor, thinks that collaboration with the General Assembly is the answer.
"I've heard a county commissioner say, 'Our hands are tied as a county because this is a state issue; the state has cut funding, so our hands are tied.' They're not," Nash said. "Our hands are not tied. There are things the county can do. We can be the squeaky wheel in Raleigh so we can get the oil we need to get the funding to build a facility because we are far below capacity in treating the mental health issue, and that ties into the homelessness issue."
Homelessness has become an increasingly controversial issue in Haywood County, especially in Waynesville. Nash sees a place where the county can step in to help.
"We should spend money," he said. "My main thought – drug addiction, mental health, homelessness. The people that are involved there, they need a foundation, and the foundation starts with a place to live."
Although homelessness isn't really related to the affordable housing issue, inventory remains low, prices remain high and the pressure is making it harder and harder for businesses to find workers who can afford to live in the communities where they work.
"One part of me says that's not the role of county government, the other part of me says the only way it's going to get done is if county government does get involved to an extent," Kirkpatrick said. "It almost has to be some type of quasi-public agency/private entity to come together to provide affordable housing, but it's going to be a difficult issue for us. I think we're going to have to get involved and get ahead of it or we're not going to have any kind of place for someone to live that can be here to work and provide services for all the people we do have coming here."
Last year, a countywide reappraisal showed increasing property values, some on the order of 20 or 30%. That resulted in some difficult decisions for local governments faced with keeping the increased revenues, going revenue neutral, or splitting the difference. Long voted in favor of the current budget, which came in 2.5 cents above revenue neutral. The surplus revenue was used for employee compensation and public safety.
"Job retention was costing us so much money," he said. "Training up an employee so they could go find work in another county. Now we're up to market value and our job retention is doing much better."
Haynes witnessed the turnover problem in the sheriff's office and said he would have voted for the budget. Nash, Ramey and Overhultz said during a previous forum that they would not have.
Best – along with incumbent Brandon Rogers, who is not up for reelection this year – voted against it. Although it did pass 3-2, Rogers and Best wanted it to be revenue neutral.
"We're coming into budget season again. So last year, when the budget began – and I still feel this way – that's my greatest responsibility is overseeing the taxpayers' money," she said. "I said this in the forum, it's not our money, it's not county money, it is their money and they ask all of us to go oversee it."
The Primary Election will be held on Tuesday, May 17, although absentee ballots are already being mailed out. In-person early voting begins on Thursday, April 28. Republican voters can select three of the five Republican commission candidates running. Democrats can cast up to three votes, although there are only two candidates, so both will advance to the November General Election. Unaffiliated voters may choose either a Republican or Democratic ballot.