Archived News
Waynesville aldermen ponder projects
Wednesday, April 13, 2022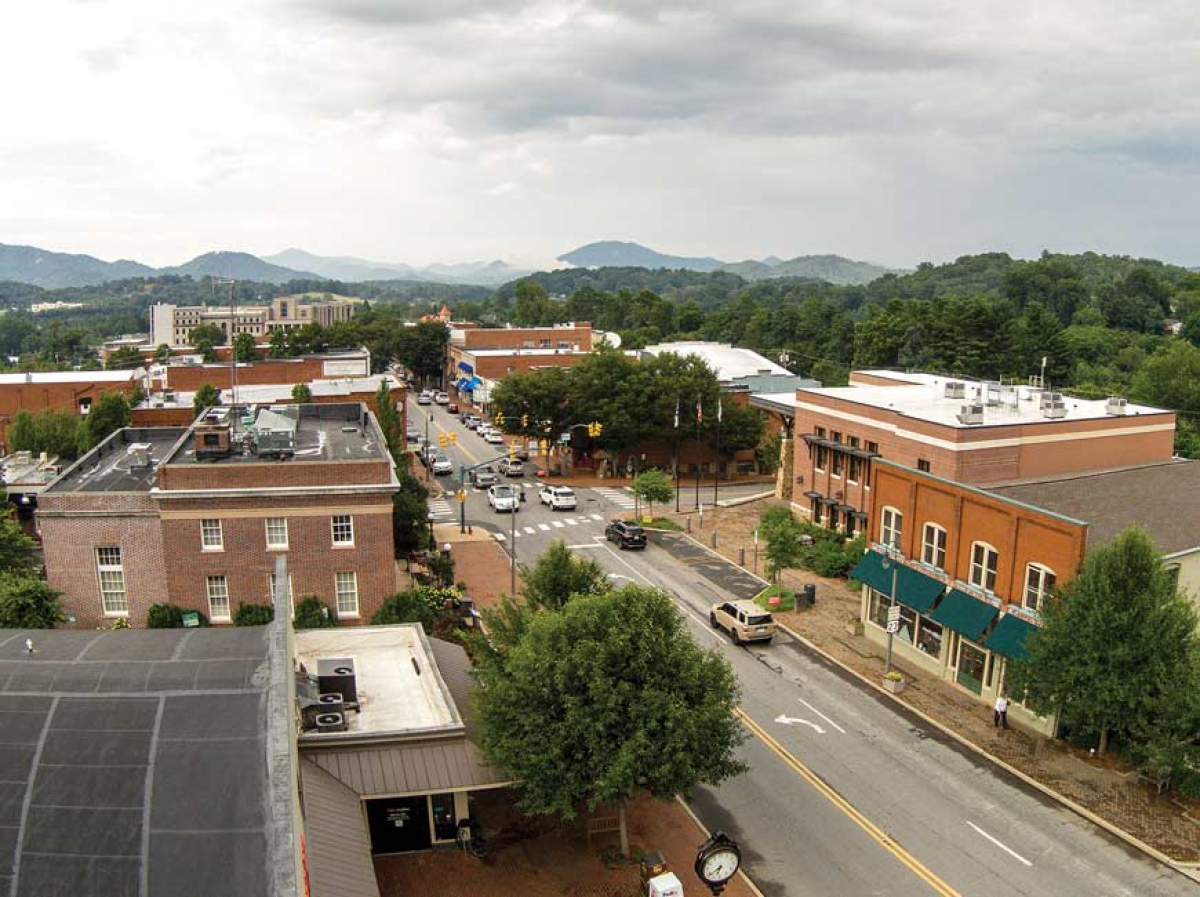 It's a critical time in the Town of Waynesville. Legacy problems like aging sewer and water infrastructure and a malfunctioning downtown association are almost in the rearview mirror, as are the uncertainty and disruption of the Coronavirus Pandemic.
Those issues, however, have been replaced by new ones, mainly fueled by public safety, development pressures and the need to remain a competitive, attractive tourism destination with reasonable property tax rates.
With a long list of projects and policies and unprecedented amounts of federal funding flowing into cities, aldermen have never had a better opportunity to shape the future of the town.
"Talking with the staff over the last year," said Town Manager Rob Hites at a town retreat on April 6, "we realized over the last 4 or 5 years we have been asking you to be a reactive board."
The board's reactive posture ended that day, as Hites walked aldermen through a 5-hour meeting that instead of starting with a finance presentation focused on the personal priorities of elected officials first.
Mayor Gary Caldwell's priorities — a trio of pavilions — will likely move forward, albeit slowly. Caldwell said that when the Main Street pavilion went out for bid, only one bidder responded with a price that gave the town "the shock of our life."
The skate park pavilion, which would be the same as the one constructed at Obama-King Park for $40,000 a few years ago, will now cost $102,000. Now, the town has the choice to re-bid the project or wait for the construction price boom to possibly subside.
Another Caldwell priority is to explore options for expanded outdoor dining on Main Street.
Alderman Julia Freeman's main priority was purchasing a new SRT/rescue vehicle for the town's police force.
"We need to be highly active and alert on using tactical things and making sure our law enforcement has the resources they need to get the job done," Freeman said.
The current vehicle used for SRT operations is outdated, ill-equipped and undermatched, based on weapons seized during SRT activities.
"If someone shoots at that vehicle, it's just going to go through," said Assistant Chief Brandon Gilmore. A new vehicle would cost approximately $300,000, but refurbished vehicles are available for about half that.
With the impending retirement of Waynesville Parks and Recreation Director Rhett Langston, Freeman also wants to stay on top of the situation and complete a parks and rec master plan.
Alderman Jon Feichter, who's been pushing a clean energy mentality among the board, wants to convert municipal buildings to solar heat and water, among other renewable energy initiatives.
"I'm pretty keen on how the town can fulfill its 2017 commitment to help the state transition to 100% clean energy by 2050," he said.
The clean energy plan will be implemented in the design of the town's forthcoming Hazelwood fire station, and Feichter wants the rec center to be prioritized as well due to its substantial consumption of power and water.
"You know the old saying, 'When's the best time to plant a tree?' The best answer is 20 years ago. The second-best time is right now," Feichter said. "Like I've said, let's be bold."
Feichter also proposes changes to how the town-owned electric service provider operates, including smart metering, budget billing and paperless billing.
Alderman Chuck Dickson said he'd like to contract with a grant writer to help leverage funds from the American Rescue Plan.
"This is a generational opportunity," said Dickson. "This is a once in a lifetime opportunity."
Grant funding would have a substantial impact on the intergovernmental effort to bring badly needed affordable housing developments to the region, as well as advance the multi-jurisdictional greenway project.
Dickson also wants to revisit the idea of staggered terms for aldermen. Right now, Waynesville is the only municipal government in Haywood County that elects all five of its board positions during the same election. The town could change the structure of its board terms by ordinance, without General Assembly action.
Alderman Anthony Sutton, who ran on making law enforcement more efficient and accountable, wants WPD to implement some sort of web-based outlet for police statistics and records.
"We've been getting a lot of pushback about transparency with police statistics," Sutton said.
Sutton also wants to develop and augment community watch programs.
Aldermen will return for another budget session in the coming weeks before deciding which projects are achievable and which are not.
Leave a comment
2

comments
I agree with converting all of our public buildings to solar or other renewable energy right now! The less we have to depend of foreign oil, the better.

I also think our Greenway is pretty bad and I never see anyone using the part going along busy Asheville Highway. Who wants a Greenway in the midst of all that traffic and an Industrial Park? People would love a decent place to ride bicycles here since the streets are too narrow.

I also wonder about the feasibility of a soccer park here. When my grandson was playing soccer, the family would go to other places for big tournaments. As I was there watching those games, it occured to me that it would be a good way to make a bunch of money for an area. People come and stay in the motels, eat at the restaurants, etc., while your main upkeep is mowing lawns. You put in a snack shop and bathrooms. I think it should be considered. Maybe a bike path around it could be incorporated.

I think one skate park is enough for now. Hopefully prices will come down later and it could be reconsidered.

More outdoor dining places on Main Street would be good. I don't know where the Pavilions are supposed to be but could they incorporate the outdoor eating?

As for the affordable housing, I think we should call a halt to that and see what the situation is after all of these new places going up are occupied. I am very concerned that we will have too many apartment buildings which will lower the value of our existing properties. I have at least two apartment complexes going up within 2 miles of me.

Another idea is to resurrect the old bomb shelters and have them ready for any emergency situations. Everyone used to know where they were but I don't know of any right now. Are any of those prepared in case Putin or some other crazy person wants to shoot missiles at us? Can't they be used as emergency shelters at other times?

Monday, 05/02/2022

i think something needs to be done in the area of ingles on brown avenue. that part of town has junk cars and other eyesores that tourist and residents would like to see some type of improvement

Friday, 04/15/2022