Archived News
UNC System extends waiver for SAT, ACT requirement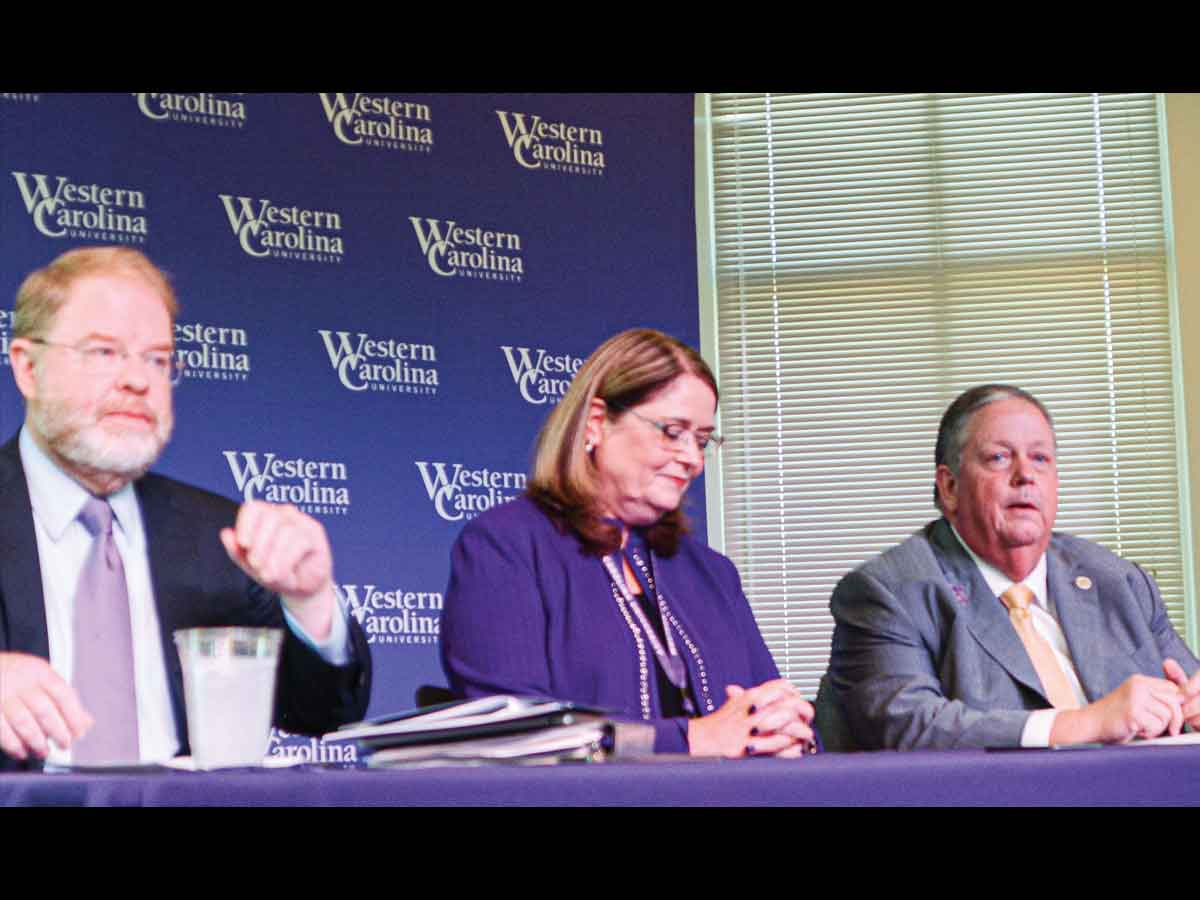 Board of Governors Chairman Randall C. Ramsey (right) speaks during a press conference with Western Carolina University Chancellor Kelli R. Brown and UNC System President Peter Hans. Holly Kays photo
Through at least fall 2024, applicants to University of North Carolina System schools won't have to sit for SAT or ACT testing to be considered for admission, following a vote of the UNC Board of Governors Thursday, April 7.
The vote came during a meeting held at the A.K. Hinds University Center at Western Carolina University, marking the first time since 2014 the Board of Governors has held a meeting at WCU.
"Our board is very passionate about making sure that we don't handicap people and handicap their opportunity to enter one of our universities. Certainly, the pandemic and the opportunity to be well prepared for those tests was greatly hindered over the last few years," said BOG Chairman Randall C. Ramsey in a press conference following the meeting. "Our board debated this pretty rigorously a couple meetings ago. We are debating among ourselves whether we want to bring those requirements back in at all."
At the body's July 23, 2020 meeting, the board voted to waive the standardized testing requirement through fall 2021 admissions. On May 27, 2021, the body discussed the issue again and extended the waiver once more, this time through fall 2022. The newly approved waiver extends through fall 2024.
Though students will not need to submit standardized test scores, other minimum eligibility requirements will still apply, including completion of minimum course requirements — four English courses, four math courses, three science courses, two social science courses and two foreign language courses.
The board is now undertaking a study to look at whether it makes sense to reinstitute the requirement at all, said Ramsey.
"We want to make sure students can be successful," he said. "If it turns out we really believe this is a great indicator, we may bring it back. But I don't think you'll be at a loss for seeing us debate that going forward."