Archived Arts & Entertainment
This must be the place: 'Don't deny that a rambler must always be free'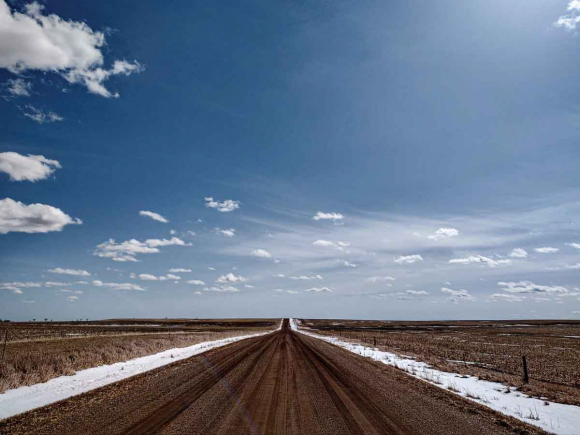 A dirt road outside Reliance, South Dakota. (photo: Garret K. Woodward)
Hopping out of the 15-foot U-Haul truck last week, I reached for the gas pump and began fueling up the thirsty vehicle. It was Hieb's Cenex gas station on Route 248 between the small town of Reliance, South Dakota (population: 128), and the bustling Interstate 90.
There isn't really much of anything 'round these parts. Vast, empty farmland and high desert prairie as far as the eye can see. Reliance is right smack dab in the middle of the state, somewhat equidistant from Rapid City to the west and Sioux Falls to the east — one city a gateway to the Rockies, the other a doorstep to the Midwest.
I've always been a rambler. It's in my blood, more so at the core of my being, which is why when I find myself in off-the-beaten-path dots on the map like Reliance, where I can't help but be in absolute awe and curiosity about such places and the faces that inhabit these fringe communities.
I can't help but wonder how different my life would be if I grew up here, perhaps ended up here in some wondrous, happenstance situation of time and place. Hell, maybe I'd still end up here in Western North Carolina working for a newspaper in some roundabout way. Who knows? That's the beauty of life, right?
I mean, my small Canadian Border hometown of Rouses Point, New York, sparked whatever ramblin' fever is still raging deeply within my heart and soul. Even as a young kid, I was never home. I'd be on my bicycle — somewhere, anywhere — in search of adventure around whatever corner or down whatever road I'd yet to explore.
Once I got my driver's license, I was hell-bent on leaving everything in Rouses Point in the rearview mirror, the nose of my rusted 1989 Toyota Camry aimed down whatever backroad, highway or byway I'd come across. Where does that route go to? Where does it pop out into? Who lives in those towns? What mischief might I conjure and manifest with my constant need for human interaction and new experiences?
Luckily, that sense of mischief and curiosity parlayed itself into a bountiful (thus far) 16-year career as a writer and journalist, one where my truck is rarely parked outside my humble abode in downtown Waynesville, where once the weather gets nice, I'll spend more nights sleeping in hotels, camping tents and the backseat of my pickup instead of the comforts of my bed and Sealy queen mattress back in the apartment.
Thus, as I've mentioned recently, I jumped on the opportunity two weeks ago to help my Aunt Chrissy relocate from Bozeman, Montana, back to Charlotte where her daughter, son-in-law and granddaughters reside. Though it was an arduous task to pack up the big U-Haul — physically and emotionally — for just the two of us, it was also incredibly cathartic.
You see, last June, her son (my cousin Nate) passed away unexpectedly at age 42. Though his health had been deteriorating for several years at that point, it was still a shock when you finally get that phone call you've been dreading for many moons. Right after the funeral in Rouses Point, my Aunt Chrissy went immediately back to Bozeman, back to work in her office, and back to some weird sense of normalcy.
"You know, I never really had any time to mourn his death," Aunt Chrissy turned and said to me over beers the other day in the Sun Lounge at the Days Inn on the outskirts of Rapid City, South Dakota. "I buried him and went back to Montana and went back to my life, never having the time to stop and actually mourn the passing of my son."
Suffice to say, this cross-country caravan trek of the U-Haul and her Volkswagen Tiguan was a cleansing of sorts for not only my aunt, but also me, too. Though I've dealt with death and the passing of loved ones a lot in my past, and have to come to terms with "it all," Nate leaving us was such a heavy blow, where time kind of slowed down a little bit in those first few days after I received that phone call from my little sister that his landlord had found him unresponsive in his tiny rented motel room in Rouses Point.
Throughout that 2,120-mile road trip from Bozeman to Charlotte, I did a lot of thinking. Endless hours of simply getting lost in thought about nothing and everything. Looking out this large U-Haul windshield onto the mountains of Montana and Wyoming, onward through the Black Hills of South Dakota, the cornfields of Iowa and Missouri, the streaming traffic of St. Louis, Nashville and Charlotte.
Visions and memories dancing across the dashboard. Former lovers — I wondered where they were these days and hoped that they're happy and found what they were ultimately seeking. Old friends not seen in years, dearly missed as both sides of the friendship hold closely the shenanigans of youth and all that resides in the name of irresponsible enlightenment.
Ah, the road to the "here and now," eh? The meandering of people and things, miles ticking away on the odometer of my pickup truck and of my heart in the grand scheme of things. Visions across the dashboard of who I was, where I was, and what I was seeking along my own path.
I think of that little kid riding his bike through Rouses Point to destinations unknown, and the teenager in a beat-up Camry cruising the backroads of the Northern Tier of Upstate New York.
And then there's the 20-year-old music freak on his first solo road trip from college in Connecticut to the Bonnaroo music festival in Tennessee, all while carrying a fresh copy of Kerouac's seminal novel "On the Road" that ignited this ongoing journey of hard pavement and dirt roads through the lens of the written word.
Fuel up the thirsty U-Haul in Reliance, South Dakota. Grab some water and snacks in the gas station. Look at the face in the bathroom mirror. I'm 37 now, but the urge for the open road, for restless thoughts and dashboard visions, and the surprises that lie just beyond the horizon are just too good to pass up — and will forever remain so.
Life is beautiful, grasp for it, y'all.
Leave a comment
2

comments
Love your stories, in my mind I can see every place you go. I get to travel without leaving my recliner. Thank you Garret!

Monday, 04/18/2022

Yes. Nice G ..☘☘☘

Saturday, 04/16/2022