Archived News
Dedication with dignity: the future of Haywood Christian Ministry
Wednesday, April 06, 2022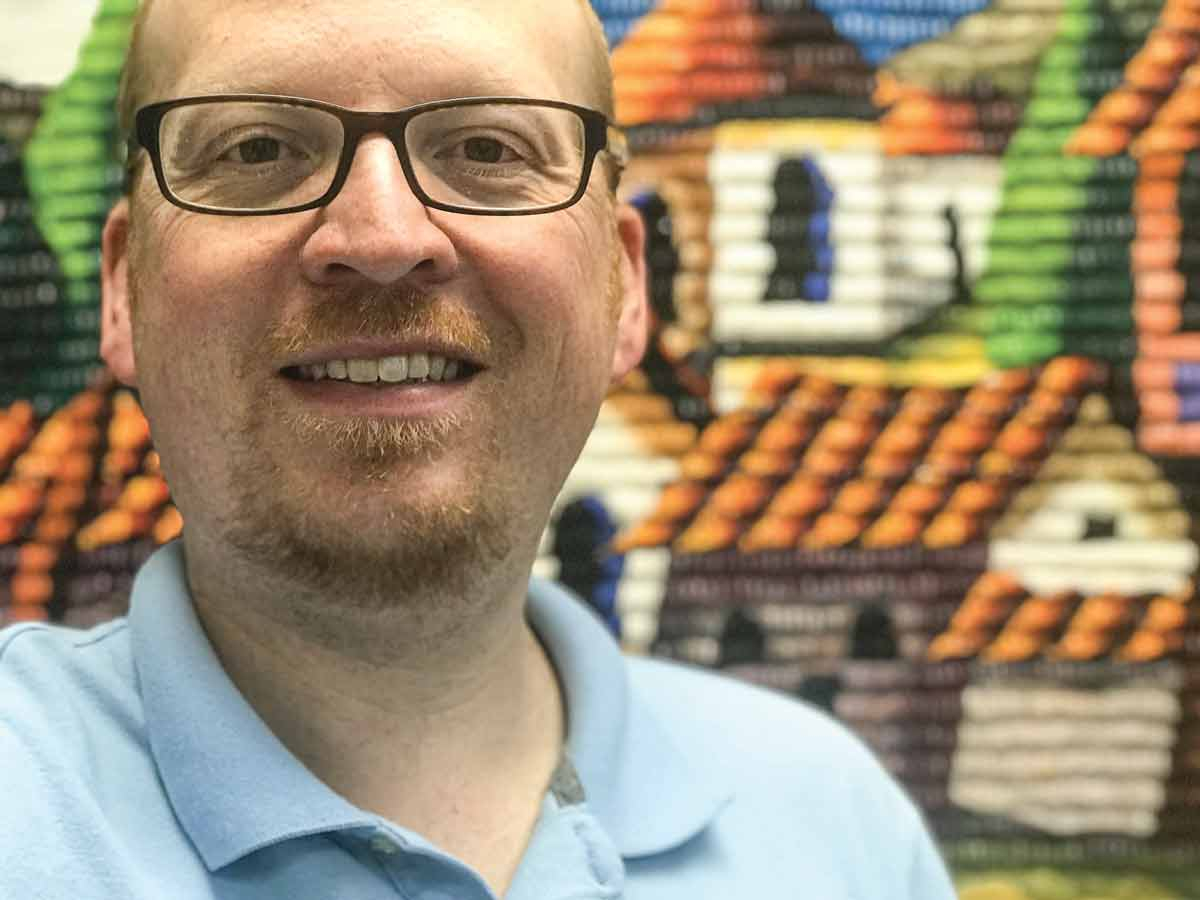 Rev. Dr. Blake Hart has been Haywood Christian Ministry's executive director since last fall. Donated photo
For more than 50 years, Haywood Christian Ministry has served as a safety net for some of Haywood County's most vulnerable citizens looking for help with the most basic of needs – rent, heat, medication, clothing, utilities and, perhaps most importantly, nutrition.
Amid the chaos of the Coronavirus Pandemic, the faith-based non-profit experienced the same disruptions as similar organizations across the world but now seeks to emerge under new leadership to plot a course for the next 50 years.
"There's a part of Christianity that really does want to address underlying causes of things like poverty and systems and of oppression, those sorts of things," said Blake Hart, executive director of Haywood Christian Ministry.
Hart was raised in a religious family in Black Mountain and was a dual major in religion and Spanish at Mars Hill University.
"I originally started there in order to be in music, but that did not work out," Hart laughed. "But I've always had an interest in religion and its impact on how we live our lives."
That interest led him to pursue a Master of Divinity degree from the McAfee School of Divinity at Mercer University in Atlanta, and then led him much further away from his Western North Carolina home.
"I lived in the northernmost city of Chile, teaching theological classes, but also helping the churches there realize the ways that they could have an impact on things in their community," he said. "In that situation, it was mostly with orphaned and foster kids. There was a government home in the area that was just really poorly staffed, because of finances and I realized that churches could have an impact on that."
Upon his return in 2012, Hart began studies towards his doctorate from Fuller Theological Seminary in Pasadena, California, and soon went to work for the Cooperative Baptist Fellowship of South Carolina .
"I was their missions coordinator, helping churches connect to transformative work in their communities, and then helping that organization maintain its partnerships with ministries around the state," Hart said.
Through that work, Hart went on to found the Carolina Immigrant Alliance in Rock Hill, South Carolina, an advocacy-based organization that helps provide legal aid to immigrants.
Since last fall, Hart's served as the executive director of HCM, which has an annual budget on the order of about $800,000 and 10 full-time equivalent employees. The organization's social enterprise, a thrift store located on Branner Avenue in Waynesville, typically completely funds the administrative costs of HCM.
In 2020, HCM provided assistance in more than 32,000 cases and distributed a whopping 1.7 million pounds of food to the needy, an average of 28 pounds per Haywood County resident.
Those needs, however, aren't going away any time soon, and it's now Hart's job to keep this integral link in Haywood County's nonprofit ecosystem thriving.
The Smoky Mountain News: What led you to find this place?
Blake Hart: First of all, the mountains are home. But I also realized through seeing Haywood Christian Ministry – the things that it has done in the past, and that it is doing now – that it's an organization that has a rich history of work, a stable structure to be able to continue doing good work. There is a desire to push forward into new conversations about not just helping people who live in poverty have dignity, but also how do we transition that into a thriving community where we're all interdependent, not necessarily self-sufficient, but where we are all thriving together.
SMN: How would you describe the differences between the poverty in Chile and the poverty and Haywood County?
BH: There's a lot of similarity. Chile is actually one of the most financially stable countries in South America, and I think that there's some similarity in the way that oftentimes poverty is seen as personal failure. I think there are similarities in the way that societies ignore poverty. We kind of push it to the periphery. Also on a grand scale, Americans are very economically advantaged, even the most disadvantaged.
SMN: What's the best way to describe the current core work of Haywood Christian Ministry?
BH: Right now, our core work is crisis ministry, trying to help people who find themselves in economic crisis not slide deeper into poverty during that crisis. Think of Maslow's hierarchy of needs – we're just trying to make sure people have that base level fulfilled.
The largest thing we do is food distribution. We are partners with MANNA FoodBank and we are actually their largest distributor. I think during their last fiscal year we distributed 865 tons of food in the county.
Thankfully, during the pandemic, Haywood Christian Ministry had that robust infrastructure to be able to ramp that up when we needed to ramp up during the pandemic. We also do help people with utilities. Utilities and rent are the two main things that we can do. If someone's facing eviction or if someone's facing a utility disconnection we can help them avoid the immediate consequence of that happening.
SMN: What about homelessness? In addition to being a social issue and a spiritual issue, it has also become a political issue.
BH: That's one area that we hope to grow into more, but right now, it goes back to food. We have sort of a separate collection of food that we can give to those who are unhoused, non-perishables that don't need refrigeration that don't need to be cooked. That's sort of the limit of our footprint right now with homelessness.
SMN: But growing into it, what does that mean?
BH: We're not really sure. It's too nebulous. It's something that we would want to do in partnership with other agencies that have been dealing with homelessness. I know that there's been some tumultuous times in Haywood County with homelessness. We can't really do hotel stays. That's a question we get a lot right now. It comes down to too much liability concern for everybody involved. Our model right now is trying to prevent homelessness before it happens.
SMN: One of the biggest concerns about Haywood Christian Ministry is the financial position of the organization in that it raises a good amount of money each year while sitting on a large endowment.
BH: Haywood Christian Ministry had a pretty humble start as a network of churches responding to requests from, I think, Health and Human Services back in the 1970s. From those humble beginnings into the late 1990s or 2000s it really grew into a larger organization. We do have legacy support and people who trust us and give to us so I think there's an assumption that we have everything we need, but we still are dependent upon individuals and churches.
We are thankful that we do have an endowment yet that does help us out. It was $1.2 million at last count. Still, spendable income [interest from the endowment] is less than 10% of our budget.
SMN: There's obviously a lot of overlap in nonprofits here and people competing for resources. What can you do to empower some of the smaller operations that you need to help you be successful?
BH: That's one thing that we're trying to explore more is how we can better partner with other agencies, other nonprofits and churches in the area. I think the pandemic caused everybody to turn inward just to survive, even on a personal level. There was the concern of flow of capital and if money was gonna keep coming in and thankfully, through government supports and through the generosity of donors, we were able to weather that fairly well.
We're trying to figure out how we can direct our capacity to empower other nonprofits and trying to sit down at the table with them and figure out, "Where do we not need to be working?"
SMN: What are you thinking in terms of operating effectively in a post-pandemic Haywood County?
BH: I think one thing is partnership. I think greater networking, less territorialism and less protection of our own pocket. We get more done by working together and even on the nonprofit management side, foundations respond to that more than they respond to territorialism. The pandemic has also revealed how many of us live on the edge of poverty and on the edge of disaster. We have a good framework now of preventing – I won't say "preventing" poverty, but helping people who enter a crisis to have that one-time fix.
SMN: At least some of that prevention work is based on workforce issues, like job training, right?
BH: Again, right now that's just sort of one of those nebulous ideas that we're entertaining as part of our process to really understand the people who come in our door. Maybe we don't need to offer anything. Maybe we refer people [to employment programs like Work First NC ] and follow the case as it goes and just be a partner with that individual as they go through that. Or maybe there is a deep need for job readiness, be it veterans, be it people who are returning from prison who need to have experience to be able to go and get a job. We are flushing out lots of these nebulous kinds of ideas out over the next six months to a year.
SMN: Let's look another half-century down the road. What do you want people to say about your time at Haywood Christian Ministry?
BH: The one thing that I'm trying to communicate most importantly as I meet with other nonprofit leaders, meet with interagency coalitions and meet with church leaders in the area, is that we want to be here to have a deep impact on the community. We want to see over the next 50 years that we can trace positive influences in the community back to the work that HCM has done. We want to do that through partnerships and through sitting at the table together and working together.
For more information on Haywood Christian Ministry, visit haywoodministry.org .