Archived Arts & Entertainment
This must be the place: Oh, give me a home where the buffalo roam, where the deer and the antelope play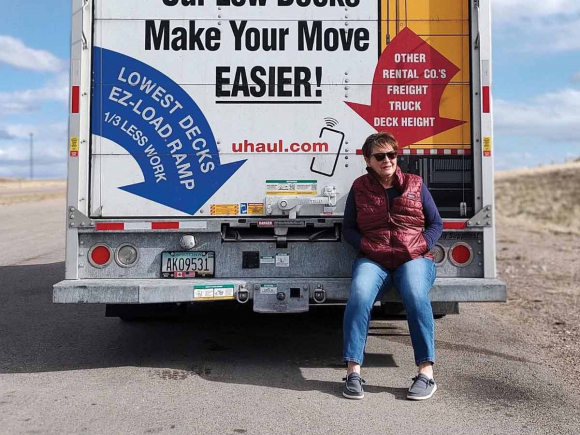 Aunt Chrissy. (photo: Garret K. Woodward)
I'm currently on a cross-country road trip. Pictured sitting on the U-Haul is Christine Kavanaugh, aka: "Aunt Chrissy." I snapped this photo the other day on the side of the road in rural Wyoming off Interstate 90.
She's my mom's younger sister and best friend. Someone I've known and adored my entire life. We're kindred spirits, too. Both music and concert freaks, and we each have never met a stranger. Aunt Chrissy would do anything for anyone, and that is the absolute truth.
Growing up in the small Canadian Border town of Rouses Point, New York (also my hometown), her lifelong dream was to one day live out West. She's obsessed with horses, and also cowboys. Well, after decades of hard work and raising a family, she finally made that dream a reality a few years back.
She was living and working in Charlotte, North Carolina, at the time and couldn't pass up the chance to pick everything up and relocate through her company to Bozeman, Montana. Chrissy became the cowgirl she'd dreamed of since she was a little girl all those years ago. She ran around Montana and the West, checking off all those boxes on her bucket list.
And yet, after my beloved cousin Nate (her son) unexpectedly passed away last June (after leaving Bozeman and returning to Rouses Point), things changed in Aunt Chrissy's heart. Her thirst for the West transitioned into a hunger to be closer to her family.
So, a couple months back, she decided to circle back to Charlotte to be near her daughter and grandchildren. She asked me to fly out to Bozeman and drive the U-Haul for her while we did a caravan across America.
Packing up the U-Haul last Thursday, Aunt Chrissy kept saying in such a heartfelt tone, gazing at the mountains in the distance, "Oh, I'm going to miss this place. It's just so beautiful. I know in my heart and soul that I was supposed to be here." But, as we both say, "It is what is it," and it was time for Aunt Chrissy to move on and start a new, unwritten chapter back in North Carolina.
And, as we were about to leave Bozeman, I said to her, "You know, nobody can take your time out here away from you. You achieved your lifelong dream of living out in Montana. You 'did the thing,' and now you have a whole fresh canvas to paint on when you return to Charlotte. I mean, how exciting is that?"
Friday morning, bright and early with a cold wind and bluebird sky. I went for a jog on the dirt trails on the outskirts of Bozeman. I kept gazing over in pure awe and admiration at the ancient, majestic mountains. A piece of my heart will forever reside in the West.
At age 22, I ended up taking my first writing position in December 2007 at the Teton Valley News in Driggs, Idaho. I had so many crazy adventures and made several lifelong friends. And as I was out running in Bozeman, I kept thinking about how different my life would have been if I had, perhaps, stayed out West.
I left Idaho in September 2008 right when Wall Street crashed and the U.S. economy tanked. I returned back to my native Upstate New York to hunker down and, hopefully, return to the West when things got better in this country.
Well, a few years rolled by as I was writing sporadic articles for small, community newspapers in the North Country (Upstate New York/Vermont). And as I was still aiming at coming back to the West, I was offered this gig at The Smoky Mountain News. That decision to pack up and head South was in August 2012, almost a decade ago.
Surreal how time flies, eh? Especially when you're having fun. And yet, I never stop wondering "What if?" about my Western experiment of work and play. Where would I be in my life, my career, and in matters of the heart if I had returned? Ain't it something to think of those "other paths"? No regrets, though.
It was about an eight-hour drive from Bozeman to Rapid City, South Dakota, the first stop of the five-day trip. The Rocky Mountains faded into the rearview mirror only to slowly transition into the high-desert prairie of Eastern Montana (Billings, Hardin), onward through the rugged northeast corner of Wyoming (Sheridan, Buffalo, Gillette).
Crossing into South Dakota, it was decided to stay at the Days Inn West in Rapid City. Onsite was the Sun Lounge, a dive bar of sorts with a random propane fireplace in the middle of room, situated between the gambling machines and the old creaky door for the outdoor pool.
Before we rolled into the Days Inn West, I messaged an old friend, Amy, who lives and works in Rapid City. When I took the gig back in 2007 at the Teton Valley News, Amy was the first friend I made in the Tetons, as she was the photographer for the TVN.
Those days were a surreal and unforgettable time and place in our lives, something that'll never leave the walls of our memory. Eventually, we scattered in our respective lives, each experiencing the whirlwind ups and downs of life as we move along our separate journey. But, we always have kept in touch and remained friends.
Thus, after some 13 years since we last crossed paths, Amy and I reunited that night in Rapid City (her hometown, current residence), our conversation picking up right from where it left off those many years ago without missing a beat (as all soulmate friendships operate).
Gut-busting laughter and beloved memories rehashed over round after round of drinks held high and in unison. It meant the absolute world to me to see Amy and catch up. She is one of those people in your life that "you're supposed to know," yah dig? Until next time, Amy, all the love, my dear.
Saturday morning and being awakened by the blinding sunshine spilling through the small opening in the window drapes. Hundreds of miles behind us, with hundreds of more lying straight ahead. Pack up your things. Toiletries. Clothes. Fill up the gas tanks, packed the cooler with ice and snacks. Bottles of water. Gatorade. Energy drinks.
And one last look at the rolling hills of South Dakota before the vast grasslands and open farm fields of the Midwest, the memories made and the memories that, well, "could have been" — all ricocheting through the mind and heart of not only my Aunt Chrissy, but me, too.
Life is beautiful, grasp for it, y'all.