Archived News
Fast moving brushfire in Maggie contained thanks to firefighting efforts and rain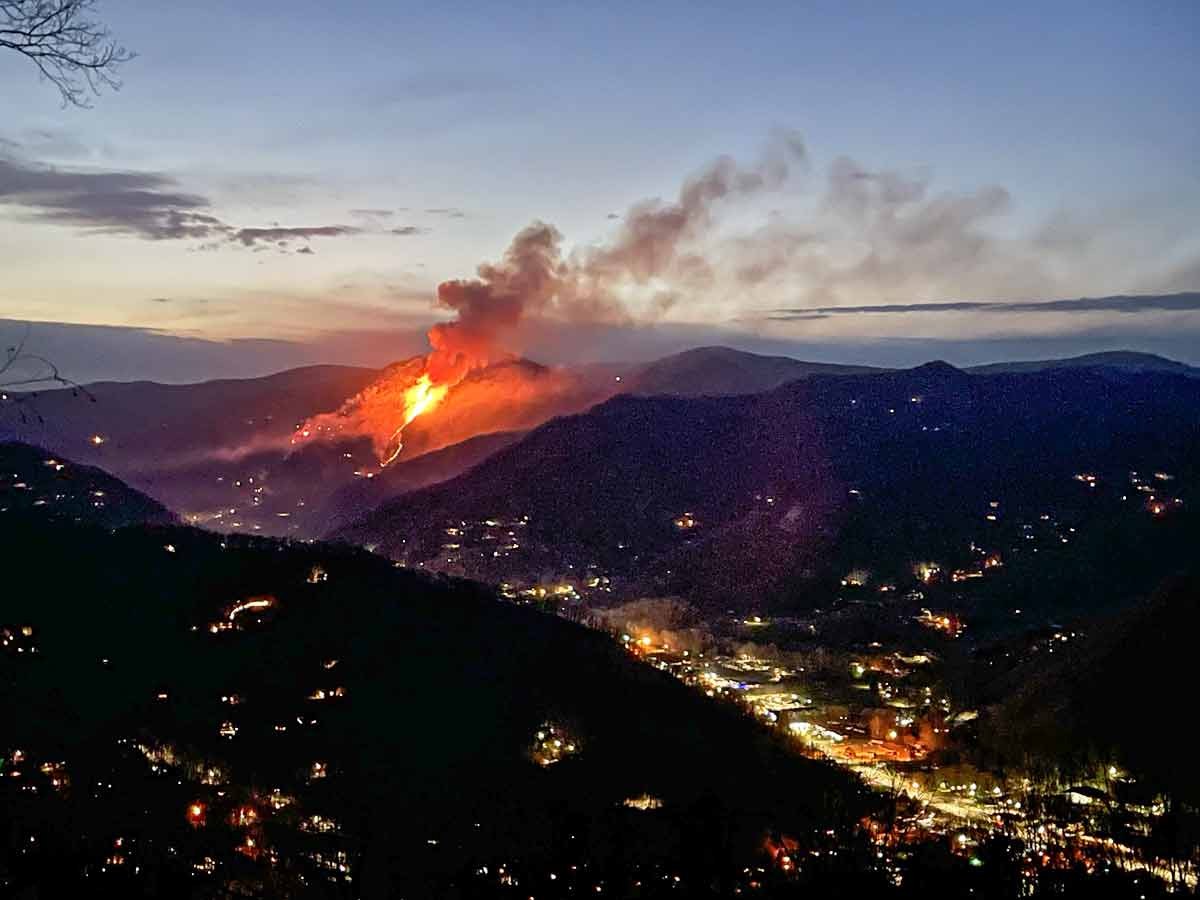 A fire that began Monday afternoon on Sheepback Mountain in Maggie Valley and initially spread quickly was 100% contained as of 1:30 p.m. Tuesday, April 5.
According to a press release from Haywood County Emergency Services, it burned about 300 acres over just 24 hours.
"Several homes were threatened near Pless Underwood Road," the release reads. "There were 17 homes in the evacuation area, all of which were saved by the diligent efforts of fire crews who worked through the night protecting homes as the fire moved through the densely wooded areas around them."
Margeaux Boles Photography
However, prior to the fire being contained, within about an hour after it began, those homes were evacuated with many residents finding out via a message from "Haywood Alerts."
"If you have to evacuate, do it now and do it quickly," Haywood County Emergency Services Public Information Officer Allison Richmond told The Smoky Mountain News Monday afternoon when firefighting efforts were just beginning.
"It's moving uphill pretty quickly," she added at that time.
All evacuated residents, many of whom were directed to a reunification center at Cavalry Road Baptist Church, were able to return to their homes by Tuesday afternoon.
Crews from Maggie Valley Fire Department, the North Carolina Forest Service and more than two dozen fire departments from Haywood and surrounding counties responded, some of whom were on the scene for the full 24 hours.
No firefighter injuries were reported.
"Maggie Valley Fire and Rescue sincerely appreciate all the support from the responding agencies on this fire. Your efforts were invaluable," said Maggie Valley Fire Chief Scott Sutton.
"We owe a debt of gratitude to the enormous efforts of our county fire departments and our neighboring counties to fight this fire. Without their skill and dedication, it could not have gone as well as it did," said Travis Donaldson, director of Haywood County Emergency Services.
Crews battling the blaze were given a good break Tuesday afternoon as at about 1 p.m. heavy rains moved into the area, which gave a "significant boost" to containment efforts.
Prior to the rains falling across the region, aircraft dumped water on the flames with a helicopter making trips to local sources and two air tankers going back and forth from Asheville.
Although the press release didn't state the exact cause of the fire, the release reminded residents and visitors to think before burning anything in such hazardous conditions.
"During dry, windy weather like Haywood County has been experiencing, any outside fire can rapidly turn into an out-of-control brush fire," it read. "DO NOT burn outside during times like these. Watch NC Forest Services' and Haywood Emergency Services' social media pages for burning conditions updates."