Archived News
Thomas Divide fire cools as Sevier County flames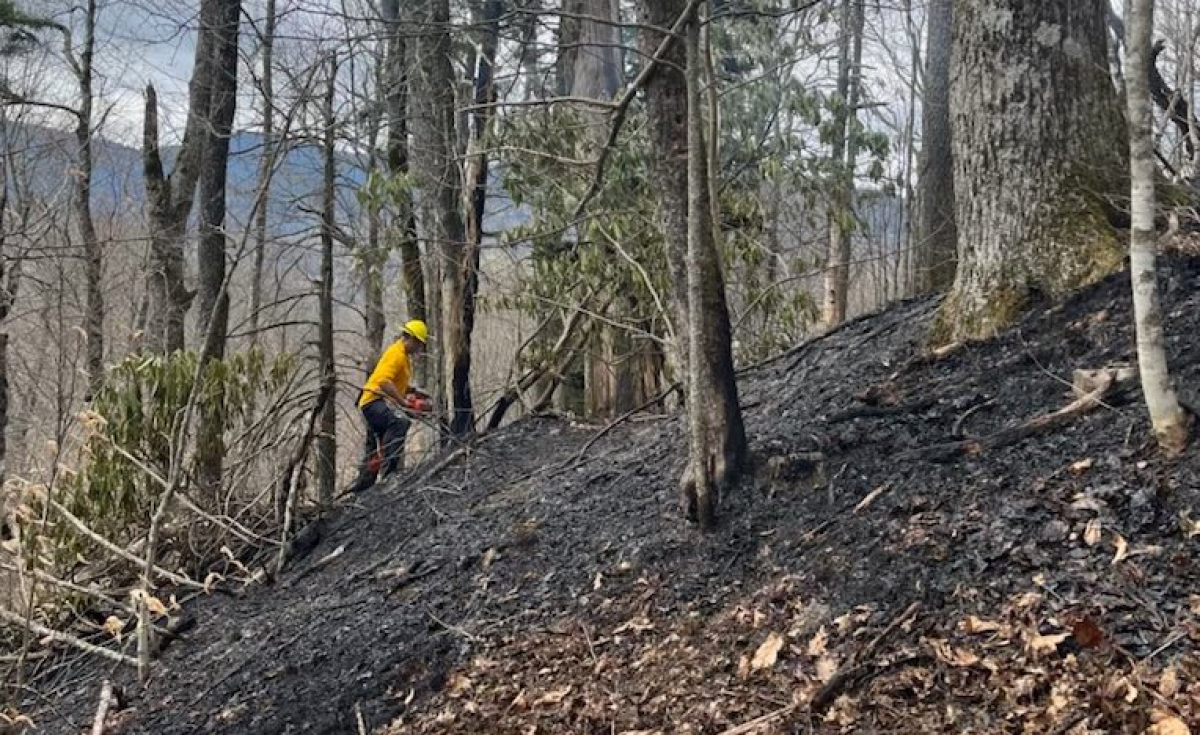 A firefighter works alongside Newfound Gap Road. NPS photo
Crews are getting the Thomas Divide Complex Fire in Swain County and the Great Smoky Mountains National Park under control, with the size of 941 acres measured last night representing a decrease from the 960 acres reported the previous day. The difference is due to more accurate mapping, and the fire is 60% contained.
Meanwhile, an equally large fire whipped up yesterday in Sevier County, causing multiple evacuations, injuring one person and damaging at least 35 structures. The blaze, named the Hatcher Mountain Road/ Indigo Lane Fire, was first reported just before noon Wednesday, March 30, and by 8:30 p.m. covered 1,000 acres. Meanwhile, a brush fire in the City of Gatlinburg that ignited shortly before midnight due to downed power lines caused a brief mandatory evacuation order in areas of the city. Ongoing evacuation orders remain in place for the Hatcher Mountain Road/Indigo Lane Fire, with affected areas shown here.
The Southern Area Gold Incident Management Team has joined the N.C. Forest Service in unified command of the fire. Over the last two days, little fire activity has been observed. Yesterday, firefighters from multiple agencies continued to mop up along the fires' perimeters — meaning, ensuring that the fire line had cooled down so that even a high wind event could not reignite it — and to establish and maintain structure protection. Today, firefighters plan to complete line construction on Indian Motor Trail, while others will continue to mop up and patrol private property and infrastructure within the Cooper Creek drainage, as well as collect GPS data for more accurate mapping.
Rainfall of 0.25 to 1 inch is expected today, meaning wet fuels and little fire activity other than isolated heavy smoke. A temporary flight restriction remains in place over the fire area through April 16, because firefighting aircraft and drones both fly at very low altitudes. Unauthorized drones flying over or near wildfires can cause mid-air collisions or pilot distraction, leading to fatal accidents.
The fire and high winds have caused a slew of closures in the park. These include Newfound Gap Road, Toms Branch Road near Deep Creek, Backcountry campsites 46 and 51- 60, Deep Creek and Thomas Divide Trails from Deep Creek to Newfound Gap Road and Pole Road Creek, Indian Creek, Stone Pile Gap, Deep Creek Horse Bypass, Juney Whank Falls, Deeplow, Fork Ridge, Sunkota Ridge, Martins Gap, Indian Creek Motor Nature, Mingus Creek, Newton Bald, Kanati Fork and Loop Trails. Deep Creek Campground and Picnic Area are not scheduled to open for the season until April 15.
Also closed are Little River Road, Wear Cove Gap Road, Laurel Creek Road, Tremont Road, Cades Cove Loop Road, Cherokee Orchard Road, Foothills Parkway (East and West), Cataloochee Entrance Road, Highway 284 and Lake View Drive.