Archived News
Rough start for Haywood Commission candidates
Wednesday, March 23, 2022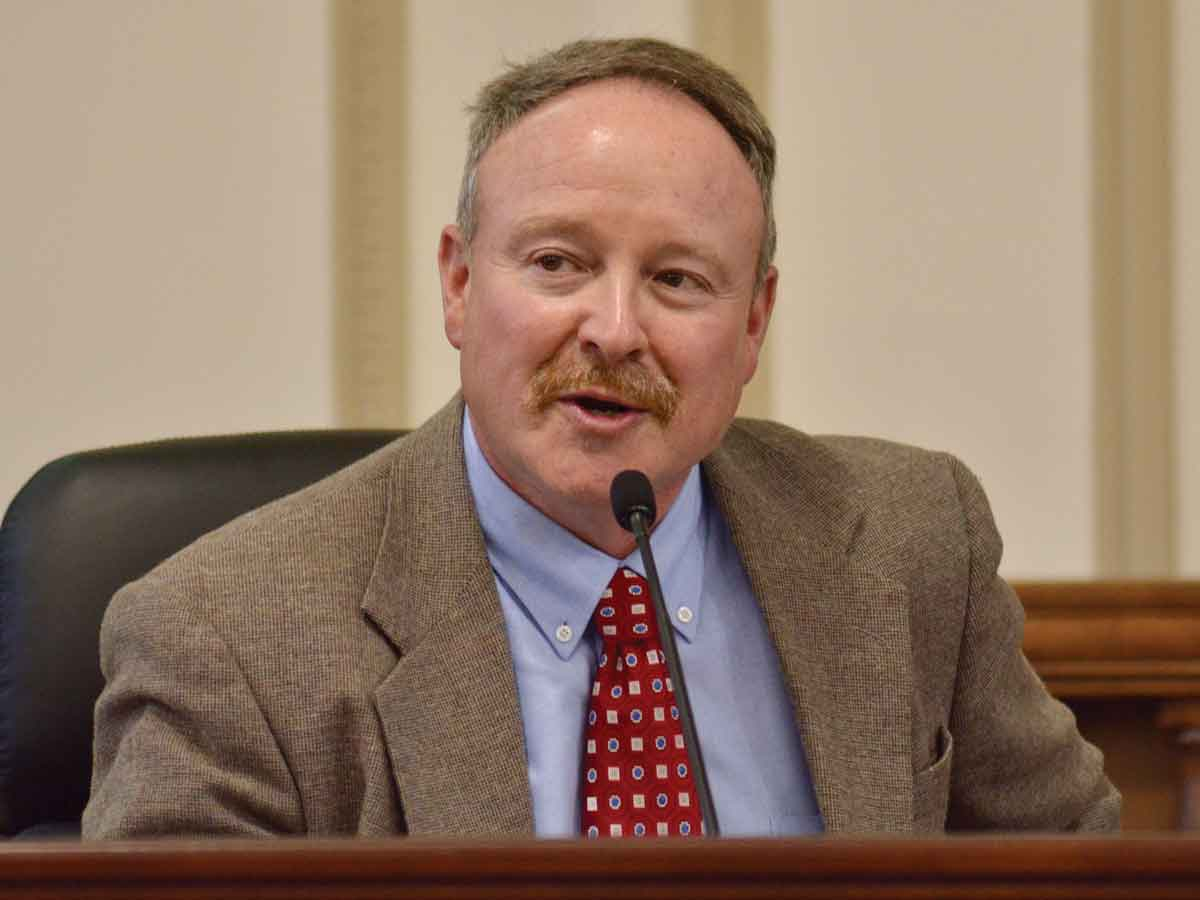 Commissioner Tommy Long speaks at a March 15 candidate forum in Waynesville. Cory Vaillancourt photo
There aren't a lot of differences between the five Republican candidates running for Haywood County Commission this year, but one big disparity was glaringly apparent during a March 15 candidate forum rife with ignorance and misinformation.
The five – frequent candidate Terry Ramey, HVAC contractor James Nash, retired Florida police officer Erich Overhultz and incumbents Tommy Long and Jennifer Best – all seem to generally agree on bread-and-butter GOP issues like taxes, managing growth and completing a proposed jail expansion, but Long and Best spent most of the night showing the challengers why, exactly, experience matters.
Hosted by the Haywood County Republican Party, the forum featured questions sourced from the general public through the HCGOP's website and read by party Chair Kay Miller.
The first stated that taxpayers were told that the county's last budget would be revenue neutral, but due to a countywide property revaluation that saw big increases in assessed property values, commissioners had a choice to make – keep the windfall by leaving the tax rate alone, refuse the windfall with a revenue-neutral tax rate, or split the difference with taxpayers.
Commissioners opted to split the difference and use the excess revenue for badly underpaid county employees in an effort to stem turnover, particularly in the Haywood County Sheriff's Office.
Ramey said he would have voted no on the budget, citing wasteful spending but offering no examples. Nash said he'd have fought for a revenue-neutral rate. Overhultz said he'd have voted no and cited the county's booming sales tax receipts as the reason why.
Indeed, sales tax collections have risen in most Western North Carolina counties over the past two years, some on the order of 15 to 20%, but that revenue can't be counted on for budgetary purposes because collections could fall as quickly as they rose, leading to messy revenue shortfalls and laborious budget amendments.
Long and Best defended the commission's decision to split the difference because the money was used solely for public safety.
Candidates were also asked if there was one part of the budget that should be "off limits" to cuts. Long and Best said public safety, but somehow Overhultz got onto the topic of the "woke curriculum being forced down kids' throats."
Commissioners have no say in school curriculum or classroom subject matter.
In advocating for the proposed jail expansion, Overhultz said that Haywood County's property crime rate was at least triple the national average.
The Federal Bureau of Investigation's Crime Data Explorer says the national average in 2020 was 19.6 property crimes per thousand residents. The North Carolina State Bureau of Investigation says the state's rate was 23.2 per thousand and Haywood County's was 31.2 per thousand or about 1.6 times the national rate.
By comparison, there were an average of four violent crimes per thousand in the U.S. in 2020, 4.5 per thousand in the state and 2.4 in Haywood County.
The biggest gaffe of the night came from a question that should neither have been asked nor answered.
Miller queried the candidates about zoning, asking what one thing in the county's zoning code they would change and why.
Nash, the first one to field the question, spoke of a need for affordable housing and asked for mindfulness on companies that come into the county.
Mercifully, Long interjected, even though it wasn't his turn to answer, and told Miller that the county has no zoning.
"Predominantly in Haywood County, zoning has been a non-starter," Long said, pointing out that previous attempts to discuss the issue years ago resulted in overflow crowds at meetings angrily opposing any mention of zoning.
"I'm in favor of natural growth," he continued. "Anything that isn't natural growth is a freak."
Long cited the Bethel community's rejection of proposed water and sewer lines several years ago.
"With that, they knew they would lose their identity," he said.
Miller withdrew the question, but that didn't stop Overhultz from complaining about a large housing development off Raccoon Road. The development lies within the Town of Waynesville's extraterritorial jurisdiction, where commissioners don't have a say.
"The commissioners have no business in that," Long said.
Best has only been a commissioner for less than two years; she was appointed by the HCGOP to fill the seat of Mark Pless, who was elected to the General Assembly in November 2020, but she demonstrated knowledge of the issue with her response and is "in no way" in favor of zoning.
"I believe zoning is very clear – it removes the rights of the people," Best said. "It tells you what you can and can't do with your property."
Once Miller's questions ended, she took questions from the crowd. The first came from Janet Presson, who has spread misinformation and conspiracy theories about vaccinations at local events and during public comment sessions in the past, including telling Waynesville alderman in 2020 that the town's emergency ordinance gave too much power to aldermen. In fact, it gave them less.
Presson referenced a press release issued by the Haywood County Department of Health and Human Services in the aftermath of the county school board's decision to go mask-optional. The release was, in essence, a rebuke of the county's elected school board – none of whom are physicians – and said that " … Haywood County Health Director Sarah Henderson and Haywood County Medical Director Dr. Mark Jaben advised the board that the Health Department could not support moving away from the phased, community data-driven approach to masking in schools."
Presson wanted to know what county-level candidates would do to "stand up against [Chief Medical Advisor to the President of United States Dr. Anthony] Fauci" as well as Jaben and Henderson.
Overhultz decried "a certain arrogance" in the office, while Nash called the release fearmongering and said that the health care system was "not overwhelmed." Ramey opined that since the onset of the ongoing Russian aggression in Ukraine, "we haven't heard anything about [COVID-19]" and that the war must have "cured it."
Haywood County DHHS has continued to send out weekly updates about drastically declining case numbers, and Dr. Jaben recently filmed his 204th YouTube pandemic update on March 13.
The next question came from Hazelwood resident Peggy Hannah, who with Overhultz has complained to the Town of Waynesville's Board of Alderman for months during public comment sessions about public safety issues that are beyond the board's jurisdiction. Overhultz's complaints stem from NCDOT property under bridges, while Hannah's are about pretrial release.
When Hannah directed her question to Long, she referenced Long's answer on a candidate survey sent out by the "Concerned Citizens of Haywood County." Many of the questions have unsound premises or are based on fallacy, including "Do you support Judge Letts' pre-trial release program?"
"Your answer was, 'His program really hasn't been implemented here. If it was it could save money and help people and kids," Hannah told Long.
While Long did say that in the questionnaire, the quote Hannah used was only a small portion of Long's 750 word answer, and misrepresented his position on an issue that, once again, lies with the judiciary and not county-level government.
"So for 'catch and release' as a statement and at face value I'm a NO," Long wrote.
An email sent by The Smoky Mountain News to the creators of the survey went unanswered.
The Primary Election will take place on Tuesday, May 17. Republicans and unaffiliated voters who choose Republican ballots can select up to three of the five candidates, who will face two Democrats (Commissioner Kirk Kirkpatrick and Haywood County Chief Deputy Jeff Haynes) in November. The top three candidates will then be sworn in as commissioners in December.
Haywood GOP to host candidate forums
In advance of the May 17 Primary Election, the Haywood County Republican Party will host several candidate forums, free and open to the public, at the Historic Haywood County Courthouse. On Thursday, March 31, at 6:30 p.m., Republican Sheriff candidates Tony Cope, Jason Hughes and Bill Wilke are slated to appear. As with the county commission forum held March 15, at least some of the questions will come from the public via the HCGOP website. To submit your question, visit bit.ly/hcsheriff. Look for announcements on the HCGOP's other forums, including NC-11, by visiting haywood.nc.gop or facebook.com/haywoodcountyrepublicanpartyrepublicanparty.
Leave a comment
2

comments
*old white men yell at clouds*

Wednesday, 03/23/2022

"In an anti-intellectual society, people who know nothing about a complex subject are emboldened to ridicule experts who have spent a lifetime studying it." - George Kiser

"Anti-intellectualism has been a constant thread winding its way through our political and cultural life, nurtured by the false notion that democracy means that 'my ignorance is just as good as your knowledge.'" - Isaac Asimov

Wednesday, 03/23/2022