Archived Arts & Entertainment
This must be the place: 'People love you when they on your mind, a thought is love's currency'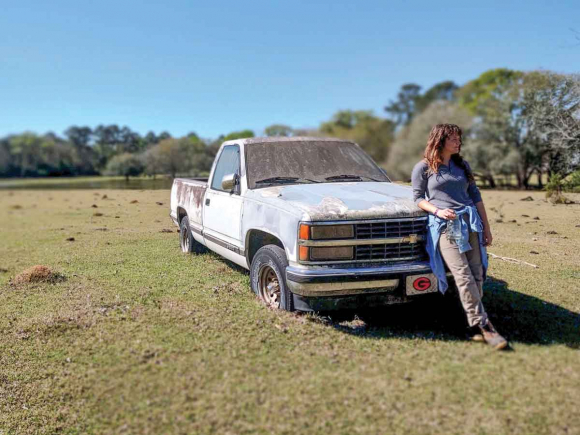 LD in the back field, Southwest Georgia. (photo: Garret K. Woodward)
It was an odd feeling to wake up in a natural state, rather than be disturbed by the noises of another impending day breaking through. The back bedroom in a small ranch house in the middle of vast swaths of farmland in Southwest Georgia. Silence in the large old brass bed. Sunlight trickled through antique glass windows.
It was a far cry from my humble one-bedroom apartment abode in downtown Waynesville. Normally, I'd be plucked out of a deep slumber by the sound of cars zooming by on nearby Walnut Street or my neighbor stomping around upstairs or the garbage truck slamming down the dumpster from the pizza parlor next door early on Tuesday mornings.
Sunday morning at the small ranch house in Southwest Georgia. The small community of Baconton, just outside of Albany. More dirt roads than paved ones. More cows than people. More time to ponder and soak in each ticking moment, seemingly more so than in other environments. Time slows down in these parts, something all too easily lost and forgotten in this modern era of white noise, incessant distraction and fast-paced technology.
Get out of bed and walk down the dark hallway. Enter the living room as my friend, LD, was already headlong into her day. She'd been up a couple hours ahead of my 10 a.m. emergence from slumber. Tending to her indoor greenhouse, she was transferring dozens of small potted seedlings to her garden outside.
The small ranch house we were standing in was her late grandmother's property. LD now lived in the home, with her childhood home (and mother) still next door. Two dots of brick structures surrounded by thousands of acres of cotton fields and cow pastures. Though this part of the country is hell on earth come summer, it was quite pleasant to step outside into the 65-degree late morning sunshine (with a slight breeze).
I've known LD since the moment I rolled into Waynesville back in August 2012 to start this gig at The Smoky Mountain News. Our old newsroom used to be where the Church Street Depot is now located (my desk was situated where the cash register stands). At that time, LD worked around the corner on Main Street in an art gallery, which has since closed.
Being around the same age, LD hit it off immediately. Kindred spirits on any level or topic imaginable. Turns out we also share the same birthday (Feb. 5), too. In those early days, I'd leave the office and wander towards Main Street in search of a strong cup of coffee at (the now long gone) City Bakery. Grab the large caffeine refreshment and stroll across the street to the art gallery to engage in another jovial conversation with LD.
Those early days feel like a lifetime ago, almost like a dreamlike state of time and place that I either no longer am part of or it just never happened, you know? So much has cluttered up the road from then to now, for good or ill (but, mostly good).
I'm still working at the newspaper, which is still in downtown Waynesville. I still wander down Main Street in search of coffee and conversation. But, LD left town years ago. So, I find myself sparking up friendly banter with strangers over a beer at Boojum Brewing or over a meal at The Sweet Onion.
It was a sad day when LD left town. My friend was leaving and I felt like a piece of the core of my essence left with her. She knew all my secrets, my dreams, hopes and aspirations in life. She knew me probably better than I knew (or know) myself (a true hallmark of a lifelong soulmate friendship). And she'd say vice versa about the whole dang thing — for it's all wondrous and all-knowing when you're in the presence of good conversation over a cup of coffee.
And yet, LD and I have always kept in touch. Thick as thieves, even if we're hundreds of miles apart. Remember, dear friends are only a phone call or text away (don't forget that). Ongoing messages and conversations, and the occasional "checking in" on each other, especially during the loneliness and isolation of the last couple of years amid "all this."
So, it meant the world to me to once again cross paths with LD last weekend. After meeting up and attending a music festival together in rural North Florida, she headed back to Baconton early Saturday to work the local farmer's market, selling her wide-array of wares (flower bundles, crafts, etc.). I stayed a little longer at the festival and circled back to the small ranch house on Saturday afternoon.
Just like old times, the in-depth chatter bubbled up between two vibrant souls, both excited about the unlimited possibilities of today and tomorrow, of sincere gratitude and appreciation for every single day that had come before.
We spoke about the deep sadness felt in our respective lives since we last sat and talked, about losing people close to us recently (LD's dad, my cousin). We spoke about relationships that once seemed promising but eventually fizzled out (we remain hopeless romantics, albeit stubborn and elusive in our Aquarian ways, though).
Walking out into the backfield on Sunday morning, LD and I stood there and gazed across the empty landscape. Time ticks slowly here, thankfully. The conversation continued, about what the year may hold, plans for the future, and what it means to see your reflection in another kind soul, happily.
Hugging goodbye, plans were made to rendezvous at another festival in South Carolina in May. Pulling out of the driveway, we waved goodbye to each other, to which I honked twice in solidarity. I missed my friend. See you down the road, LD, as always.
Life is beautiful, grasp for it, y'all.