Archived News
Up to the fight: Cherokee's new police chief aims for big changes
Wednesday, March 16, 2022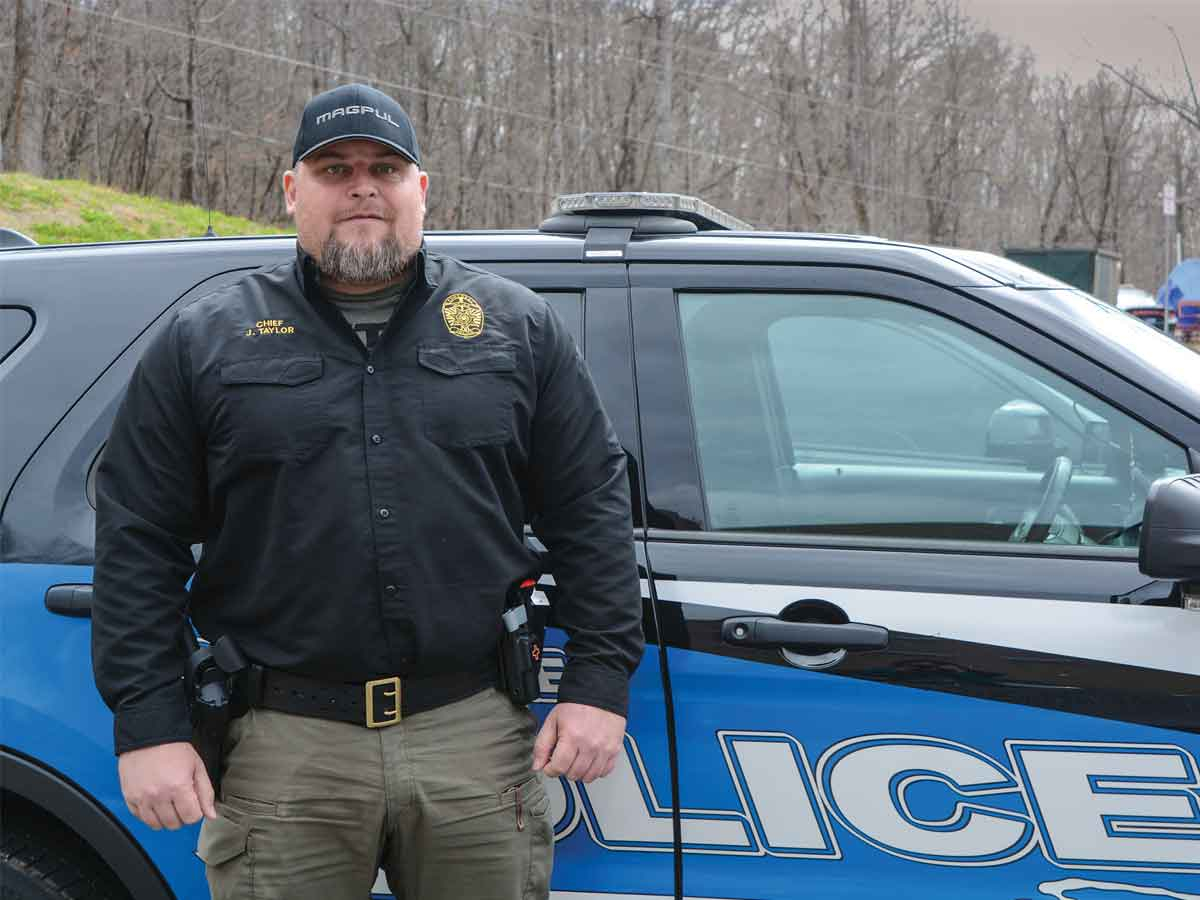 Josh Taylor has served as chief of the Cherokee Indian Police Department since July 2021. Holly Kays photo
Josh Taylor is seven months into his job as chief of the Cherokee Indian Police Department. Asked how it's going, he pauses, clasps his hands together atop the table, and leans forward.
"It's been a fight, ma'am," he says.
As a former U.S. Air Force munitions inspector and veteran of the Iraq War, Taylor's not one to fear a fight. He entered the Air Force in 2000 and left it in 2008 as a staff sergeant following an honorable discharge. Then he came back home to Cherokee, completing Basic Law Enforcement Training at Southwestern Community College and spending two years with the CIPD.
He left in 2010 to become one of the first Tribal Alcohol Law Enforcement agents in Cherokee, helping integrate state alcohol laws into tribal code and developing an alcohol training program for servers on the Qualla Boundary — and also working cases ranging from human trafficking to narcotics. He went back to the CIPD for a short stint in 2015 as major of police operations but then returned to ALE, this time as its chief.
That's where he stayed until July 2021, when he took on the title of chief of police — and the challenge of changing what he says is a dysfunctional status quo.
"It's been a hard fight to try to change a culture that has been embedded in the Cherokee Indian Police Department for the past four to five years," he said. "There wasn't much supervision, so there wasn't a lot of direction. Our police department was only reactionary. There was no proactive going on."
Taylor's been working to change that and credits strong relationships with Tribal Council and officials from the Attorney General's Office and the Cherokee Court with helping him make positive changes. He's also made some key hires within his own department.
"I honestly don't think patrol has ever had such strong leadership" Taylor said of Carrie Wade, whom he appointed as patrol captain, and he's grateful to have Captain Carla Neadeau overseeing jail operations and Lieutenant Roger Neadeau and Captain Gene Owle over investigations.
"I feel like I've surrounded myself with strong leaders of the tribe," said Taylor.
Council grants at-will firing power
That support was palpable during Taylor's March 3 appearance before Tribal Council. He was there to ask the body's approval for a new power to aid his efforts — the ability to fire unsatisfactory employees at will.
"It's nothing personal with anybody, but we have a status quo up there that has to be changed," he said. "If not, we are not serving this community to the fullest. Please raise your hand if you feel like it's gotten better in the past six months."
Hands went up in unison.
"I feel like I'm running about 60 to 70%," Taylor said. "Think about what we could be doing for this community if I'm running 110%. The only thing I'm asking is to help me have the tools to give the community better service."
The ordinance in question exempts sworn officers and detention officers in the CIPD from the typical termination process outlined in the tribe's personnel policy.
"Any sworn officer or detention officer working for a law enforcement agency answering to the Chief of Police serves at the pleasure of the Chief of Police and any corrective action or disciplinary procedures, up to and including termination, shall be at the sole discretion of the Chief of Police," the ordinance reads.
However, Taylor said there would still be a process leading up to termination. A five-member internal affairs board including representatives from the Attorney General's Office, human resources, the state and the CIPD, plus one at-large member, would review the case, make a recommendation, and pass it along to Taylor for final action.
"If people do their job, they're not going to be in trouble," he said. "The only thing I'm asking is come to work, grind, put some people in jail, help solve some cases, and go home. When you're off duty, don't drink and drive or beat your wife. That's the only thing I ask them."
Tribal Council ultimately approved the proposal, with nine members in favor and three others — Big Cove Rep. Teresa McCoy and Snowbird/Cherokee County Reps. Bucky Brown and Adam Wachacha — preferring to table it for a work session, but a lengthy discussion preceded the final vote.
As originally proposed, the ordinance contained a sunset clause — the fire at will power would have remained effective only through Sept. 30, 2023. Taylor said he included that clause as a check on himself and a signal to Council that he did not attend to abuse his new authority. However, Council voted to remove the clause — unanimously, with an abstention from McCoy — before passing the ordinance.
"I don't like the sunset clause," said Painttown Rep. Dike Sneed, who was chief of the CIPD from 2015 to 2017. "I think it needs to go into effect. State, county, that's how they operate. When you say, how can they do it with so few men, those few men know if they don't do their job, they go home. That's the way it needs to be here."
No such knowledge is commonplace at the CIPD, said Taylor, and that's a problem.
"There is this culture that's been sent down from the last decade or so that it's hard to get fired from the tribe," he said. "That is the theory in mind. So they know if they get suspended, they're going to be at home for at least six months suspended, getting paid."
In the past, he said, there have been employees on paid suspension for more than two years before finally being terminated. The last person Taylor fired had been collecting a paycheck for five-and-a-half months after being told not to come back to work.
Nobody around the horseshoe challenged Taylor's assessment that the police department has a culture problem, but several of them questioned whether giving Taylor unilateral firing power was the right solution.
"I've never been supportive of at-will, but I do share your concern," said Wachacha. "I think there is some issues that I'm very disturbed about, especially with personnel staying on payroll for so long. I think there's some efficiency issues in HR or wherever those bottlenecks are that need to be addressed."
McCoy also questioned Taylor's solution, suggesting instead that the Police Commission be given ultimate firing power. Taylor said that the Police Commission's role is to set policy, not to supervise daily operations, but McCoy felt that having a formal board making those decisions would better guarantee that employees' civil rights were upheld.
"A lot of the people who have that at-will opportunity are sheriffs," she said. "They're elected. If our chief of police position was elected, I would shut up and support it in a heartbeat, but I am concerned about that."
But in Taylor's view, the buck still stops with him — and he needs to have the authority to produce the results for which he has repeatedly asked Council to hold him accountable.
"If I'm slipping," he told Tribal Council Aug. 5, just a week after his first day on the job, "please call me to this horseshoe and hold me accountable. I will be accountable. Please help me stay on track."
One team, one fight
"I'm very intense about this job," Taylor told Council March 3. And the reason is that he can see clearly what's at stake from his success or failure.
"We've got to give the community a voice," he said. "The community has struggled and suffered for so long with DV, child molestation, drugs, that it was overtaking our tribe. It was overtaking our community — everybody from our leaders to our kids saw it, and it was becoming the norm. And we have to give the community a safety blanket to stay between the bad guys and the good guys."
The police are that safety blanket, he said, or at least they should be. But officers can't step into that role without the trust of the community — trust that the CIPD is currently in the position of winning back.
"I love Cherokee, I love this community," he said. "I love our people. I love just talking to our people. I feel like slowly but surely we're bringing the trust back between law enforcement and the community."
Building that trust will be key to mastering the most damaging crime issues in Cherokee, said Taylor.
"I thought drugs was our number one problem," he said. "I was 110% wrong. The domestic violence and the child molestation are our number one problem. That's what leads to drugs."
In Taylor's view, most drug issues in Cherokee seem to originate from a desire to numb pain caused by domestic violence or sexual abuse — and those are crimes that are often underreported, due to the shame and fear victims often feel in coming forward. Expanded tribal prosecutorial powers under the Violence Against Women Act (see VAWA, page 10) have been very helpful in better holding abusers accountable, said Taylor.
On March 11, President Joe Biden signed a bill that will expand those powers.
"The new VAWA laws coming into effect Oct. 1 are going to make a huge difference holding non-enrolled members accountable on our tribe," said Taylor.
But serving justice in those cases is still a challenging and pressing issue.
"I wish we could charge all cases on the tribe," said Taylor. "I wish we could be looked at almost as a county court."
Cherokee, he believes, is better positioned to handle its own cases than distant justice systems centered in Sylva, Bryson City or Asheville (see TRIBAL, page 14).
Looking forward, Taylor plans to continue throwing his energy into the job, hoping for a future marked by a spirit of collaboration and unity within not only the CIPD, but also in Cherokee's other first responder organizations.
"I need people to worry about what the department is doing for the community, not what an individual is doing," he said. "I need them to have more of a team mindset. Five years down the road, I hope we're running on that mindset and developing the culture of a team — one team, one fight."