Archived Opinion
Connecting the human ties that bind
Wednesday, March 09, 2022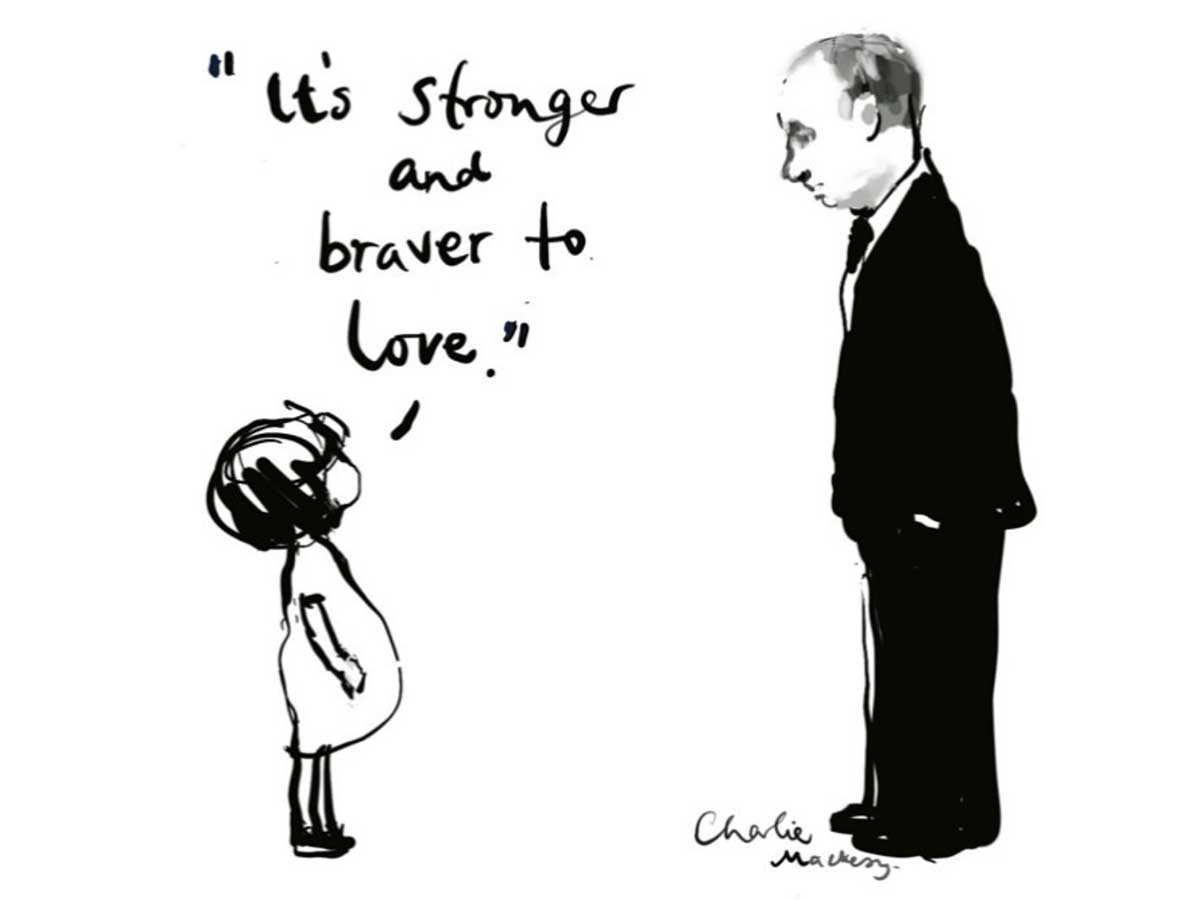 It is mind-boggling that in the year 2022 a barbaric, nonsensical war rages in Ukraine. It's an example that no matter how evolved we are or how technologically advanced we become, the wickedness of one human can impact the world and destroy precious lives.
My heart is aching for Ukrainian citizens, the unnecessary loss of life and the destruction of their beautiful country. My heart also aches for Russians who do not agree with this war but are having to fight anyway. Like many others, I'm watching and reading news reports in horror and wanting so badly to help.
Last week I had this desire to somehow connect with Ukrainian mothers and children but was unsure how to make this happen. I wanted there to be a way for an American woman to connect with a Ukrainian woman in an attempt to build her up emotionally and send resources or money if possible. But, I also understood that Ukrainians are simply trying to survive and have zero bandwidth or energy to harbor a pen pal or new friend in the U.S.
I decided to put the idea aside and revisit it later when Ukrainians are hopefully on the other side of this. I'm more than willing to donate to a nonprofit or other organization that is managing the disbursement of funds and assistance, but part of me just so badly wanted to reach out to an actual person and make sure she was OK.
But then something unique happened, as if the universe answered my call.
According to a recent Washington Post article, Airbnb announced that it would suspend all of its operations in Russia and Belarus, and that many people are booking Airbnbs in Ukraine with no intention of staying but as a way to assist hosts. After reading this piece and several others about Americans and Europeans renting vacation homes as a means to send money directly to individual people and families Ukraine, I decided maybe this would be a way I could connect with someone on a more personal level.
I got onto the Airbnb app and searched apartments in Kyiv. I made sure to find one owned by a person or family as opposed to a conglomerate. I found one owned by Maryia (I have changed her name to keep her identity private). Below is the initial conversation that ensued once I booked her place. As you can see, much of this is in broken English, but the sentiment is clear.
Susanna, 10:21 PM
Hi Maryia! I am renting your place to give you some cash flow. I'm not planning to travel there. I hope you are okay. ❤
Maryia, 2:00 AM
Thank you a lot Susanna,
Thank you for your support. I and my family still in Ukraine, and we really hope to go home soon to our native Kyiv.
God bless you ❤
Susanna, 8:56 AM
Praying for you, your family and everyone involved in this conflict. What other ways can Americans help Ukrainian citizens?
Maryia, 9:35 AM
SUSANNA, we do our best to help now to people and families who stayed in Kyiv, but sometimes nothing can help and this is the worst. My parents are in Bucha, small city close to Kyiv. They are 8th day without hitting, water and electricity. Russian soldiers are there now, do terrible things, the take off people from there apartments, shooting them... they broke antennas for no internet connection for cities end, so they can't take pictures of all of this stuff. People are hungry there, they just taking food drop shops which were left after Russian soldiers ... it's unbelievable for nowadays, but it's happening and we can't help them. Our government trying to talk for evacuation of those people, but nothing works. Yesterday people from Irpen, another small city which is near tried evacuating to Kyiv and they were shot.
I am with children are in safe place for now, in Ukraine and just try to do something, to help Ukrainian soldiers in Kyiv, whom I know to have some close and etc. What they need. That's all.
And people from airbnb so helps. Thank you.
Our family hope to come back home soon, as it's our home and our life's there. we don't want to go abroad :( because it scared us..
Oh, sorry.. I am telling al these stuff, but it's the only I can do for now. Helpless :(
Susanna, 9:50 AM
I am so sorry this is happening. I will try and lift you up with love and strength from afar. If there is anything I can do, let me know. I have two boys, ages 10 and 13. I can't imagine how scared everyone must be in Ukraine, especially children. We Americans think this is so awful and unfair. Sending love to you.
Maryia, 10:13 AM
Thank you ❤ I am a mother too of 3 sons :) years 9, 6 and 5 month ... we are strong for now.
Susanna, 10:35 AM
I wish I could do more. Let's keep in touch.
I plan to stay in touch with Maryia and if there is anything I can say or do to make her feel even the slightest bit more hopeful or optimistic, I will do it. Maybe in the future I can meet her in person and my boys can meet her boys and we can all embrace and thank God the war is over.
All of this makes me think of a quote by Amit Ray. He says, "We all are so deeply interconnected; we have no option but to love all. Be kind and do good for anyone and that will be reflected. The ripples of a kind heart are the highest blessings of the Universe."
(Susanna Shetley is a writer, editor and digital media specialist with The Smoky Mountain News, Smoky Mountain Living, and Mountain South Media. This email address is being protected from spambots. You need JavaScript enabled to view it.)
Leave a comment
2

comments
Putin has been lying about Ukraine since he started the invasion back in 2014. He created numerous false flag incidents over the year, then acted illegally to "recognize" the statelets the GRU created in 2014. Putin also stole Crimea in 2014.

It is sad to note that so many people in this country believe Putin's lies about Ukraine, when a small bit of thought, combined with the reliable info that came from OSCE was available that exposed Russia's false flags. People need to realize that supporting Putin is supporting a demonic fascist regime.

Saturday, 03/12/2022

Susanna

Thank you for posting your story and bless you for doing what you can to help the people of Ukraine

As Americans we need to do what we can to support Ukrainians in their noble fight for Democracy.

We tried to send help via Airbnb but ended up giving to Ukraine Red Cross and Doctors without Boarders, both working within Ukraine.

Democracy is earned, and we should all we can do to help the people of Ukraine earn their well deserved freedom.

Friday, 03/11/2022