Archived Reading Room
'Just Maria' a good read for all ages
Wednesday, March 02, 2022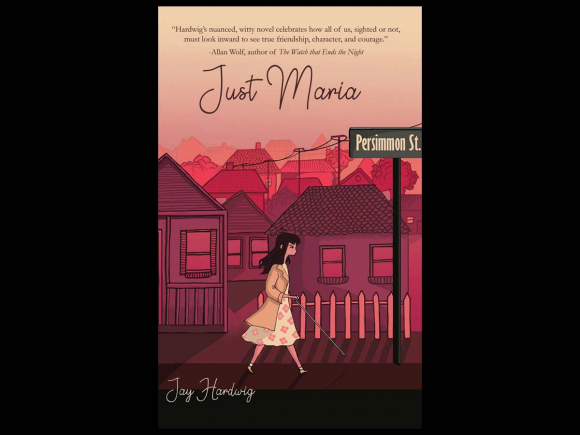 What's up with me?
In my old age, am I regressing backwards to my teenage days? Or is Jay Hardwig's novel "Just Maria" (Fitzroy Books, 2021, 133 pages) aimed at an adult audience as well as adolescents?
I'm going with Door #2.
Several times, Hardwig's story made me burst out laughing. Fortunately, I was alone, and none of my children or grandchildren could give me one of those raised eyebrows that asks, "Is Pop cracking up?"
Here is that rare novel that can be shared by everyone from middle-schoolers to grandfathers with pleasure and enlightenment.
Maria Romero is a blind 12-year-old. As a newborn, she had tumors in her eyes, which required amputation and treatment. With her glass eyes and her white cane, she is in middle school when we meet her. Maria wants to be accepted by an "in-group" of female classmates, but she also becomes involved with JJ Munson, the class weirdo. He's overweight, smells like mustard, and wants Maria to join him as in his Twinnoggin Detective Agency, in which the two of them, JJ with his intelligence and Maria with her intuition, would solve various mysteries at school. JJ proposes a series of challenges to determine whether they might honorably wear the title of detective.
As a result of those dares, both JJ and Maria find themselves in hot water with the school, the principal, and their parents. At the same time, they discover new talents and the freedom that comes from ignoring what other students may think of them. Though Maria first finds JJ a pest — at one point she asks him to leave her alone, which he accepts as one of the challenges — eventually they become the best of friends.
"Just Maria" is worth picking up for several reasons. First, there is Maria herself, a vivacious narrator with a quick wit, courage, and a sense of humor and of the absurd that, as I mentioned, brought me chuckles and outright laughter. Heaven knows most of us could use some laughter these days.
Maria also learns some lessons as she rises to JJ's challenges, struggles with a snobbish clique of girls in her school, and tracks down JJ's younger autistic sister when she leaves the house on her own. Along with Maria we learn the value of real friendship and courage, and of the importance of Shakespeare's old line, "To thine own self be true."
Finally, we also come to know a great deal about blindness. We learn from Hardwig's bio on the back of the book that he's a certified teacher in this field who has worked for more than 20 years with blind and visually impaired children. His knowledge and experience shine through on every page of this book, and throughout the story Maria pauses in her narrative to tell us about her cane, learning to cross city streets, how she can determine where the front of a grocery store is, and other such experiences of blindness.
Here, for example, the instructor who trains her once a week to navigate traffic, Mr. Torres, is teaching Maria how to listen and wait before crossing the street:
And then one of two things happen.
If I'm right, and it's safe to cross, Mr. Torres does nothing. He lets me cross the street and find the other side.
But if I'm wrong, I feel his hand on my shoulder, stopping me from stepping into the oncoming traffic.
Today I tried to cross the street twenty times. Sixteen times I did it right. The other four times he stopped me.
Pretty good, right?
Wrong.
That was four times I might've gotten killed, four Maria Pancakes on the streets of Marble City.
In the front of "Just Maria" is a mother-daughter testimonial recommending this book. The 10-year-old daughter is a two-time National Braille Challenge Finalist, a contest I'd never known existed. Her mother writes, "Blindness is not a tragedy and does not limit one's ability. Jay Hardwig brilliantly gives us a character that proves such …. I highly recommend this book to all readers … tweens, teens, adults, blind or sighted."
And so do I.
•••
It's been a rough old winter for us and for our country. Spring may be just around the corner, but these tough times aren't going to disappear anytime soon.
In "On Consolation: Finding Solace in Dark Times" (Metropolitan Books, 2021, 285 pages), Michael Ignatieff gives us thinkers, writers, and artists from the last two millennia who suffered different trials and ordeals, and the ways in which they sought comfort and relief from their afflictions and losses.
In his Introduction, Ignatieff writes that "Consolation is an act of solidarity in space — keeping company with the bereaved, helping a friend through a difficult moment, but it is also an act of solidarity in time — reaching back to the dead and drawing meaning from the words they left behind."
"On Consolation" is packed with wisdom and examples from these dead, among them St. Paul, Dante, Montaigne, and Camus. "These works," Ignatieff tells us, "help us find words for what is wordless, for experiences of isolation that imprison us in silence."
"On Consolation" is not your typical self-help book, and not all readers will find the formality of Ignatieff's prose their cup of tea, but for me this book was thought-filled, often moving, and helpful in my own life.
(Jeff Minick reviews books and has written four of his own: two novels, "Amanda Bell" and "Dust On Their Wings," and two works of nonfiction, "Learning As I Go" and "Movies Make the Man." This email address is being protected from spambots. You need JavaScript enabled to view it..)
Leave a comment
1

comment
Just finished reading The Last Chance Library. What a wonderful book. Thank you for the recommendation.

Wednesday, 03/02/2022