Archived Reading Room
Pancakes, with a side of 'Craft & Culture'
Wednesday, February 23, 2022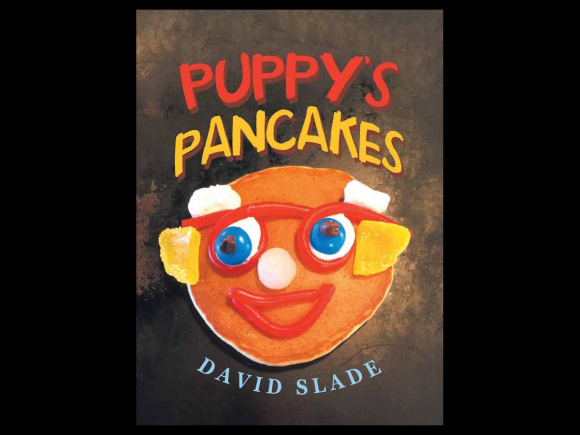 Several years ago, when my children and grandchildren were gathering for a week at the beach in a house I'd rented, a good friend gave me a pre-vacation tip that put me in the winner's circle with the grandkids. "Make them an ice cream breakfast," she suggested.
Following her directions, I bought vanilla ice cream, fruit toppings like blueberries and bananas, granola, M&Ms and chocolate drops, sprinkles, and whipped cream, and on the appointed morning made a buffet of all these goodies that covered the island table in the kitchen.
It was a huge hit with their younger crew, though some of the parents remarked that I was giving the kids a day-long sugar high. We haven't gone back to the beach since the COVID-19 closures, but even today the kids speak fondly of Grandpa's Ice Cream Breakfast, an event I intend to recreate this summer when visiting them, beach or no beach.
Which is why I was delighted to receive a copy of "Puppy's Pancakes" (AuthorHouse, 2021, 65 pages).
Author and grandfather David Slade begins his book on artful pancakes by explaining that when he was a boy, he couldn't pronounce the word Poppy, which is what the other children called their grandfather. "It always came out Puppy, and apparently I was pretty stubborn about it, so after a while it just stuck."
When his own grandchildren came along, he kept up this tradition and had them call him Puppy. He also handed them another tradition from his grandfather: pancakes.
"As far back as I can remember," Slade writes, "every day at my grandparents' house would start with his making me and my brother and sister pancakes." And these were no ordinary pancakes. The Elder Puppy would design special pancakes and make up stories about them, and these "pancake friends," as Slade calls them, helped him grow closer to his Puppy.
Inspired by these memories, Slade began making unique pancakes for his own grandchildren. In Puppy's Pancakes, he has brought together an array of these pancake and candy sculptures: depictions in flour and sugar of the grandchildren, fairies, a ballerina, sharks and whales, and a score or more of other creatures. In the chapter "Elijah and the Jolly Old Elf," for example, he teaches readers how to make Elijah, Santa Claus, Rudolph, Frosty the Snowman, and Woof-Woof, Elijah's stuffed toy dog.
Along with all of these creations, Slade provides a short poem, a full-page illustration of the finished pancake, and clear and concise directions on making these visual — and no doubt, tasty — delights.
One final observation: this is a sweet book — and I don't just mean the recipes. Slade compliments his "beloved wife and the most wonderful grandmother in the world," his children, and his "five adorable grandchildren." And I smiled when in regard to the candies on the pancakes, Slade, like me with my ice cream breakfasts, is sure the parents told their kids, "You only get to do that with Puppy!"
Here's a cookbook not just for grandparents, but for pancake lovers everywhere.
•••
In "Craft & Culture: Qualla Arts and Crafts Mutual 1946-2021" (Curatorial InSight, 2021, 102 pages), scholar and curator M. Anna Fariello examines one of the oldest Native American artisan cooperatives in the U.S. In the first pages of her history of this mission to preserve Cherokee arts and crafts, she writes, "Qualla Arts and Crafts not only saves and preserves valued objects, it likewise encourages and preserves the cultural traditions and processes that make these objects possible."
Here are some fascinating insights into life over the years in the Qualla Boundary. Before the coming of automobiles, for example, Fariello reports that basket-makers like Lottie Stamper's family had to carry their wares on foot to places like Waynesville and Junaluska, "a round-trip distance of 50 miles." In her chapter "Craft in the Schools," we learn how Cherokee schools for decades taught such arts as weaving, pottery, basket making, and woodcarving. Particularly interesting to me were her chapters on the changes brought by the construction of roads, the growth of tourism, and the interplay between these visitors and the Cherokee artisans.
In addition to recounting in print the growth of the Qualla association, Fariello includes scores of photographs from its past: buildings, artisans, and the handicrafts they created. She defends the inclusion of so many photos in this way: "I believe that much can be learned from visual interpretation. From a photograph of Cora Wahnetah on page 75, for example, we not only see the paddle marks on the pot she is making, but we also see the paddle and how she holds her hands. While these can be described, I suppose I am of the mindset that a picture is worth a thousand words."
In her chapter "Keepers of Culture," Fariello briefly mentions other key cultural establishments in Cherokee: the Museum of the Cherokee, the popular play "Unto These Hills," the Oconaluftee Indian Village, and more.
As for keeping that culture alive, we can now add another monument of preservation: "Craft & Culture." Copies of this book may be ordered through your local bookstore, online, or from Curatorial InSight, P.O. Box 2212, Cullowhee, N.C., 28723.
(Jeff Minick reviews books and has written four of his own: two novels, "Amanda Bell" and "Dust On Their Wings," and two works of nonfiction, "Learning As I Go" and "Movies Make the Man." This email address is being protected from spambots. You need JavaScript enabled to view it..)