Archived Outdoors
Decade in the making: Forest Service releases long-awaited 
Pisgah-Nantahala forest plan 

Wednesday, February 09, 2022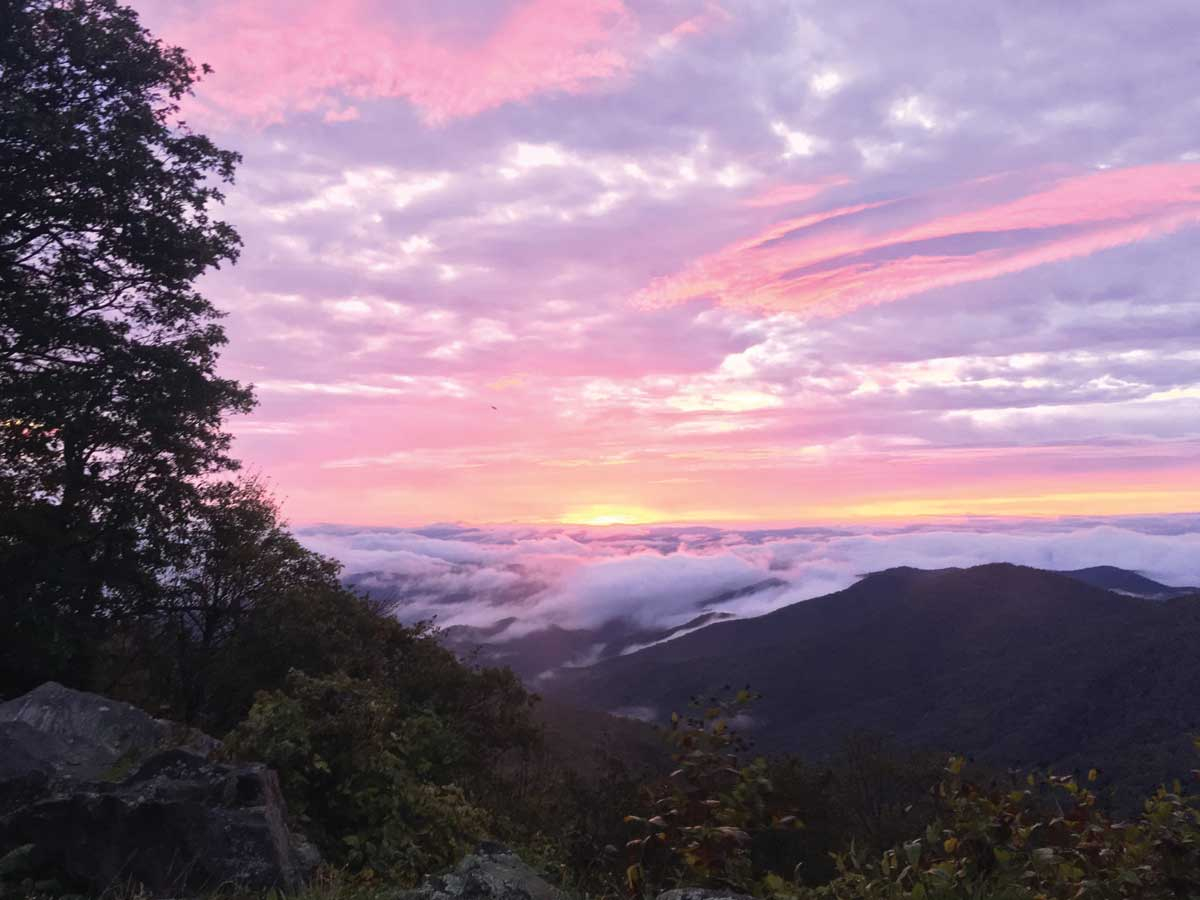 As the sun hits the horizon, it shoots color through the sky from a viewpoint on the Pisgah Ranger District. USFS photo
A decade after convening the first meetings to discuss the impending process, the U.S. Forest Service has released a semi-final version of the plan that will govern management of the 1.04-million-acre Pisgah and Nantahala national forests for the next 15 to 20 years.
Now, the conservation, recreation and wildlife groups that have dedicated countless hours to helping the Forest Service shape the plan are combing through the hundreds of pages of materials released Jan. 21 to form their opinions on the resulting documents ahead of the March 21 deadline for formal objections.
Though everyone still has plenty of research left to do, in interviews collected over the two weeks following the plan's release, representatives of wildlife-centric groups tended to have fewer criticisms of the plan than representatives of groups that focus more on environmental preservation.
"I think the main takeaway is that the Forest Service was provided a lot of really good input from the public and stakeholder groups and had a really good chance to make a plan that would move all interests forward together, and I think through a lack of specificity and an emphasis on internal Forest Service discretion, they've missed that opportunity so far," said Josh Kelly, public lands biologist for MountainTrue and a member of both the Stakeholders Forum for the Nantahala and Pisgah Plan Revision and the Nantahala-Pisgah Forest Partnership .
Others were more blunt.
"I don't think it's good at all," said Hugh Irwin, senior conservation specialist for The Wilderness Society and also a member of both the Stakeholders Forum and the Forest Partnership. "I'm not pleased with it."
"They didn't lift up the protected areas. They only lifted up the logging side of the equation," said Will Harlan, leader and organizer of Friends of Big Ivy , an organization whose creation led to the formation of the larger coalition I Heart Pisgah . Where wilderness is concerned, said Harlan, the plan is "a big step back."
Recreation outfitter and hunter David Whitmire, who chairs the Fish and Wildlife Conservation Council and is a member of the Stakeholders Forum, had a more positive view. He can see his group's comments reflected in the plan, he said.
"When you look at it from a high view, a lot of this stuff, it looks great," he said. "But the devil's in the details."
Other groups say that the plan will allow levels of timber harvest out of sync with the protections it offers other interests, but Whitmire worries that it in practice it won't allow for the level of timber harvest he believes the forest needs to support species that depend on young and open forest habitat.
Manley Fuller, who represents the N.C. Wildlife Federation on the Forest Partnership, listed several areas of the plan he considers praiseworthy. The species of conservation concern list is a "pretty good list," he said, and he commended objectives that will increase the use of prescribed fire, boost prioritization of exotic invasive species control and place exceptional N.C. Natural Heritage Areas in a protected non-timber base category.
"We appreciate that they have incorporated a number of the recommendations of the Partnership into the revised plan," said Fuller.
Overall, said Forest Supervisor James Melonas, the plan is organized around four themes: connecting people to the land, sustaining healthy ecosystems, providing clean and abundant water, and partnering with others. It aims to correct a shortage of both old growth and young forest habitat on the forest landscape while also serving a variety of recreational, ecological and economic interests.
"We feel like it strikes the right balance in terms of recommending the highest quality areas for wilderness, also making sure that we are increasing the amount of work that we're doing to create young forest that's really important for wildlife habitat as well as designating an old growth network and increasing that network by about 50,000 acres," Melonas said. "We feel really good about the fact that the plan really advances all those different interests and the needs for the forest."
This chart compares how the different alternatives allocate acreage between management areas. The final plan uses Alternative E, shown in yellow.
Decisions about wilderness
Since the planning process kicked off a decade ago, the central tension has played out between people who want to see massive increases in timber harvest to create needed young forest habitat on the landscape and those who want more areas in protected classifications like congressionally designated wilderness, where natural conditions prevail and logging is not allowed.
At the end of the process, that's still the case.
"I feel like some folks are making this out to be this simple dichotomy of preservation versus active restoration when in fact, we have a lot of multiple uses on the landscape," said lead planner Michelle Aldridge. "And there's space in that for all of this important work."
The final plan places 542,865 acres — more than half of the forest — in the "matrix" management area, where logging projects may be approved. However, it also designates 265,000 acres, a quarter of the forest, as the Old Growth Network that aims to, over time, produce a spine of very old trees spanning all ecosystems and elevations present across the forest.
In addition to maintaining the 93,000 acres Congress currently designates as wilderness areas or wilderness study areas, the plan recommends an additional 49,000 acres for congressional wilderness designation — in many instances these lands overlap the Old Growth Network.
Congressionally designated wilderness areas are used for primitive recreation, with natural forest conditions allowed to prevail and active management techniques like timber harvest and prescribed fire not typically used. The federal legislation creating the wilderness system prohibits mechanized equipment on those lands, recognizing them as places where "the earth and its community of life are untrammeled by man, where man himself is a visitor who does not remain."
Of the 14 areas recommended for wilderness designation, seven are extensions adjacent to existing wilderness areas at Joyce-Kilmer Slickrock, Southern Nantahala and Shining Rock, and four — 8,335 acres at Snowbird in the Unicoi Mountains, 3,222 acres at Craggy in the Black Mountains, 7,044 acres at Harper Creek on the Eastern Escarpment and 5,681 acres at Lost Cove, also on the Eastern Escarpment — are federally designated Wilderness Study Areas.
The three remaining areas — 6,319 acres in the Bald Mountains, 7,872 acres at Mackey Mountain in the Black Mountains and 2,655 acres at Unicoi Mountains/Upper Bald River in the Hiawassee and Unicoi Mountains — represent standalone tracts slated to receive Forest Service recognition of their wilderness characteristics for the first time. While the plan recommends these areas for wilderness designation and will manage them as though they've already received it, an act of Congress is required to bestow the designation.
The plan also includes a special designation for 11,501 acres at Big Ivy and Craggy Mountain in the Black Mountains, designating that area — which includes Brush Fence Ridge, Point Misery, North Fork Ivy Creek, the Craggies and Walker Cove — as the Big Ivy Craggy Mountain Forest Scenic Area.
Harlan hopes that recognition within the forest plan will lead to national recognition for Craggy and Big Ivy via designation as a National Scenic Area . Like wilderness, that designation requires an act of Congress. The United States currently holds 10 National Scenic Areas, of which four are in the Southeast and none are in North Carolina.
"Craggy is the crown jewel of Appalachia, and it would be the ideal first National Scenic Area for North Carolina," said Harlan. "What's great about the National Scenic Areas is they're somewhat flexible, and they can accommodate different needs, different community priorities."
While Harlan was excited about Craggy's Forest Scenic Area designation, he expressed overall disappointment with the plan, calling the Craggy Scenic Area the "one bright spot" in the extensive set of documents.
For one thing, he'd hoped to see the entire 16,000 acres that the Forest Partnership proposed make it into the Scenic Area designation, but more than 4,000 of those acres are instead designated as matrix.
"These highest-logging-priority areas in Craggy include 1,500 acres of old-growth forest, the headwaters of the Ivy River — the drinking water source for the towns of Weaverville and Mars Hill — and the Snowball Trail, one of the most popular trails along the Blue Ridge Parkway," said Harlan.
Irwin's disappointment with the plan comes from a similar place — many areas that the Wilderness Society had hoped to see either recommended for wilderness or placed into some other protective classification are assigned to the matrix area, where timber harvesting can take place. In addition to parts of Craggy/Big Ivy, Irwin's list of disappointing omissions includes the Black Mountains and some areas surrounding the Southern Nantahala Wilderness and portions of Tusquitee Bald.
"There's basically over 100,000 acres of priority conservation areas, including these mountain treasures of old growth and state natural areas, that were put into timber management," he said.
"It's interesting to me that one of the most popular areas, the Black Mountains, and a very worthy area as well, was passed over for (wilderness) designation, and one of the areas that was the least asked for but also worthy was recommended, and that would be the Bald Mountains," said Kelly. "There seemed to be a disconnect between what the public wanted and what the Forest Service was willing to recommend."
Aldridge said the Forest Service considered all areas suggested for wilderness recommendation but made its final decision with the context of public support, the area's features, how designation would contribute to the national wilderness system and the tradeoffs between managing an area as wilderness versus in another manner.
For example, she said, the Forest Service ultimately decided against recommending the Black Mountain area for wilderness because it had extensive exposure to surrounding development — including a gravel quarry, agricultural properties, a golf course and road noise from the Blue Ridge Parkway — and its long, narrow shape limits the core interior area offering isolation from the outside world. Additionally, some commenters were concerned about financial impact if wilderness designation impacted their ability obtain permits for galax gathering or foot races.
"When we think about which areas to recommend for wilderness, we're looking for opportunities for unconfined recreation or an area that is untrammeled and has a high degree of naturalness," said Aldridge. "So we consider all of the different wilderness characteristics when we think about each area. Those were the factors that led us to not recommending the Black Mountains area."
How best to protect existing old growth and allow new old growth tracts to develop is a key discussion surrounding the plan's release. Steven McBride photo
Debating old growth designations
In addition to recommended wilderness, the final forest plan designates 29 patches for an Old Growth Network totaling 265,000 acres — more than any of the alternatives published with the draft plan in 2020.
Timber production is not allowed within the Old Growth Network, and management will promote development of old trees within the network, which spans multiple management areas and covers the spectrum of elevations and ecological zones represented on the forest landscape.
While much of the land contained in the Old Growth Network currently holds old growth, that's not true of all of it. Aldridge says many of the 265,000 acres currently contain old growth but that, over time, the network should provide a spine of very old trees across the landscape.
"Ultimately this network will enable the development of growth characteristics across a landscape scale for all ecosystems and elevations," she said.
While the network is larger in acreage than previous iterations, it elicited criticism from several organizations with an interest in the plan. As Aldridge said, not all acres included in the network contain old growth. Conversely, pockets of pristine old growth exist outside the network and are part of the matrix management area, where logging is allowed.
"Many of the acres that have been designated are designated more out of convenience because of the management areas they fall in than out of their quality as old growth," said Kelly, pointing out that much of the Old Growth Network is located in areas designated as wilderness or recommended wilderness, where logging isn't allowed anyway.
Kelly, who has spent a considerable amount of his professional career inventorying old growth trees in the Pisgah-Nantahala, said he was disappointed to see that multiple areas of old growth trees that he and Mountain True had previously documented and communicated to the Forest Service were not included in the Old Growth Network — in many cases, he said, those patches were placed into the logging-eligible matrix area.
"The designated old growth network is established to ensure old growth conditions develop and persist into the future," reads the final environmental impact statement associated with the plan. "It does not account for all the pockets of old forest that may exist on the Nantahala and Pisgah NFs."
Kelly said these inventoried old growth areas located outside the network total about 12,000 acres. On a 1-million-acre forest, said Harlan, that's just not a significant amount of acreage to subtract from the logging base.
"Why not protect these special areas, these old growth areas?" he said.
Any determinations as to whether an old growth patch not placed in the network could be cut for timber harvest would be made at the project level, based on expert analysis and public comment for that particular project. Essentially, the decision would lie with the district ranger — and depending on who is in that position at the time, that could be a problem, said Fuller.
"There may need to be some fine-tuning of that, if there were areas that as part of previous projects that had been identified as old growth," he said. "There may be a few areas that were missed. I don't know that's a fact, but I've heard people speculating about that."
Whitmire, meanwhile, said the Forest Service has the right idea in not spending too much time and energy inventorying and mapping relatively small areas of old growth in a forest that, from his point of view, is largely protected from logging due either to protective designations like wilderness or logistical inaccessibility.
"I like the idea from the project level of not having three or four trees trying to be hooked together in a patch somewhere, because the reality of it is there was a big gain in the old growth network," he said.
Fire and logging
Active management techniques like timber harvest and prescribed fire will gain big under the new plan compared to the current one. Between 20,000 and 40,000 acres could receive prescribed fire treatments each year, and 1,200 to 3,200 acres could be logged — up from the 650 annual acres harvested now. According to Fuller, the fire goals especially are good news for the forest.
"We're increasingly getting development, and so some people may say, 'Oh, well, we've got plenty of early successional habitat. Why do you want to have early successional habitat in the national forest?'" said Fuller. "Well, the early successional habitat that was available in a farm or ranch type situation with grazing animals and stuff like that, that's different than if it's a big development or a golf course complex. We want to see and believe that there can be a mosaic of habitat types within the national forest, which is critical to maintaining our wildlife diversity and our natural heritage."
Overwhelmingly, trees in the Pisgah-Nantahala are in late middle-age, first sprouting up in the early-to-mid 1900s as the logging industry cooled down and fire suppression policies caused a reduction of wildfires but a build-up of fuels on the forest floor. Wildlife advocates — especially those with an interest in game species like deer and turkey — have pressed the Forest Service to release a plan that would open large amounts of young forest habitat and diversify the ages of trees in the forest.
The new plan assigns each part of the forest to one of 17 different management areas. USFS map
"Without a strong forestry program to create young forest, wildlife has a dim future as far as a lot of wildlife species that require that," said Whitmire. "That's a lot of the good game, a lot of the songbirds. A lot of different species require young forest, and it's very underrepresented. The last 20 years have proved that to us. It had critical effects on our population."
Kelly agreed with Fuller's positive view of the fire goals, though he reiterated his concern that high-value conservation lands are included in the area allocated to logging-eligible management areas. He pointed out that the area for timber production is much larger than that which exists in the current plan.
But Whitmire still wonders if it will be enough.
"I just worry with all the layers that's within matrix, do we have a sustainable footprint?" he said.
Certainly, said Whitmire, the forest will have to reach past the Tier 1 objective of 1,200 acres logged annually to its Tier 2 objective of 3,200 acres to make the needed difference in young forest availability. Even though 3,200 acres a year sounds like a lot of logging, over 40 years — a typical rotation for a commercial tree farm — that's only 128,000 acres, or 12% of the entire forest, while logging 1,200 acres annually would harvest 4.6% of the forest over 40 years. Throughout the planning process, Whitmire and others advocating for young forest creation have been calling for a young forest habitat proportion of 10-12%.
"If we don't get to Tier 2 as soon as possible, we're going backwards," Whitmire said.
However, others involved in the forest planning process, including Harlan, say that the model the Forest Service used to describe the natural range of variation on the forest landscape — and, therefore, the proportion of it that should be young forest — contains inaccuracies that result in overly aggressive young forest goals.
"It erroneously prioritizes a whole bunch of creation of young forest and therefore justifies their timber harvest," Harlan said. "Their manipulation of the model has resulted in a quarter million acres of forest that should be headed toward old growth instead of in the timber base."
Untied tiers
Within the plan, each management objective includes both a Tier 1 goal and a Tier 2 goal — the first being a description of what the Forest Service believes it can accomplish with its current resources and the second being what it hopes to accomplish, so long as it gets outside funding to do so.
The tiered strategy was a hit when Aldridge unveiled it to the Stakeholders Forum in February 2020 along with the draft plan.
But some people, including Kelly and Harlan, are disappointed that the final document doesn't take a cross-objective approach to move between tiers. For example, the forest could reach Tier 1 timber goals and move on to Tier 2 while still falling short of Tier 1 in other areas, like aquatic systems, soil or facilities. They would prefer to see interests advance together.
"The whole point of the tier system was that if you meet certain objectives, you move to Tier 2," said Harlan. "But those tiers are supposed to be coupled together. If you meet your timber harvest goal for Tier 1 and you also meet your water quality goals and conservation goals across the tiers, then you move to Tier 2 and you can do additional logging."
In the final plan, that's not how it works.
"Probably the biggest disappointment would be using the idea that collaborators provided for Tier 2 management, but without ensuring that all the interests could move forward into Tier 2 together rather than some interests going and some interest not," Kelly added.
Whitmire had a ready opinion on that perspective.
"I think that's being obstructionist there, myself," he said. "If I had to wait for the Forest Service to meet all their Tier 1 objectives before I go to Tier 2, it ain't going to happen.'
Tier 2 goals, by definition, aren't possible without outside resources, like grants. Achieving those goals will require pursuing and seizing often ephemeral opportunities.
"Think about it," said Aldridge. "If road maintenance money arrived tomorrow, but we hadn't yet completed all of our plan activities for non-native invasives, we're not going to pause on our road maintenance until we get our non-native invasive work done. If we have the opportunity to do more, we're going to do those things, whether that's more fish passages or sustainable trails or whatever the case may be."
House under contract
The plan is final, but it's not done.
"It's kind of like having a house under contract," said Melonas. "We're moving toward closing, but we have to go through due diligence."
The Forest Service's Jan. 21 plan publication kicked off a 60-day period in which anybody who submitted substantive comments on the draft can file a formal objection to the revised document. From there, the regional forester will verify objectors' standing, take requests from the general public to participate as "interested persons," and finally review and resolve the objections. The Forest Service expects to be operating under the new plan by the middle of the year.
That adoption will end the decade-long process to determine how the Pisgah-Nantahala will be managed for the next generation, but it won't end the involvement of the people and organizations who became intimately involved with the issues as the plan progressed. The plan sets boundaries and direction for the entire forest, but much will still be determined at the project level as management activities are proposed, debated and decided upon by the district ranger.
"We're wanting to go from this plan phase to building up our individual memberships in the geographic areas or counties to support the district rangers and to monitor the district rangers so we know these objectives are going to be met," said Whitmire of the FWCC.
The plan itself is not set in stone either. After the last plan was adopted in 1987, an extensive set of amendments was approved in 1994. After the plan goes into practice, amendments could be considered to address shortcomings or new conditions that arise following its adoption.
The future is unknown, but one thing is certain — the Pisgah-Nantahala contains some of the most breathtaking sections of the storied Southern Appalachians, and some of the most important areas for recreation, biodiversity, wildlife and other values. While they hold differing opinions about how to accomplish it, everyone involved with the plan recognizes the urgency of stewarding these lands well.
"It's really important," said Fuller, "that we do an excellent job of managing these public lands."
Read the plan
A trove of planning documents is available at bit.ly/22forestplan. It's a lot to read through, but start with the reader's guide for a look at the plan's overall themes and an overview of the included documents. In addition to the plan itself, the set of documents includes a final environmental impact statement, draft record of decision, maps and several appendices.
Key definitions
• Designated old growth network – A network of large, medium and small patches that will either perpetuate or evolve towards old growth conditions over time. They may include existing old growth or younger forest that does not yet qualify as old growth.
• Early-successional habitat – A vegetative condition characterized by little to no tree canopy cover and abundant herbaceous or woody ground cover.
• Ecosystem — A spatially explicit, relatively homogeneous area that includes all interacting organisms and non-living elements world within its boundaries. An ecosystem is commonly described in terms of its composition, structure, function and connectivity.
• Management area – A land area identified within the planning area that has the same set of applicable plan components. A management area does not have to be contiguous.
• National Wilderness Preservation System – All lands covered by the Wilderness Act and subsequent wilderness designations, regardless of the department or agency having jurisdiction.
• Old growth forest — Forest with old trees and related structural attributes, displaying characteristics of the later stages of stand development such as tree size, accumulation of large dead woody material, number of canopy layers, species composition, degree of soil disturbance and ecosystem function. Old growth is not necessarily virgin or primeval and can develop over time following human or natural disturbances.
• Prescribed fire – Any fire intentionally ignited by management actions in accordance with laws, policies and regulations to meet specific objectives.
• Tier 1 objective: Goal based on recent Forest Service budgets and capacity.
• Tier 2: Goal reflecting what is possible with the help of partners and their resources.
• Wilderness study area – One of the areas selected by the Chief of the U.S. Forest Service from an inventory of undeveloped national forest lands as having apparent high qualities for wilderness, or lands possessing the basic characteristics of wilderness and designated by Congress for further study to determine whether they should be recommended for the National Wilderness Preservation System.
Source: definitions paraphrased from plan glossary and in-text explanations.
Leave a comment
2

comments
The percentage of the forest that is planned (targeted) to be logged is an incredibly misleading statistic that the USFS puts forth to avoid the truth that the amount of logging proposed as target means significantly higher impacts on those lands which ARE ABLE TO BE LOGGED. The plan documents have estimated only 108,000 acres as operable for and holding marketable timber in the next 20 years for Tier 1. The tier 1 target is 2,200 acres per year. Over 20 years that means close to 44% of those lands will be impacted. Tier 2 acreage is 245,000 acres total and 94,000 acres over the 20 year plan - again that close to 40% of operable lands. It is true that over 1/2 the lands will never be logged due to designation as wilderness, proximity to scenic corridors, rough/steep terrain, cost of road building, etc... So why include those lands when considering the impact of logging? The operable lands are the most accessible and easy to get to. There's no comment in the plan about how sustainable it is to log that much in the next 20 years - because those operable lands aren't going to expand, that's the actual base of lands which can be logged, period.

Thursday, 02/10/2022

I find attempts to include any old-growth forest stands into timber harvesting areas very disturbing!

Thursday, 02/10/2022