Archived Reading Room
Making boys into men the Jocko Willink way
Wednesday, February 09, 2022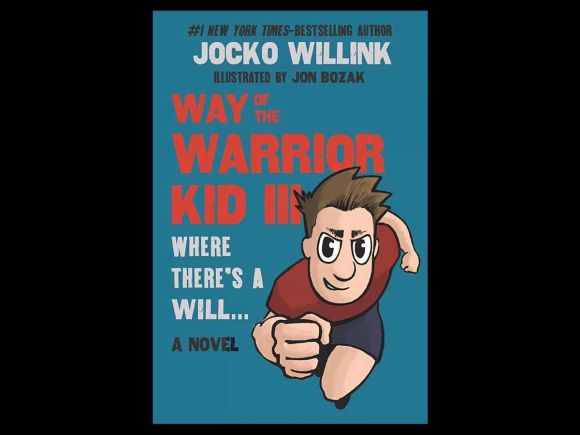 Many readers of The Smoky Mountain News, particularly younger adults, are probably familiar with Jocko Willink, a former Navy SEAL officer who is now renowned as a podcaster, speaker, and author. My sons and some other young men I know — and women too, for that matter — listen to his podcasts, and are inspired and learn from them.
Though I had heard of Mr. Willink, I'd never read his books or listened to the podcasts. Recently, however, an editor who is also a "phone friend," the mother of a sixth-grade daughter, suggested I take a look at the series of books Willink has written, primarily for boys, titled the "Way of the Warrior Kid." I headed off to my public library, picked up his "Way of the Warrior Kid III: Where There's a Will … " (Jocko Publishing, 2019, 207 pages), and began reading.
Frankly, the book blew me away.
I'll explain why momentarily, but first allow me to include this brief portion of an online interview regarding Willink's first book in this series, "Way of the Warrior Kid: From Wimpy to Warrior the Navy SEAL Way":
"One of the reasons I wrote "Way of the Warrior Kid" was I couldn't seem to find books for my own children that encouraged them to embrace the characteristics that I value: to be disciplined, to work hard, to face fears, to be strong and smart and healthy, and to stand up for themselves and what is right — like warriors."
Willink's assessment — along with my friend's recommendation — are both spot-on. Chapter books like the ones in this series, written for kids in upper elementary school and perhaps early middle school, particularly for boys, in our day are practically non-existent. Here are fictions designed to help make men out of boys.
Here's the basic plot to each story:
We first meet a boy named Marc when he is in fifth grade (in "Where There's a Will …" he's advanced to seventh grade.) Like most guys his age, Marc has his problems in school as well as with his friends and his parents. He faces bullying and taunting from classmates. In the second book he's facing a "bummer summer" when he has to spend his vacation days in a camp with a kid who enjoys tormenting him, and in "Where There's A Will…," the book I read, Marc has to deal with the issues of envy and ego in regard to a newcomer at school.
Enter Uncle Jake.
Jake is a former Navy SEAL who spends his summers with the family and acts as Marc's guru, coach, and mentor. In each of these books, Uncle Jake teaches Marc the importance of a healthy diet, strenuous exercise, work, and orderliness. He also brings to "the program" the practices of virtue, willpower, and frugality, lessons he learned from his SEAL training.
Inspired by Uncle Jake, Marc writes out and tried to follow the "Warrior Kid" code, which contains such precepts as these:
• The Warrior Kid wakes up early in the morning.
• The Warrior Kid studies to learn and gain knowledge and asks questions if he doesn't understand.
• The Warrior Kid trains hard, exercises, and eats right to be strong and fast and healthy.
• The Warrior Kid treats people with respect, doesn't judge them, and helps out other people whenever possible.
• The Warrior Kid stays humble, controls his ego, and stays calm. Warrior Kids do not lose their tempers.
At one point in "Where There's a Will," when Uncle Jake wants Marc to improve his time in the mile run, he asks him "Do you know what will is?" and then answers the question himself: "Will is determination. Will is resolve. Will is when you hear that little voice and you feel like you are going to break, but instead of listening to that little voice you dig deep and KEEP GOING. Understand? That's will. YOU KEEP GOING."
There's more to the Warrior Kid code, but you get the idea. The indefatigable Uncle Jake has but one ambition; he is intent on turning his nephew into a man. No, not just a man. A good man, a man worthy of that title. A man who lives by a code of honor, who understands and practices such concepts as willpower, duty, respect for others and ourselves, and goodness.
Many boys desperately need and deserve such books. The "Way of the Warrior Kid" books are tools for our male adolescents showing them the way to maturity and responsibility. Jon Bozak's illustrations for this series, the situations in the stories faced by so many young people, and Marc's comments, which are so typical of young people his age, all enhance the message of these stories.
Moreover, Jocko Willink's "Warrior Kid" series offer such lessons not just for younger readers, but for adults as well. For those who have stumbled off The Path, these books might serve as a compass to regain our True North. Sometimes we need the basics like Marc's Warrior Kid code to guide us back when we have lost our way.
(Jeff Minick reviews books and has written four of his own: two novels, "Amanda Bell" and "Dust On Their Wings," and two works of nonfiction," Learning As I Go" and "Movies Make the Man." This email address is being protected from spambots. You need JavaScript enabled to view it.)