Archived News
In advance of midterms, Republicans fight for the soul of the party
Wednesday, February 02, 2022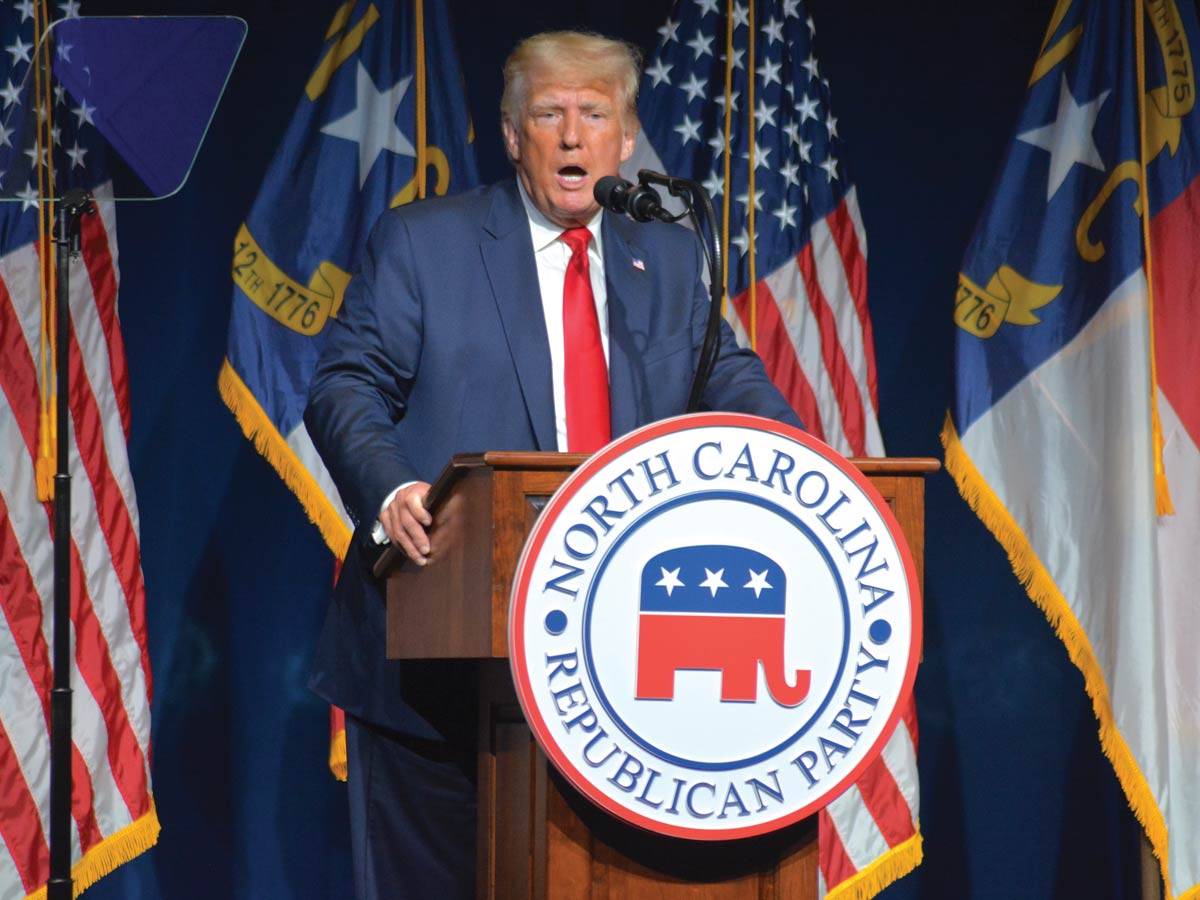 A Georgia grand jury will convene in May to decide if Donald Trump should be criminally prosecuted for activities related to the 2020 election. Cory Vaillancourt photo
With President Joe Biden's disapproval ratings through the roof and a recent spate of setbacks in the Senate, Republicans appear poised to capitalize in the 2022 General Election — if a twice-impeached former president who isn't even on the ballot doesn't first tear their party apart.
Donald Trump still has a dedicated cadre of supporters who continue to advance what's been called "The Big Lie." As Trump's efforts to overturn the 2020 election come into sharper focus each day, some candidates have tried to distance themselves from him, while others have only drawn closer.
Which side will win the internecine conflict is the subject of great speculation, but it all depends on just one thing: the enduring popularity of Trump within the Republican Party since the Jan. 6 insurrection.
While very clear opinion lines have already been drawn by some high-ranking elected officials within the party, recent polling in North Carolina suggests that the fracture runs so deep that it may be the only thing that can save Democrats from a mid-term thrashing this coming November.
Don't buy the lie — that's the simple message from Geoff Duncan.
It's perhaps a surprise to hear that coming from Georgia's Republican lieutenant governor, but perhaps not.
Georgia became the epicenter of President Donald Trump's efforts to overturn the results of his 2020 election loss, based on the conspiracy theory that nefarious perpetrators risking substantial prison time were able to carry out across all 159 Georgia counties a secret operation that completely fooled highly trained law enforcement and left absolutely no trace but only gave Biden a margin of 12,000 votes and didn't bother to help any other Democrats win any other races.
The real election conspiracy, Duncan says in his "GOP 2.0: How the 2020 election can lead to a better way forward for America's conservative party" (Forefront, 2021, 288 pages) "involves leaders who irresponsibly spread untruths and rumors after the election, seeking to mislead honest Georgians and invalidate the peoples' fairly expressed will."
As Duncan tells it, when he woke up the day after the 2020 election, he had no idea that his life would soon become "a bizarre Twilight Zone" and "an alternative reality."
Out of nearly 5 million votes cast in the state, Biden was clinging to a fragile 12,000-vote lead over Trump. Constituents, supporters and elected officials from Duncan's own party began to send him messages questioning the results and advancing rumors of fraud.
Duncan's book provides a fascinating behind-the-scenes look at the events that transpired both before the election and after, and concludes that even to this day, no credible evidence of voter fraud has ever been presented in Georgia.
"If election fraud happened in Georgia, it would've been the most extensive, bipartisan, criminal and brilliant conspiracy in U.S. history. That it remains undetected would prove the supreme genius of the Democratic perpetrators," Duncan writes. "I just don't believe that scenario."
Indeed, Duncan looked into many of the fraud claims himself.
The recount itself found two discrepancies, both in Republican-run counties. In Fayette County, 2,700 uncounted ballots were discovered on a memory card, netting Trump around 400 votes. In Floyd County, 2,600 uncounted ballots netted him 800 votes.
Other than that, Duncan deduces that election workers did not commit fraud, votes were not double-counted, computer magic wasn't used to change votes, no secret suitcases of ballots appeared in the night, there was no water leak in Fulton County that damaged ballots and only four dead people voted — at least one of them for Trump.
Yet, Trump continues to peddle these myths, and some Republicans continue to believe him. Duncan said he felt compelled to speak out because he couldn't tell his children at home not to lie, and then stand up in public as the lieutenant governor of Georgia and do just that.
"Right now, party leaders are peddling misinformation and telling people what they think people want to hear. Nobody's hearing the truth and both the party and country are careening down a bad path," writes Duncan. "Party leaders and the people need to hear the truth. Deep down, they know it. Only if we start being honest, respecting one another, and leveling with voters can the GOP improve, expand our tent, and stop winning or losing by inches and instead win by miles."
The second part of Duncan's book deals largely with his opinions on how the party can rid itself of Trump and Trumpism.
"It was important for me to not just be a diary of events in the post-election debacle here in Georgia, but to lay the groundwork for better pathway forward for the Republican party," Duncan told The Smoky Mountain News on Jan. 6.
Duncan calls this his "PET project" — an acronym meaning Policy, Empathy and Tone.
"We need to remind Americans that Republicans are really, really good at policy. By all metrics this is a center-right leaning country," he said. "I think a majority of Americans trust a Republican to be in charge of growing the economy, keeping their neighborhoods safe and keeping our nation secure."
When the 2020 election took place, the stock market had cracked 30,000 points, three separate COVID-19 vaccines have been developed, three conservatives had joined the Supreme Court and more than 200 others had been appointed to the federal bench. Tax code and criminal justice overhauls had passed, ISIS had collapsed, four Arab countries recognized Israel and a new North American trade agreement was reached. Instead of concentrating on these victories, Trump derided Georgia's election security and later told Republicans not to vote in the Jan. 5 Senate runoffs.
"The 'E' is for empathy. Since I've campaigned statewide and won the job of lieutenant governor, I've learned that empathy really means a conversation at a kitchen table with a single mom with two kids and two jobs and asking her what are her biggest challenges every day," said Duncan. "She's gonna tell you whether you're a Democrat or Republican that she wants safer streets for her kids and better schools for her kids and better opportunities. I selfishly believe that Republicans are really strong at being able to tackle those challenges."
The final letter of the acronym doesn't stand for "Trump," but it might as well.
"The 'T' stands for tone, and, it takes no description to understand that the tone in this country and around our political system is broken. Donald Trump certainly ran with a tone and tenor that did not lead and did not encourage," Duncan said. "It simply spoke down to a majority of Americans and certainly it's one of the reasons that I think he's no longer the president of the United States. We can do better. And we as Americans deserve better."
Duncan says his bold statements have earned him and his family violent threats, but he stressed that without quick corrective action, what happened in Georgia in 2020 could be coming to a state near you.
"If the GOP wants to see the future," he said, "it can simply look at Georgia."
Geoff Duncan (left) and Madison Cawthorn (right).
Multiple telephone messages over multiple weeks were left at North Carolina Republican Party headquarters for Chairman Michael Whatley, specifically asking for comment on Duncan's book. They weren't returned, and when the Republican National Committee's North Carolina Communications Director Alex Nolley was reached, she couldn't provide a single North Carolina Republican elected official or spokesperson willing to discuss Duncan's book.
But one was — Western North Carolina Congressman Madison Cawthorn (R-Henderson). Cawthorn said he hadn't read the book, but was familiar with its premise.
"Peddling misinformation that there was fraud in the election? I mean, that's patently false. We can prove that in a multitude of ways, but the number one way, which is the reason I objected to the election in the first place a year ago is that this all was done in an unconstitutional manner," said Cawthorn. "I mean, there were election laws clearly violated and changed without going through the proper channels of the state legislatures and that is in clear violation of our Constitution."
Courts across the country have now rejected more than 60 cases filed by Trump and/or his acolytes, and the Republican-dominated Supreme Court (with three justices appointed by Trump himself) declined to hear cases that alleged that Georgia and three other states violated their own election laws.
Cawthorn's been a staunch defender of Trump, as well as Trump's baseless claims that the election wasn't conducted fairly, and has come under scrutiny for comments he made at the "stop the steal" rally immediately preceding the insurrection.
Predictably, Cawthorn is deeply committed to the former president's movement, and disagrees vehemently with Duncan's premise that Trump is dividing the party.
"Blah, blah, blah. He's trying to use that as a straw man. It's disgusting. He's trying to say that we lost the Georgia [Senate runoff elections] because of Trump and therefore we need to move away from the Trump agenda," Cawthorn said. "The Trump agenda is the American agenda."
Not only does Cawthorn disagree with Duncan, he also takes a stern tone on Duncan's performance as a Republican in a state that hadn't gone Democrat for president since 1992.
"I mean, he should be ashamed of himself. If you're an elected representative and you let your state be destroyed into an ash heap in the vision of Stacy Abrams, you're pathetic," Cawthorn said. "Seriously, I'm 26 years old. I could probably crush him in any kind of debate. We need to start demanding better people. I honestly think a 15-year-old who's been in a civics class could crush this guy."
It's clear that Cawthorn and Duncan represent opposite ends of the spectrum within the Republican Party, at least in regard to the ongoing importance of Trump. As to which faction is currently in the majority, Duncan took a swing at an answer.
"What's the saying, 90% of all stats are made up? So I'm gonna make this up, this is just a gut feeling that the number is well below 50%," Duncan said.
There remains, however, a stigma within the party that prevents those in power from identifying with Duncan's message publicly.
"I can count on one hand the number of folks that are in Republican leadership positions that are willing to call balls and strikes, willing to call out the things that Donald Trump did well, but also the things he didn't do well," said Duncan. "GOP 2.0 is right. It just isn't popular yet. But it will be."
Duncan may be close to the mark, if a recent North Carolina poll is to be believed.
Conducted statewide by Cygnal on behalf of Civitas from Jan. 7-9, the poll sampled 600 GOP Primary Election voters and has a margin of error of almost 4 points. If the 2024 Republican presidential primary were held today, only 47% said they would choose Trump.
Florida Gov. Ron DeSantis came in a distant second with 19%, while 16% of voters were undecided and five other potential candidates split the remaining 18%.
Cawthorn didn't have a quantifiable estimate of Trump's support. Instead, he shifted focus from the man to the movement.
"A lot of people call it the 'America first' agenda, and I credit Donald Trump with starting that movement, but now it's being decentralized," Cawthorn said. "Now, there's really no leader of it. It's the people who are leading."
He referenced recent commentary penned by conservative radio host Charlie Kirk suggesting that Trump's America first movement was becoming "anti-fragile."
"Basically he went on to define that word to mean, it's decentralized, it's a movement where you can't just cut off the head of a snake because now there's a hundred heads and they're not snakes, but lions," Cawthorn said. "I don't believe that we're moving away from Donald Trump. I think we're moving away from having to rely on a single person to run the entire show. Donald Trump started this movement and now the American people are gonna have their voices heard in 2022, I can promise you."
Leave a comment
2

comments
It has been shown, many times over, there was massive fraud in Georgia, Pennsylvania, Wisconsin, and Arizona. If the author of the screed above wants to claim it was nonexistent, then he needs to star screaming at the clouds as that is something he is probably better informed about. What he has believed is a lie.

The Establishment is tearing the party apart, not Trump supporters.

Sunday, 02/06/2022

Republicans continue to demonstrate their treasonous behavior and hatred of democracy. Their anti-American, anti democratic platforms are destructive, fascist and without merit. Those who believe their ugly agenda as worthy show the depth of their ignorance and hatred/disdain of our country and all we have fought for throughout our short history. A destructive party that has no business running anything. No morals, no integrity, no positive vision. Just liars, hypocrites who can look at a man so inferior in character as the Orange Anus and see a president worthy of respect boggles the mind. That in itself demonstrates why they are unfit to hold any legitimate office.

Sunday, 02/06/2022