Archived News
COVID-Infected Workers Force Mission to Redeploy Dwindling Staff, Postpone Surgeries
Thursday, January 27, 2022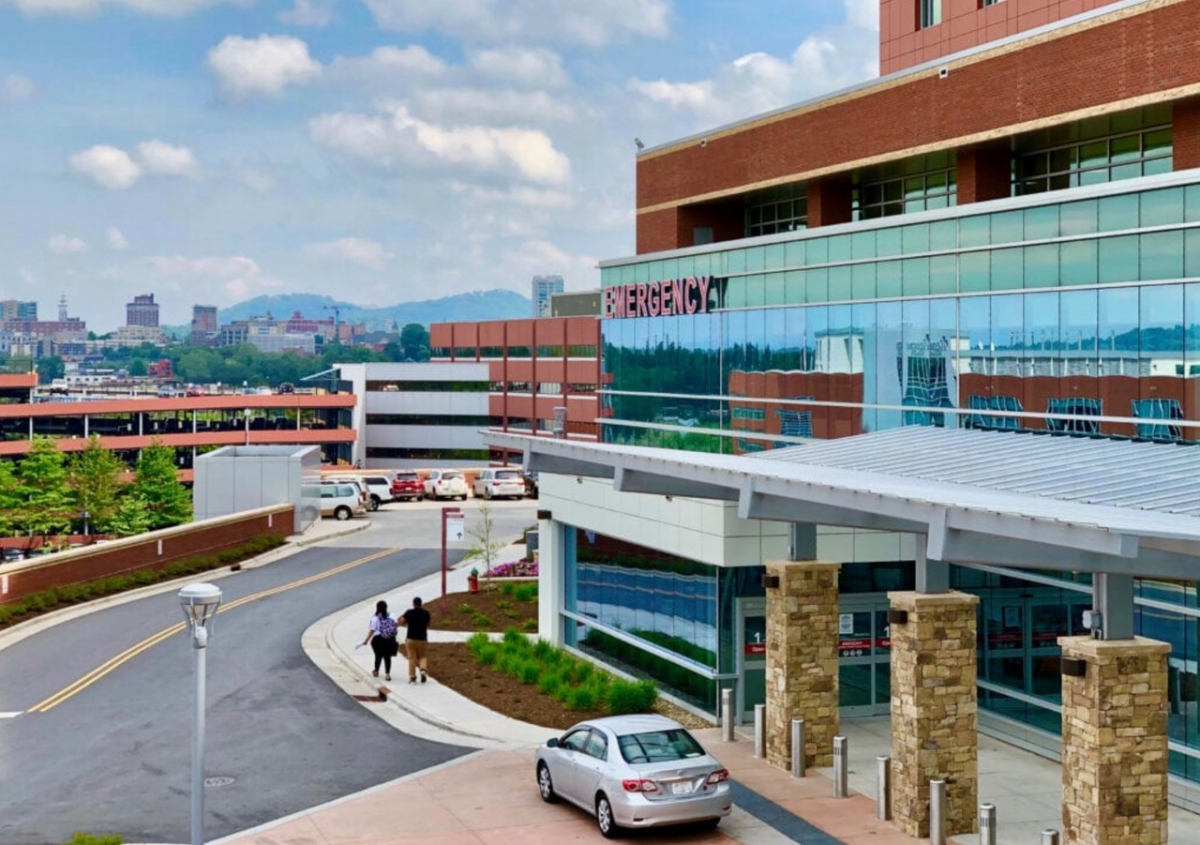 Mission Hospital Emergency Department in Asheville // Peter H. Lewis photo
By PETER H. LEWIS, Asheville Watchdog
Staggered by COVID-19 infections, both among incoming patients and its own healthcare staff, Mission Hospital in Asheville is postponing all scheduled surgeries at the main hospital and will admit emergency and critically ill patients only after a case-by-case review, hospital administrators said Tuesday.
"Beginning this Wednesday, January 26, 2022, the Mission operating room and other procedural areas in the hospital (Endoscopy, cath lab, IR, and others) will only proceed with urgent and emergent cases," Chad Patrick, chief executive of Mission Hospital, wrote in a confidential memo to staff dated Jan. 25.
"We will continue to evaluate daily on a case-by-case scenario," the staff memo, obtained by Asheville Watchdog, continued. "Any urgent/emergent case where the patient has not already been admitted, but will require a hospital bed, needs approval by multidisciplinary hospital leadership."
"The ASC will remain open at this time but we will continue to closely monitor and may need to adjust depending on patient needs," the memo said, referring to the Asheville Surgery Center, a separate HCA-owned outpatient surgery facility off Sweeten Creek Road.
Asked by Asheville Watchdog to clarify the staff memo, Nancy Lindell, director of public and media relations for HCA Healthcare's North Carolina division, issued a statement that read, "We are delaying only those surgeries that our team feels can safely be delayed. As always, we continue to take all emergencies including heart attack, stroke, or trauma patients and our ER [emergency room] doors are always open."
"Our hospital staffing has been challenged due to the number of employees on quarantine; however, we anticipate this to improve significantly over the next two weeks," the memo said.
The memo was also signed by Dr. Anthony Spensieri, Mission Hospital's chief medical officer; Dr. Matthew Young, assistant chief medical officer; Dr. Ansley Miller, the hospital's chief of staff; and Dr. Gordon Groh, a surgeon.
As the highly transmissible omicron variant of the COVID virus spreads — mostly among people who have not been vaccinated — hospitals in other COVID hotspots have taken similar steps to keep emergency beds open and available, including postponing scheduled surgeries. In some cities the omicron surge is already declining.
In a confidential briefing to Mission staff earlier this month, Dr. William Hathaway, the chief medical officer for the six-hospital Mission Health system, said the peak omicron surge was expected to reach western North Carolina at the end of January or beginning of February. But he also noted that in other cities the number of cases dropped sharply after the peak.
HCA administrators at first refused to make vaccinations mandatory for hospital staff, arguing that some essential workers might quit rather than submit to the mandate, causing staffing shortages that could result in curtailed services. But by not requiring vaccinations, which have been proven to reduce the number and severity of COVID infections, the policy risked a rapid spread of COVID among healthcare workers, with the same result.
After federal courts upheld the mandates, HCA gave workers until Jan. 27 either to receive their first vaccination or to apply for an exemption on religious or other grounds.
The flagship Mission Hospital has 10,500 employees and is licensed for 815 beds, according to its website. Lindell, the Mission spokesperson, said the "vast majority" of workers had been vaccinated, but she declined to give a number or percentage, or to say how many have requested exemptions.
A chart used by Dr. Hathaway in his Jan. 10 briefing suggested that infections among Mission healthcare workers were already soaring before the omicron peak, appearing to top 190 new cases in the first week of the new year.
"If staff test positive, they can receive quarantine pay and cannot return to work until their symptoms have passed," Lindell said Tuesday.
However, as reported earlier, in his Jan. 10 briefing, Dr. Hathaway said Mission had reverted to "contingency" staffing, which under HCA guidelines means that workers can return after five days, with or without testing negative, even if they are "mildly symptomatic."
Asheville Watchdog is a nonprofit news team producing stories that matter to Asheville and Buncombe County. Peter H. Lewis is a former senior writer and editor at The New York Times. He can be reached at This email address is being protected from spambots. You need JavaScript enabled to view it.