Archived News
End in sight for long-running Haywood landfill debacle
Wednesday, January 26, 2022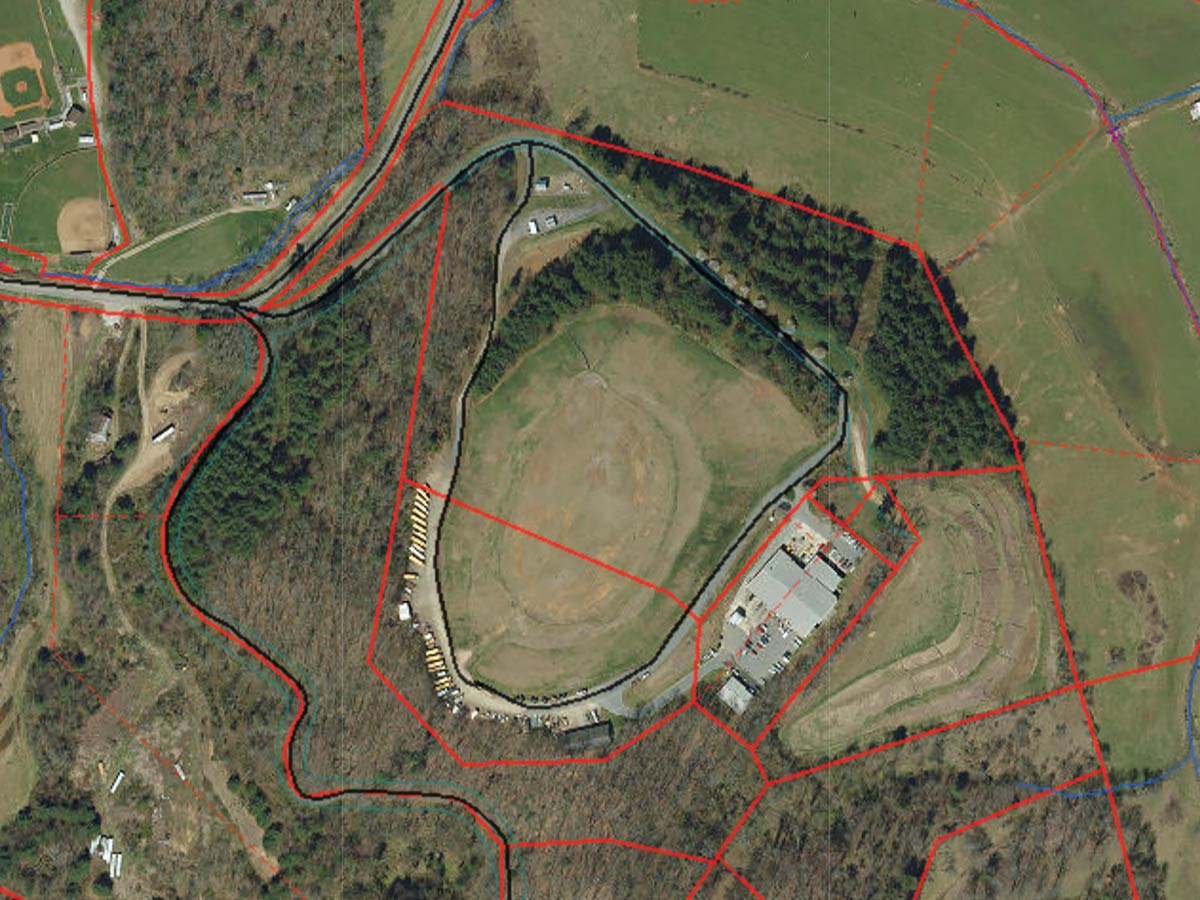 Monitoring activity at the Francis Farm landfill will likely continue well into the 2050s. Haywood County GIS photo
Work to remediate a leaky, gassy mound just northeast of Waynesville that has been nothing but an expensive headache for generations of Haywood County elected officials has finally reached substantial completion.
"It's interesting to be up here talking about Francis Farm landfill," said Community and Economic Development Director David Francis, who's worked on the project since 2007. "I hope this is the last time I'm up here discussing this."
The Francis Farm landfill began operations in 1973, accepted waste until 1993 and finally closed in 1995. But in October 1976, shortly after the landfill entered service, Subtitle D of the Resource Conservation and Recovery Act mandated that solid waste landfills like Francis Farm would henceforth need to be constructed with an impermeable liner at the bottom.
Had that mandate come down prior to Francis Farm's construction, a litany of costly problems could have been avoided, but because it didn't, Haywood County taxpayers have been on the hook ever since.
In 1996, the state notified the county that monitoring of the site would be needed, and in 2000 the county was further notified that there were major problems at the site, due to the nearly nonexistent buffer between waste and adjacent properties.
Methane is produced as the natural byproduct of bacteria feeding on decaying organic matter. Testing at Francis Farm showed excessive levels, so the county stepped up monitoring, installed a recovery system and is now in compliance.
Groundwater contaminants also exceeded limits in nearby monitoring wells, so a corrective plan was implemented, including 25 monitoring wells, some of which are located on private property surrounding the landfill.
In 2010, a $1 million federal grant helped pay for the methane and groundwater monitoring activities, but the county has largely borne the brunt of all other costs associated with the fix.
Three tracts surrounding the landfill were purchased by the county for $1.1 million in 2014 and 2015, totaling 44 acres and greatly adding to the buffer zone around the 28-acre landfill itself.
A 2019 survey found that groundwater seepage was now remaining well within the facility's boundaries and staying well away from nearby Raccoon Creek.
Perhaps the biggest — and priciest — component of the remediation was the restrictive cover, placed atop the landfill to prevent rainwater from entering the site.
A $5.4 million contract was let in 2020, and work was completed this past August.
First, more than 100,000 cubic yards of soil taken from the N.C. 209 Highway project was spread over the landfill. Then, a restrictive cover about 2 millimeters thick was placed atop the soil. Then, another layer of soil was added atop the cover.
Francis said that the landfill would collect more than 6.2 million gallons of water annually, which mingled with hazardous waste and then leach out into surrounding areas. With the cover in place, Francis said that less than 7,000 gallons will "ever" penetrate the cover, drastically reducing the amount of contaminated water leaching out of the landfill.
Two large sediment basins were also constructed to collect leachate as the landfill slowly dries out from top to bottom.
Although containment is now largely complete, the county's obligations in monitoring the site will continue for at least another 30 years, which would be nearly 80 years after the landfill first opened. A report on the condition of the landfill will come this April, as well as in 2024.
Commissioners both new and old expressed relief.
"When I came on the board here this thing was a huge topic of conversation in our county. It has been for a while. I just want to reiterate none of our forefathers did anything wrong," said Tommy Long, who was elected in 2018. "I'm glad this is maybe closing a chapter of the book."
Kirk Kirkpatrick, who's been a commissioner for five terms, said he's been dealing with the issue whole time he's been on the board, as has fellow longtime commissioner and current Chairman Kevin Ensley.
"I'm glad it's over with," he laughed.
Long and Francis both expressed special appreciation for Randy Siske, the county's solid waste environmental coordinator who made the project "his baby," according to Francis.
"We know about how valuable Randy Siske is to our solid waste team," Francis said. "He takes care of this just as much as he takes care of the front yard of his house. Those employees are very rare to find. He's an exceptional employee and does a lot of good work for the county."