Archived Reading Room
Exploring the life of Cherokee's first female chief
Wednesday, January 19, 2022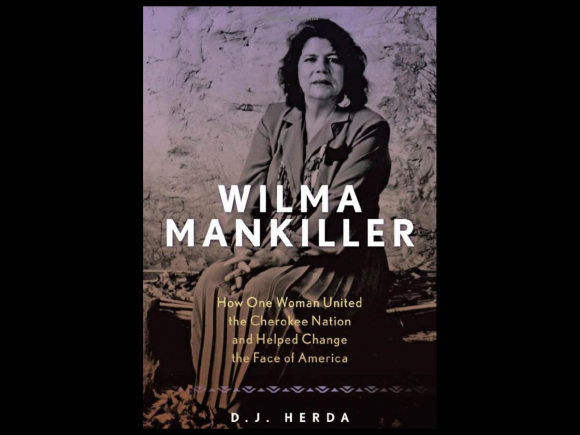 I was recently gifted with the loan of a book from my friend Lee Knight titled "Wilma Mankiller," (TWODOT Books, 2021) written by journalist and biographer D.J. Herda. As a traveling lecturer for the Road Scholar Program, Lee had finished reading it and thought I might find it interesting.
I had read, some years ago, Wilma Mankiller's autobiography and found it fascinating. But Herda's biography on the first female chief of the Cherokee Nation was perhaps even better due to its objective and historic perspective and its point of view. Oh, and incidentally, it's a national bestseller.
The life of Wilma Mankiller is as fascinating as it is remarkable. She was born into a racially-mixed community in southern Georgia and as a toddler moved to the Cherokee reservation in Talequah, Oklahoma, with her family, spent her teens and early twenties in San Francisco and moved back to Talequah as a young adult where she spent the remainder of her life. As a person who didn't like school early on with all the rote memorization and what she considered unimportant subject matter, she was and remained for most of her life someone who was self-taught and on a quest as a young person to, as she put it, "do what you do best."
And what she did best, starting in the 1960s and 1970s, was to learn from her elders and others who were considered to be leaders and activists, which included such people that were part of the American Indian Movement (AIM) as Dennis Banks, Russell Means, Clyde Bellecourt, Leonard Crow Dog, Richard Oakes and John Trudell. She participated in AIM meetings and later in the Native American occupation of Alcatraz Island in the San Francsico Bay. During those formative years in the 1970s, she also worked for the San Francisco Indian Center, the Native American Youth Center, the Pitt River Land Case while auditing history and law classes at San Francisco State University. While having a rough introduction to city life on the West Coast, she adapted and made the most of her years there.
As Herda explains: "'The Center,' as it was called, was a place for Indians from all tribes to call their home away from home. Everyone who went there shared at least some life experiences; some shared nearly all. Here, Wilma started to feel the strength of the pull of the bonds that had existed between herself and other Cherokee people for centuries — their mutual history, experiences, and traditions."
Or, in her own words and as is quoted by Herda in the "Wilma Mankiller" biography: "When the Alcatraz occupation occurred, I became aware of what needed to be done to let the rest of the world know that Indians had rights, too. Alcatraz articulated my own feelings about being an Indian."
Wilma Mankiller returned to Oklahoma in 1977. From her experiences on the West Coast and her new understandings and passions, she began work for social programs and positions in Cherokee tribal government which lasted for about 10 years. From elders and spiritual teachers she learned and adopted "a Cherokee approach" to life. "They say that this means being of good mind," as Herda writes. "That means one has to think positively, to take what is handed out and turn it into a better path."
And this is just the approach Wilma Mankiller took. She married Charlie Soap, a Cherokee traditionalist, who would remain her supportive and faithful husband for the rest of her life, and in 1987 she decided to run for and was elected tribal chief of the Cherokee Nation; the first woman in Cherokee history to have been honored with this position. As Principal Chief, she said she wanted to be remembered for being fortunate enough to have become her tribe's first female chief and for emphasizing the fact that Native Americans have indigenous solutions to their own problems by helping one another and of their interconnectedness with the land and to "hold on to our language, our ceremonies, our culture."
The remaining 80 pages of the book is an homage to Mankiller's long list of accomplishments, accolades and awards. During her 10 years as tribal chief, she met with three presidents, lobbied Congress for everything from health clinics to the national Head Start programs, and received more awards than most people could imagine. In 1996 she decided to step down from her position due mainly to serious health problems that would plague her for the rest of her life. In that same year, she accepted a prestigous Fellowship at Dartmouth College; and in 1998 she was honored at the White House by President Clinton with the Presidential Medal of Freedom, the nation's highest civilian honor. More honors came her way as the years went by until her early demise in 2008.
As the book's author Herda summarizes toward the end of the book: "Life to Wilma Mankiller was precious, but not so much as what she did with it. Living for the sake of breathing and taking up space was not her idea of living. Within her own ranks and social hierarchy, she was a mover and a shaker, a doer and a leader. She was and always would be, first and foremost, a chief." In 1993 Wilma Mankiller cited a Native American prophecy, saying "this is the 'time of the women,' a time when women's leadership skills are needed." In the words of her longtime good friend and feminist Gloria Steinem: "Wilma Mankiller was a fighter for freedom and justice. There is simply no other, no better way to describe her. And for that she will always be appreciated, lauded, revered and remembered."
(Thomas Crowe is a regular contributer to The Smoky Mountain News and author of the multi-award-winning non-fiction nature memoir "Zoro's Field: My Life in the Appalachian Woods.")