Archived News
Waynesville will explore establishment of social districts
Wednesday, January 19, 2022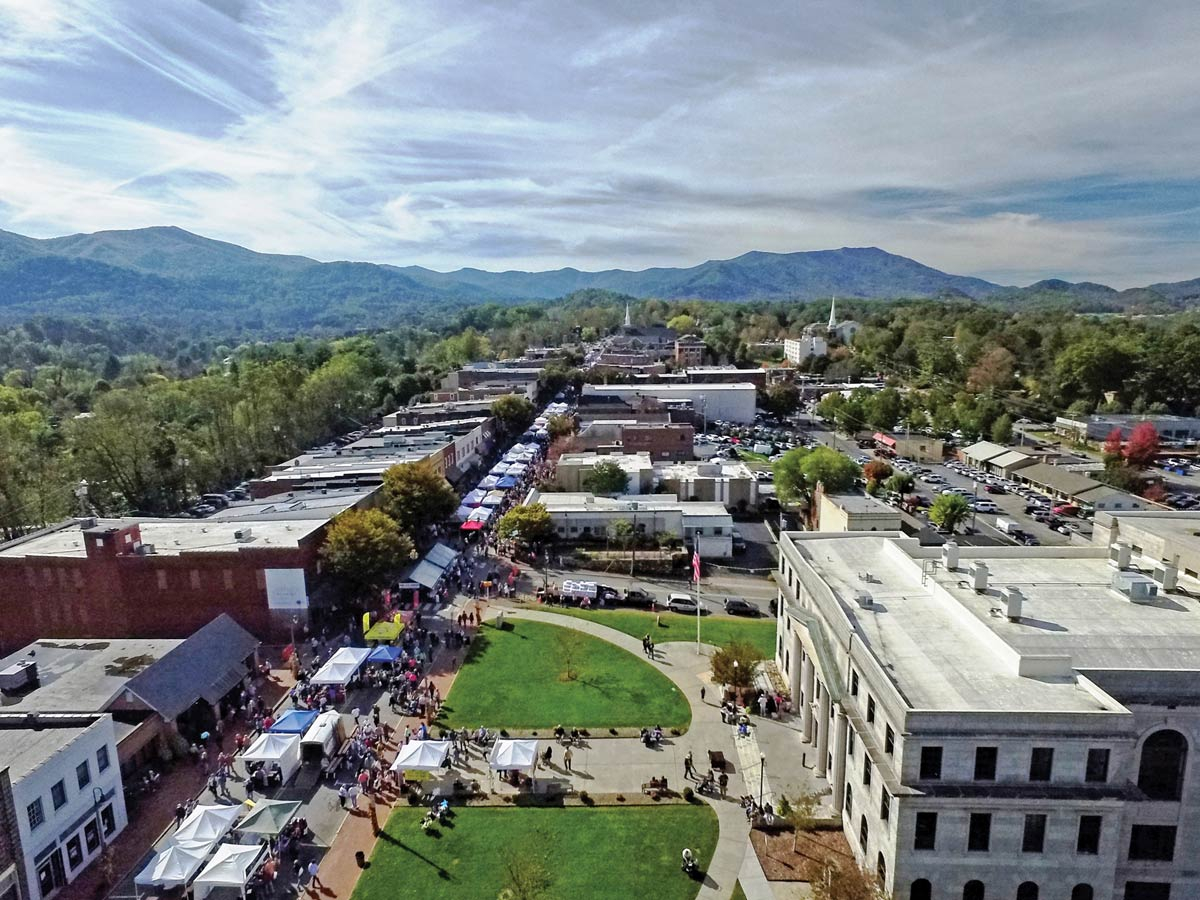 Downtown Waynesville hosts multiple events, including the Apple Harvest Festival, each year. Donated photo
A piece of legislation passed last year has given rise to a novel idea that could liven up outdoor festivals and events not only in downtown Waynesville, Frog Level and Hazelwood, but also in any other county or municipality interested in giving it a shot — social districts.
"I think it would be an exciting addition to our downtown," said Waynesville Alderman Anthony Sutton, who brought up the subject near the end of a Jan. 11 meeting of the Board of Aldermen.
Here's how it works .
Cities, or counties, may if they so choose adopt an ordinance whereby a social district is authorized. A social district is defined in law as an outdoor area in which a person may consume alcoholic beverages that are sold by an entity with an existing on-premises permit to sell them.
Physically, the districts must be clearly defined with signage indicating the district's geographical boundaries, hours and days of operation, and contact information for the police and the local Alcohol Law Enforcement division of the N.C. Department of Public Safety.
Those signs must also declare that alcoholic beverages purchased in the social district can't be taken outside of it.
They also can't be taken into a different establishment that sells alcoholic beverages, but they can be taken into other businesses — say, galleries or markets — with express permission from that business.
In a social district, alcoholic beverages must be sold in non-glass containers of no more than 16 ounces that clearly identify what business they were purchased from and in which social district they were used. The phrase, "Drink Responsibly — Be 21" must also appear on the cups.
Outside alcohol is not permitted in social districts.
Practically, the way it would most likely look is that after an ID check and wristband, adults over the age of 21 could buy an alcoholic beverage from a Main Street bar or restaurant, and then take that beverage outside while remaining in the designated social district.
For events like the Apple Harvest Festival, attendees could then browse the street vendors while sipping on their drink of choice, but they couldn't walk into a different bar or restaurant — or outside the social district — without first disposing of the beverage.
A Waynesville social district would loosen restrictions on existing alcohol-related events.
"At Art After Dark, people get free wine at each location, but then you have to leave it at the door whenever you walk out," Sutton said.
In December 2021, the Town of Greensboro passed by a vote of 7-2 a social district ordinance that is being looked at by municipalities as a model. It doesn't take effect until March 1, so its impact is still uncertain, but Greensboro's ordinance lifts much language from the state statute and refines some of the points.
One is that the social district can only operate between the hours of noon and 9 p.m.
It's not clear if Greensboro's ordinance limits the operation of the social district only to festivals and special events, but that's the angle Sutton wants to take if Waynesville adopts such an ordinance.
"No, there will not be drinking on the Main Street 24-7," he said. "It's for special events that have been permitted, and the individual has to fill out a permit for us to allow it."
Special events must already carry their own liability insurance, and Sutton believes that any additional insurance would need to be carried by the event organizer. He also thinks it would cost the town virtually nothing to implement a social district, but could prove an added draw for the town's numerous outdoor events throughout the year.
Being that the areas of Frog Level and Hazelwood are technically part of the town of Waynesville, social districts could be established there, too. Perhaps they'd be separate from a downtown district, perhaps they'd be connected or perhaps they wouldn't get social districts at all.
Sutton expects to hear the issue at the town's next meeting on Jan. 25. However, a vote won't take place until the town holds at least one public hearing to gauge support or opposition from local business owners and residents.
Beth Gilmore is the executive director of the town entity that manages the existing municipal service district, which utilizes an additional tax levy on downtown building owners to conduct beautification activities and host festivals. Since the town took over management of the MSD from the failing Downtown Waynesville Association late last year, Gilmore's still waiting for a governing board to be appointed, but she still wants to be on top of this issue before it comes to a vote before town aldermen, most likely in February.
"It sounds like it's worth looking into and considering," she said. "It's definitely something I'll reach out to merchants about and ask how they feel."