Archived Arts & Entertainment
Taking the leap: 828 Market on Main
Wednesday, January 12, 2022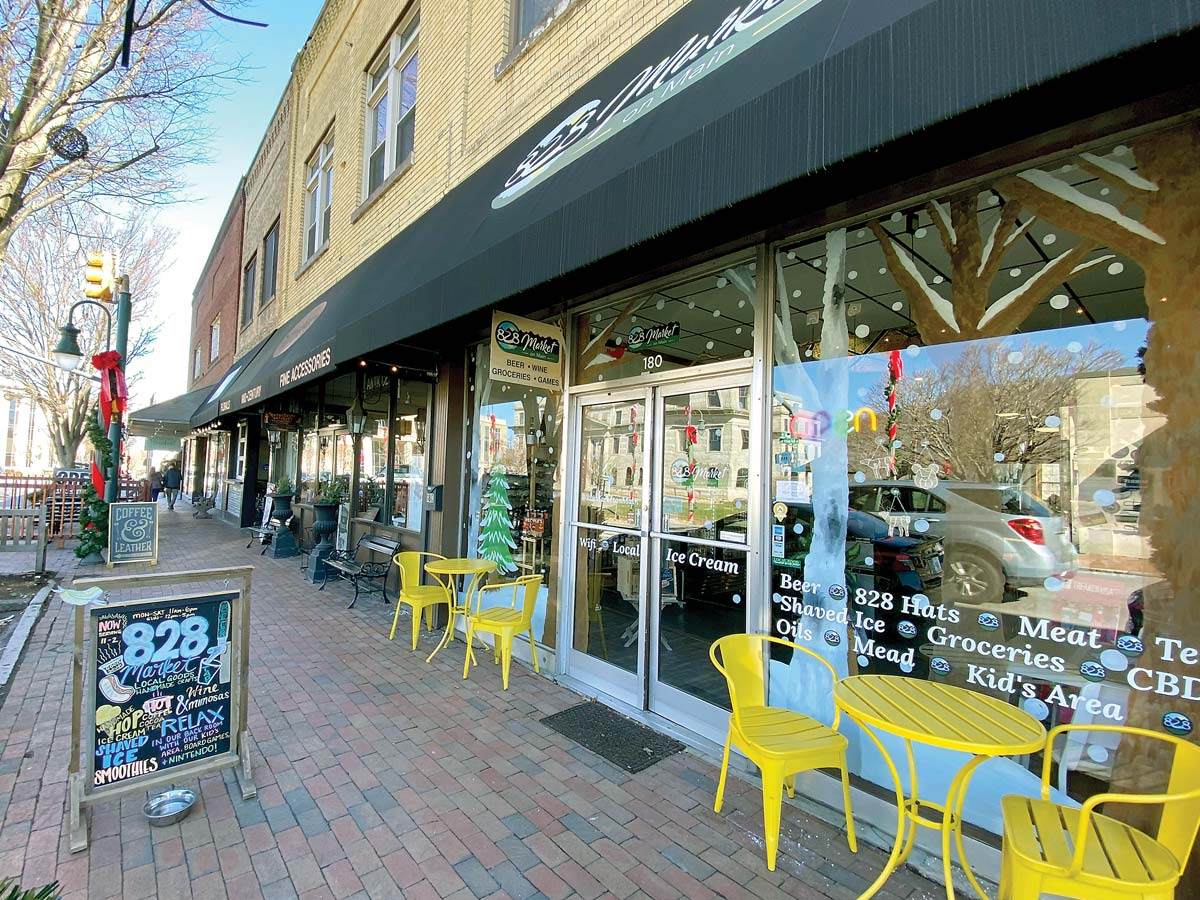 What started out as a simple idea to open a bottle shop has morphed into a hub of culinary delights and handmade goods in downtown Waynesville.
"We wanted to have this little spot where people could get a beer or cider, maybe hear some local music," said Carrie Griffin. "But, the whole thing has changed so much from where we were when we opened. People come in and constantly request things for us to carry, to bring things to the market that maybe nobody else is providing in the community."
Co-owner of the 828 Market on Main, Carrie and her husband, Richie, launched the business in July 2019. The couple and their two sons moved to Western North Carolina from Charlotte four and half years ago. Initially, the relocation was for the family to finally immerse themselves in the mountain life and culture.
"Richie went to Appalachian State University and always wanted to get me in the mountains, so here we are," Carrie noted. "And it's been amazing to be part of this community. There's obviously so much to do in the outdoors here. But, the whole town has been extremely welcoming of us and our market."
Carrie Griffin. Hannah McLeod photos
Although the couple both still hold down full-time jobs elsewhere (Carrie as an event planner, Richie in medical sales), the idea for a small store initially came to fruition as a "hobby" of sorts — this platform to not only showcase local and regional items, but also promote a deep love for craft beverages, farm-to-table products and artisan wares.
"There's been such a push for shopping local in recent years. I mean, you used to hear it said a lot. But, I feel like you're actually seeing it more and more now," Carrie said. "And these days, that the idea of 'local products' is really ingrained in people, where they go to Main Street, seek out local things and support local businesses — it's a great feeling to be part of that."
When the Griffins arrived in Haywood County, they initially started a brand of headwear called "828 Hats." In an effort to get the merchandise in area stores, they soon began to realize there was a niche in the business sector for a localized market in Waynesville. Thus, the wheels began to turn as to just what this new venture could and would be.
"I'll admit that I was the nervous one about doing this. Richie's better at taking a leap," Carrie reminisced. "But I think if we'd never had done it, we would constantly be wondering 'what if.' What is we never had taken this leap? It was a huge move for us, and it's been a great learning experience ever since."
And when opening day rolled around, the Griffins were bowled over by the love and support by friends, family and strangers alike.
"We did a soft opening, inviting all our Charlotte friends and family, people we'd met in the community here," Carrie said. "And we didn't really think about anybody buying anything that first night, but we sold so many things — it was really exciting to see."
Since then, the market itself has added several features to the space, from offering a lunch menu to shaved ice, atop the sitting areas and sidewalk tables for locals and visitors to grab a meal, take a seat and watch the world swirl by the storefront.
"A woman came by the other day and noticed we had mimosas and a kid's area. She said, 'I feel like I just went to heaven,'" Carrie chuckled.
It's one thing to be a new business. And it's another thing to survive your first year in operation, let alone navigate the last couple of years amid a global pandemic that has drastically affected small businesses, more so those with a culinary focus.
"We've been able to move and shift direction when we need to with everything going on. With the pandemic, the to-go food items and drink selection has made it easy for customers to call in an order or just come in quickly for what they need," Carrie said. "And we keep everything simple, where it's all about making sure our customers want to keep coming in the door — a simple menu that rotates items and always adding new products on the shelves."
With its third anniversary appearing on the horizon this summer, the Griffins can't help but shake their heads in gratitude for the market and what it's brought to the daily lives of those on both sides of the register.
"You know, just the other day, we were out to dinner and someone tapped me on the shoulder, asking if the market was still open that evening — it's still very surreal to feel part of this incredible community," Carrie said. "Sometimes I have to pinch myself and realize that we made this place a reality. We came together with our community and created a space for all of us to enjoy — new ideas and things are always happening here."
Leave a comment
1

comment
Great job! What a great place to shop!

Friday, 01/14/2022