Archived News
Democrats continue campaigning in NC-14
Wednesday, January 12, 2022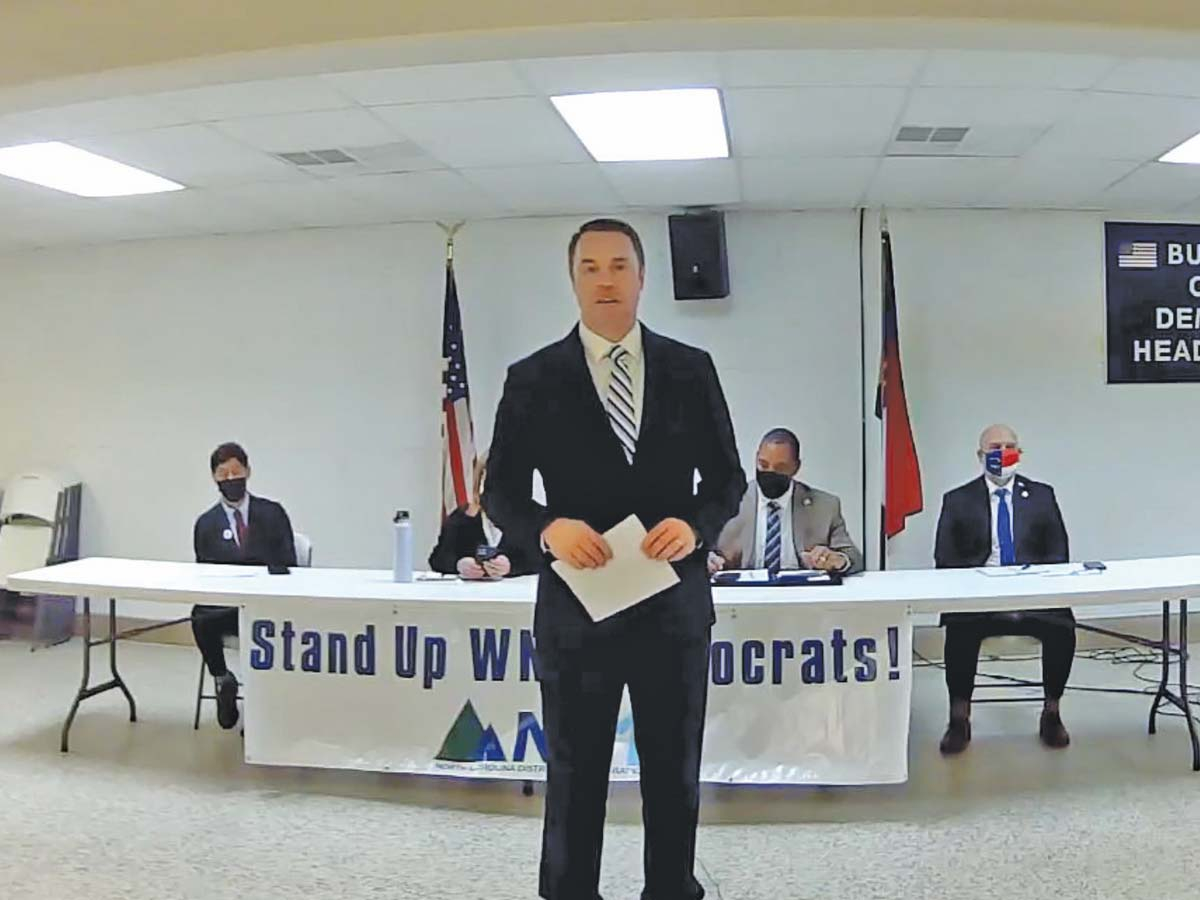 NC-11/14 Democratic Party Chair Matt Ballance (center) speaks before a Jan. 8 forum. Facebook photo
Congressional maps are still hung up in court and candidate filing still hasn't resumed, but that didn't stop the five Democrats running for the open NC-14 seat from holding a forum on Jan. 8. And although the crop of candidates is largely the same as it has been for almost a year, it was their first forum without the specter of Rep. Madison Cawthorn, R-Henderson, hanging over it.
In fact, Cawthorn was mentioned only once — by Buncombe County Commissioner Jasmine Beach-Ferrara — along with former representative and White House Chief of Staff Mark Meadows, as examples of extremism.
Five questions were created by the NC-14 executive committee and delivered by moderator Aisha Adams, a program developer for the Lenoir-Rhyne Equity and Diversity Institute.
The first left candidates jockeying for position as the best candidate to connect with unaffiliated voters — Jay Carey as a military man with a bronze star, Eric Gash as an educator, Katie Dean as a blue-collar small business owner, Bo Hess as a service-minded social worker, and Beach Ferrara an elected official and experienced organizer who'd already won two tough races.
Health care remains perhaps the most important issue to voters, just as it has for more than a decade in a state where Medicaid expansion did not take place.
Gash and Hess cited infrastructure issues in the system — especially broadband — as critical to the industry's future, while Beach-Ferrara talked about negotiating prescription drug prices and beefing up Medicare to include vision and dental coverage.
Carey suggested working around state governments that have denied Medicare expansion, but it was Dean who harshly criticized the unfettered capitalism inherent in the system.
"Regardless of what our health care industry looks like, we have to untangle the Wall Street greed from our health care industry," said Dean, who endured collarbone surgery without anesthesia to save $15,000. "Especially as that relates to increasing costs and decreasing care, because right now that's what we're facing."
The integrity of the state's public education system is also a near-constant concern for Democratic voters, and strengthening it is a continuing struggle. Carey offered a comprehensive set of initiatives focused on teachers, including increased pay, debt forgiveness, free two- or four-year college or vocational school and cancellation of up to $50,000 in student loan debt — an as-yet unfulfilled campaign promise made by President Joe Biden. Hess suggested adding social workers into the mix, and Dean attacked predatory student lending. Beach-Ferarra recommended tuition support for teachers agreeing to work in underserved areas. Gash, principal of the elementary school he attended as a child, said he sees a "stark difference" between kids who went to pre-school and kids who didn't.
"We have to look at universal pre-K and early childhood education," he said.
Affordable housing seems to underlie many of the region's most pressing issues. Beach-Ferrara said she'd focus on job creation and workforce housing, as Carey blasted commissioners (and thereby, Beach-Ferrara) for approving the new Pratt & Whitney facility without requiring a $20 hourly wage. It's $18.30, according to Carey. Gash and Dean seemed to agree on incentivizing developers, while Hess advocated for public-private partnerships.
"This all comes back to national security," he said. "We cannot have a population that is hungry, that is cold, that is unsheltered on the streets. We must be educated, we must be healthy and we must rise to the 21st century issues and problems that we have facing us."
The final question posed was maybe the Democrats' most controversial issue, both within and without the party — the Green New Deal. Each of the candidates mentioned the deadly flooding in Cruso this past August, but didn't agree on much else, including what, exactly, the Green New Deal actually is.
Dean called it a concept that could underlie all future legislation. Beach-Ferrara supports renewables and talked about working on the largest publicly funded solar program in the state, which will put solar panels on 40 publicly-owned buildings in Buncombe County. Gash is focused on green tech — batteries, solar, hydro and wind — and Hess on sustainable farming practices. Carey, who said he suspended his campaign to volunteer in Cruso for almost a month, set aggressive goals of zero-net carbon by 2030.
"We need to make these initiatives law," he said, "and we need to enact them now."
Watch the Jan. 8 forum in its entirety at facebook.com/nc11dems/videos.