Archived Reading Room
Rowdy adventures: a review of "Sharpe's Assassin"
Wednesday, January 05, 2022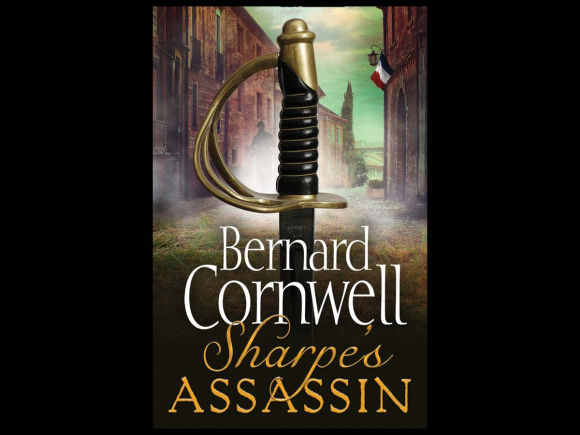 Good grief!
Let me say that again: Good grief!
After reading "Sharpe's Assassin" (HarperCollins, 2021, 321 pages), I then turned to the front of the novel and counted the number of books Bernard Cornwell has written about his fictional hero of the Napoleonic Wars, Richard Sharpe.
The grand total? Twenty-one novels and three collections of short stories. (I thanked the muse of literature that some kind editor put these novels in chronological order.) Add to this mountain of words Cornwell's other historical novels and thrillers, plus a nonfiction book on the Battle of Waterloo, and the guy's put out over 50 books.
Sharpe first attracted my attention years ago when I checked out some videos based on the early books from the Haywood County Public Library. Taken from a British television series starring Sean Bean, who plays the rough-cut commoner Richard Sharp to perfection, those shows led me to read several of the Sharpe novels.
And I'm now happy to report that in Sharpe's Assassin Cornwell has kept intact his narrative abilities, his eye for historical details and his vivid powers of description regarding battles and skirmishes. Here's Sharpe just as I remember him, older now and advanced in rank, yes, but still in fighting trim. Here, too, after his participation in the horrific Battle of Waterloo, the powers that be have ordered him help stop a group of fanatics from taking revenge for Napoleon's loss.
When we first meet Sharpe in the early novels, including in India and the Peninsular War in Spain, he is still very much a product of his rough boyhood, the son of a prostitute and an orphan who joins the army to escape a charge of murder. When he is promoted from the ranks for saving the life of Arthur Wellesley, known best to us today as Lord Wellington, Sharpe becomes an officer but certainly no gentleman, and is often scorned by those whose titles derive in part from their aristocratic background.
By the time we meet him in this most recent story, some still regard Sharpe as unworthy of his rank, but most, as one fellow officer tells him, now think of him as a legend. Wellington frequently calls on his services, as he does here, and Sharpe's leadership abilities and skill and ingenuity in warfare, knowledge gleaned from years of fighting, are valued by his men and by others who serve with him.
Once he reaches Paris, Sharpe finds himself charged with protecting a man named Fox, an intelligence agent whose other job is to sort through the artworks in the Louvre which the French looted in 20 years of war throughout Europe, and to return these stolen paintings and sculptures to their rightful owners. In one humorous scene with Fox and with Sergeant Patrick Harper, Sharpe's long-trusted friend and right hand man, the three men discuss a sculpture. Fox informs Sharpe and Harper that the artist of this Madonna and child was Michelangelo.
"Who?" Sharpe asked.
"Michelangelo. Surely you've heard of him?"
"Never," Sharpe said.
"I have," Harper said proudly.
"Good man," Fox said enthusiastically.
"Who is he?" Sharpe asked.
"You must remember him!" Harper said. "Spanish lad who joined the second battalion of the Rifles after Talavera. Miguel Angelo."
"Miguel did that!" Sharpe gazed at the statue. "Bloody hell! He was a damned fine shot, I do remember that."
"Poor bugger got gut-shot at Salamanca," Harper went on, "and died. And by Christ he could use a chisel!"
"Michelangelo," Fox said patiently, "was an Italian genius of the Renaissance. He painted the ceiling of the Sistine Chapel."
"So not the same man, sir?" Harper inquired.
Near the end of the novel, Sharpe meets Lanier, the leader of the resistance to the forces conquering France. What impresses us about this dramatic confrontation is the respect both these men feel for each other, a bond of near friendship created by the suffering the war has brought to them despite the antagonism demanded by their fate and circumstances.
As with Cornwell's other books, we can learn a great deal of history from reading him. Here he shows us the chaos that ensued in France once Napoleon's forces had met their end at Waterloo: the scattered resistance by some French garrisons, the fanaticism some showed for the toppled Emperor as opposed to others, like Sharpe's love Lucille, who believes that enough sons of France have been sacrificed on the altar of ambition, and the armies and politicians converging on Paris.
For readers who enjoy historical fiction, great characters, and drama on the battlefield and in the drawing rooms of this period in time, Bernard Cornwell and his Sharpe saga should provide hours of reading entertainment and pleasure.
Highly recommended.
•••
A note: By the time you read this review, we will have already observed New Year's Day and passed into 2022. Allow me this opportunity to say that I hope the new year brings all of you a bounty of gifts and blessings … and lots of good books and the time to read them.
May we all receive the best and brightest from this new year.
(Jeff Minick reviews books and has written four of his own: two novels, "Amanda Bell" and "Dust On Their Wings," and two works of nonfiction, "Learning As I Go" and "Movies Make the Man." This email address is being protected from spambots. You need JavaScript enabled to view it.)