Archived Opinion
Do your part, let's beat this thing
Tuesday, January 04, 2022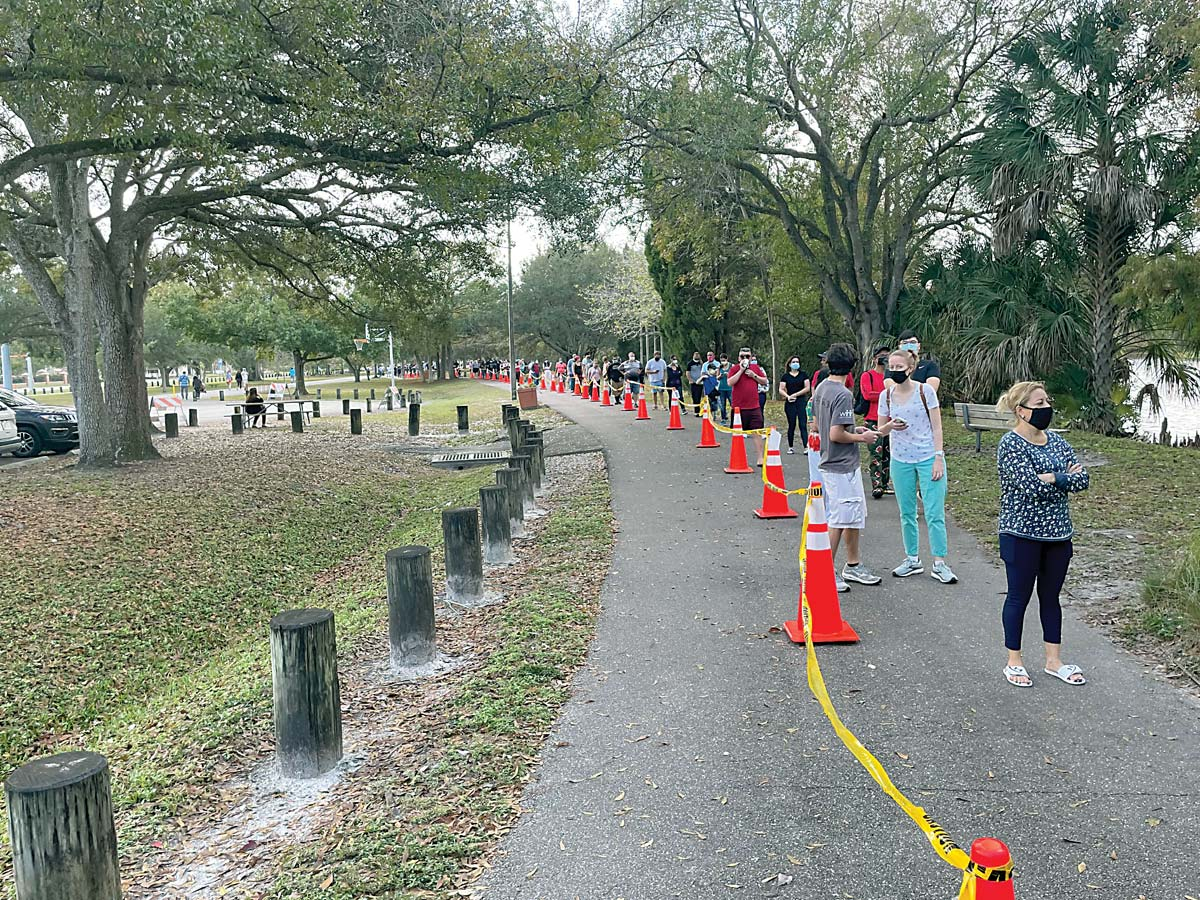 The line in Tampa, Florida, for Covid testing on Sunday, Jan. 2. Scott McLeod photo
Three tests, two shots, but just let me know if more is needed.
That's a short and very superficial synopsis of my personal Covid story, but in truth the story goes much deeper. I suspect that's the truth for most of us.
This past Sunday morning found me in a long line at a Tampa, Florida, testing site. I had what felt like a terrible head cold with congestion and coughing, and my voice was almost gone. I was hoping to visit with some nieces and nephews and their partners that afternoon, but I wanted to test first.
The results were negative, as had happened with my previous two tests, though my wife had tested positive earlier in 2021 and we had not quarantined because we didn't know in time. I have received the Johnson & Johnson vaccination and had gotten a booster in November soon after it became available for me.
As of today, reports are that there were 1 million new cases reported on Monday, Jan. 3 (though many think the high number was due to a holiday backlog, but likely still we are having 500,000 new cases per day at least). The president plans to talk to the nation tonight (Tuesday) as the omicron variant is sending cases soaring and raising more questions about where all this is headed.
Last January, many were writing that by January 2022 we would have the Covid-19 epidemic behind us. There are many reasons that did not happen, among them the wildly adaptable mutation abilities of this particular virus. Like the old whack-a-mole game, we'd smack one variant down and another pops up in another part of the world. Researchers, drug companies and health care workers have done an amazing job, but weary as they may be there is work yet to do.
Unfortunately, politics has played a role helping the pandemic linger, especially in the U.S. Some said Covid was no big deal, some said the vaccines did not work and were dangerous, others said mask wearing and vaccine mandates were assaults on their personal freedoms. The political divide on Covid issues started with President Donald Trump, but it has lingered and festered long after he has left office.
I've been skeptical of authority my entire life, someone who just naturally tends to bow up to rules. Not sure where it started, not sure how it has remained a part of who I am, but if someone tells me to go one way, I'm immediately looking in the other direction.
But I also feel very strongly about doing my part for the common good. Tell me to wear a mask because some politician wants me to, I'll laugh in your face; tell me to wear a mask because it will protect someone's grandma or their sick father, I'm masking up, no problem. In fact, I can't understand how anyone could feel differently.
Here I am writing my first column of 2022 and we're not out of the woods yet with Covid. Do your part, think about others, and let's get this damn thing behind us.
(Scott McLeod can be reached at This email address is being protected from spambots. You need JavaScript enabled to view it.)
Leave a comment
4

comments
I guess the anti-vaccination-mandate writers below didn't get their smallpox, measles, whooping cough, flu, mumps, and chicken pox vaccinations, and never went to public school, nor did their kids.
I guess they never take an aspirin, a prescription, or go to a doctor.

I hope they don't go to an ER when they do eventually get COVID because I don't want the same thing to happen to other people with emergencies not of their making--cancer, for example--to wait over 10 hours on a gurney at Mission in Asheville, without any food, in agony. That's what happened to our 90-year-old dear friend, his diabetes out of control, his prostate bleeding after a cancer treatment--because people who think they know better than doctors and trust nothing from pharmaceutical companies get COVID.

So please, Ms. Josephs and Mr. "Nope," when--not if--you get very sick, call the people you trust to make you well: Tucker Carlson, Steve Bannon, the "My Pillow" owner, Ron DeInsanitas, and their ilk. Doctors and nurses are too overworked to waste their time on you. Besides, they might get you treated with something from a pharmaceutical demon.

Monday, 01/10/2022

Hey Scott McLeod, keep this in mind... at no point in history have the people forcing others into compliance been the good guys.

Thursday, 01/06/2022

Drink the koolaid, think you're doing anything but funding big pharma and live in the dark…in fear. Love you man but the data is there-just try to see it clearly.

Wednesday, 01/05/2022

Right on Scott, couldn't have said it better. I don't like the idea of mandates, trying to force me to do something, but like you, I just think protecting others, protecting myself, and limiting the possibilities of spreading this virus is just the right thing to do. Making this into some political thing makes me angry though. I'm a Republican, many of my friends are
Republicans and Democrats alike and all of us have been vaccinated and we wear masks. Why make it political? It's not. Those that don't do these things? It's their right, but for me I want to do my part in preventing the spread of this virus.

Wednesday, 01/05/2022